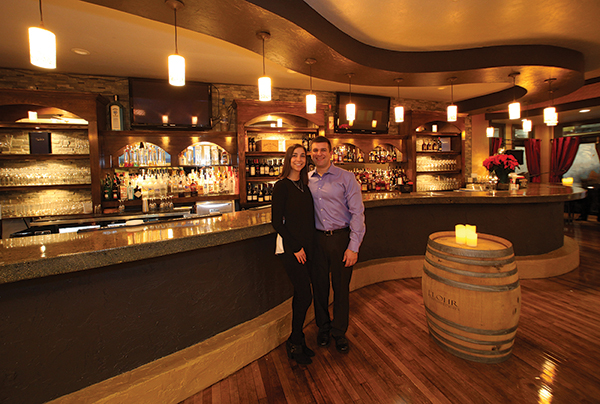 Leonard and Sherri Mello, Tavolo Wine Bar & Tuscan Grille
By Lauren Daly
Tavolo Wine Bar & Tuscan Grille in Smithfield has quickly built a reputation over the last few years as a slice of Tuscany in northern Rhode Island. In late 2016, Tavolo's owners, husband and wife team Leonard and Sherri Mello, brought their passion for authentic Italian food and wine to Providence's famed Federal Hill area.
As house sommelier, Leonard Mello has developed a robust beverage program with an extensive wine list of some 400 wines by the bottle, ranging from $25 to $2,500, and 50 wines by the glass. Tavolo's Smithfield location was recognized with a Wine Spectator Award of Excellence in 2015 and 2016. The beer list, meanwhile, includes some 70 brews, many of them craft offerings.
Earlier this year, the Mellos launched a Wine Dinner Series, in which they team with a wine producer — they've already worked with Duckhorn Winery, Cakebread Cellars, Greenvale Vineyards, Allegrini and more — to offer guests a gourmet five-course dinner with pairings. Each menu is prepared in tandem by the Mellos and their culinary team for unique highlighting of flavors and vintages.
Both Mellos were formerly accountants, who followed their passion for wine and food into their new careers. They now live in Glocester, Rhode Island with their three children, and run both Smithfield and Providence Tavolo locations.
The Beverage Journal: Tell us a bit about your background.
Leonard Mello: My wife and I have had a passion for food and wine for some time and love exploring both new wines and the classics as well. During my time as a CPA, I worked throughout the country providing business advisory services to various clients, including those in the food and beverage industry. This is where I developed the insight and skills that I considered necessary to get into the business. We actually owned and operated two stores, one in Melrose, Massachusetts, which was a wine and craft beer store, and another in Ledyard, Connecticut, which was a full liquor store.
TBJ: What led you to launch the wine dinner series?
LM: We have always been big supporters of the Boston Wine Festival's wine dinner series and we thought that Rhode Island needs something like that. There is such a great customer base here in Rhode Island that enjoys great food and wines, so what better place to host a regular wine dinner series?
TBJ: How have your past events gone? What's the general customer feedback?
LM: The past events have been very successful. We have received a very positive response from our customers, many of whom have now attended multiple events. I think it's the combination of great wines paired with gourmet meals … all done in a casual environment.
Sherri Mello: Our customers love them. We do five courses, each paired with a wine. We create the menu around the wine. We meet with the winemaker, figure out what's available, and what we want to [serve.] We have the wine makers or the owners — the people involved in the day-to-day making of the wine — on hand at the dinner. People love that, because they have the fun stories — why this was made, or what went into making that. Some of the best stories are the crazy pitfalls they had along the way. That [dialogue] separates our wine dinners from others.
TBJ: Who do you have lined up next?
LM: We only do wine dinners where we can get an actual representative from the winery itself … We host Buena Vista Winery from [Sonoma] California in September and Heitz Cellars [from Napa Valley] in mid-October.
TBJ: How do you pick which wineries to host?
SM: We go by wines we enjoy, and then we reach out. It's a process. Buena Vista we booked a year ago … Leonard looks for who's going to be around. He'll say, "I see you're going to be in the region on X, Y and Z. Are you open to taking part in our wine dinner?" Then we work pairing the wines and building the menus. For instance, with Buena Vista, we'll do their Sav Blanc with the salad course [watermelon salad, feta, red onion, baby arugula, blood orange vinaigrette] and their Chardonnay with the second course, [fresh lobster ravioli, spinach, mushrooms, vodka cream sauce.] It's buttery, so that will pair well.
TBJ: What wines do you like in the fall?
SM: I love pinot noir. I prefer Oregon pinot noirs; I still enjoy California, but I love Oregon the most. I just like the feel and taste. They're very different from California. Oregon pinots taste a little more earthy to my palate. I like that more than sweet. Argyle is a favorite. Benton Lane is really good, Willamette Valley. These are great paired with pork chops or pork tenderloin, or pizza if you want. They're so easy to enjoy.
LM: I tend to lean towards lighter reds, like pinot noir, which is one of my favorite red grapes. I'm gravitating towards Willamette Valley pinot noir, specifically the whole cluster selection. I do a section in my wine list each month where I [highlight] about eight wines that I think are great values, hidden gems, and what I am drinking.
[For example, Leonard's House Sommelier September Pick for value is a $35 bottle of 2014 Dry Creek Zinfandel, from Heritage Vines, Sonoma County, California, which he calls "Zesty and expressive, with jammy black raspberry and licorice aromas and supple, layered blackberry, toasty dill and pepper flavors. This is a balanced and beautiful expression of Zinfandel without all of the sweetness found in many options today." His "sleeper pick" is a 2013 Allegrini Palazzo Della Torre Veneto, Italy, which "exhibits the brightness and inner harmony of this slightly cooler vintage. Palazzo Della Torre is one of the break-out successes of Allegrini's new lineup. The wine is dark and thick in appearance, and the bouquet is shaped by strength and power. Blackberry preserves, cherry confit, barbecue spice and Spanish cedar form a thick and tightly-knit bouquet."
TBJ: Aside from the pairing dinners, what else makes your wine program unique?
SM: We do wine flights — three 3-oz. pours. Guests really like creating their wine flights and enjoying them on our beautiful back patio at our Providence location.
TBJ: What beverage trends do you notice working on the hot spot of Federal Hill?
LM: Although wine is one of our big draws, we have a creative cocktail and craft beer program and have seen retro cocktails becoming quite popular. For an Italian wine-focused restaurant, we sell a good amount of craft beer as well, which signifies the diversity of customers these days.
TBJ: What tips do you have for others in the industry who want to start a similar series?
LM: For starting a [wine] dinner series, I think the key is to offer customers great choices while also providing value. As a business, we have to be conscious not to try and upcharge on these types of events. Customers — even those willing to pay $125 per person for a wine dinner — are still aware of value, and I think, as a business, we need to be conscious and respectful of this.
Interview has been edited and condensed.