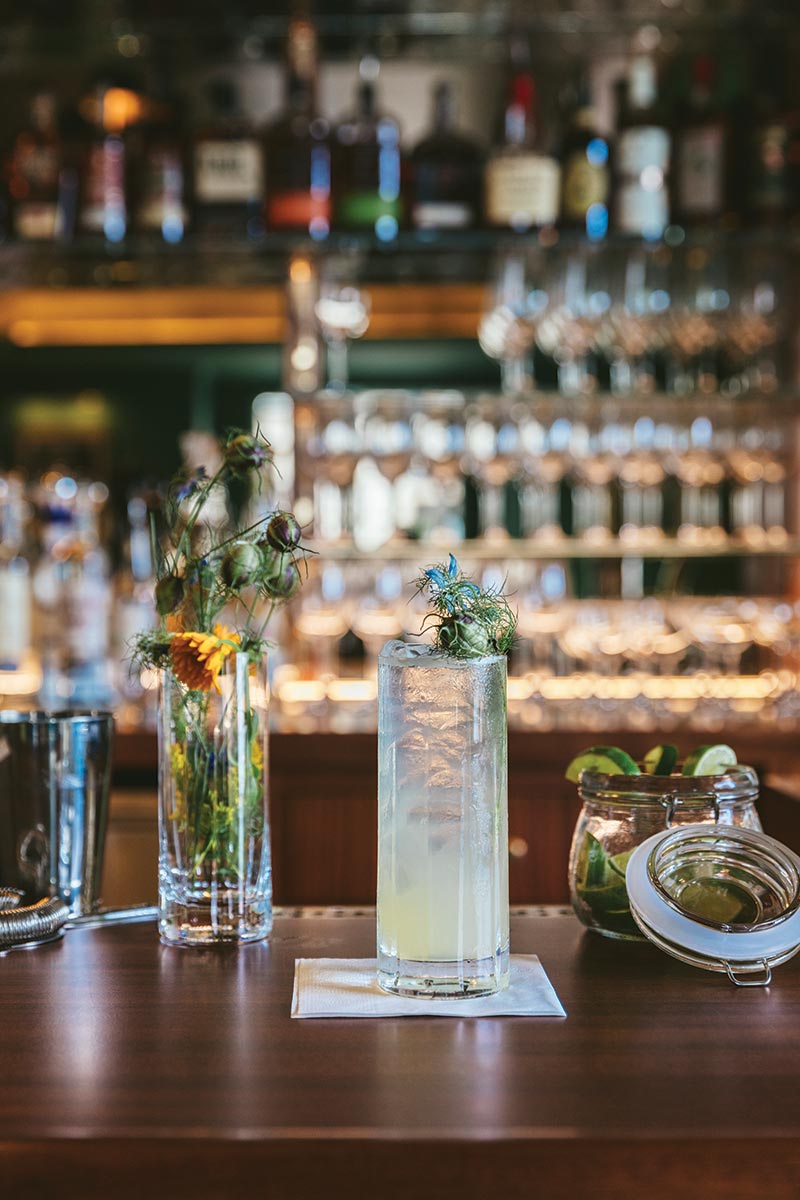 Gardiner House
24 Lee's Wharf
Newport, RI
Gardiner House is a waterside escape, a tucked-away oasis just steps from Newport's charming yet lively shopping district, dining and art. It's also the newest addition to the area. The boutique hotel is intentionally designed to "dazzle and delight every sense" with 21 cozy and impeccably appointed rooms set among stunning harbor views. Gardiner House is also a part of Newport's history, whose roots stem from American artist Howard Gardiner Cushing and his nearby family home, The Ledges, built in 1867. Guests who enter the revived and colorful Gardiner House are greeted by a sweeping mural wrapped around a centerpiece of a staircase, which was re-created from a two-story mural that Cushing painted circa 1905 that remains in the front hall of his Newport family home. Private terraces, fine architectural details and luxurious treats await. Under a talented team of bartenders, the hotel's Studio Bar offers an array of artful cocktails and small plates amid an art-filled environment.
Head Bartender: John Begin
Cocktail: The Gardiner
Ingredients:
» 2 oz. Litchfield Distillery Vodka
» 1 oz. Rose Island rose hip tea
» 1 oz. freshly squeezed lemon juice
» Garnish: splash of Prosecco, black cumin flower, dehydrated lime slice and black cherry
Method: Measure the ingredients in a shaker. Add ice and shake vigorously. Strain the contents into a Collins glass filled with ice. Top the cocktail with a splash of Prosecco and a black cumin flower, then garnish with a dehydrated lime slice and a black cherry.
The cocktail's inspiration comes from Rugosa Beach rose hips that are harvested by Rose Island Lighthouse Caretaker and Gardiner House Head Bartender John Begin direct from Rose Island in the southernmost point of Narragansett Bay. The edible black cumin flower is grown by Rose Island Gardener Kidder Gowen and is also one of the "secret" ingredients in Rose Island rose hip tea.
"These Rugosa roses first came to Rhode Island shores on ships captained by Commodore Matthew Perry, who opened trade with Japan in the 1860s. They are very high in vitamin C and were useful to sailors crossing the ocean to prevent scurvy," said Begin. "Although the rose is an invasive species here on the East Coast, it is a welcome one, as it is used to make seasonal rose hip teas, jams, and jellies and is also a wonderful plant to combat erosion of the beaches of our beautiful shoreline here in southern Rhode Island. The hips are harvested in the gall and are a native favorite among local foragers since the mid-1800s. The Gardiner cocktail encompasses our history and unique local taste in this way."
Photos by Nick Mele.