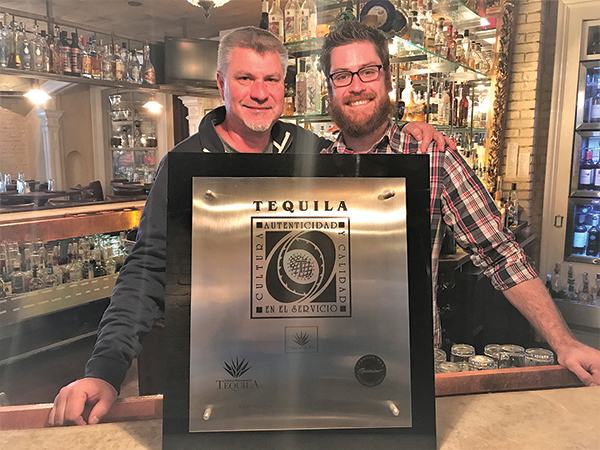 Geronimo Tequila Bar and Southwest Grill in New Haven and Fairfield recently joined an elite group of approximately 40 restaurants worldwide, including Tequila Mockingbird in New Canaan, to earn and hold a CRT Award T Certification from the Mexican government's Tequila Regulatory Council. The award recognizes a venue's "commitment and knowledge of tequila."  The goal of the "Award T" certification is to raise interest and knowledge about tequila. The main requirement for a venue to receive the certification is 80 percent of the staff successfully passing a written test after going through ten hours of training with a representative from the Mexican Consulate discussing tequila guidelines, the history of tequila, cultivation and harvesting of agave and the production process for making tequila. Additional requirements include confirming the venue only purchases and serves CRT certified tequila and the method for disposing used bottles. Geronimo houses the largest selection of tequila on the East Coast with more than 400 options, including their own labeled Herradura Double Aged Tequila.
Both locations of Geronimo Tequila Bar and Southwest Grill received a plaque recognizing the CRT Award T Certification.
An individual certification that more than 50 members of the Geronimo team received for passing the Tequila Regulatory Council test.
Tim Scott, Director of Operations and Partner, along with Richard Hildebrandt, General Manager, Geronimo New Haven.