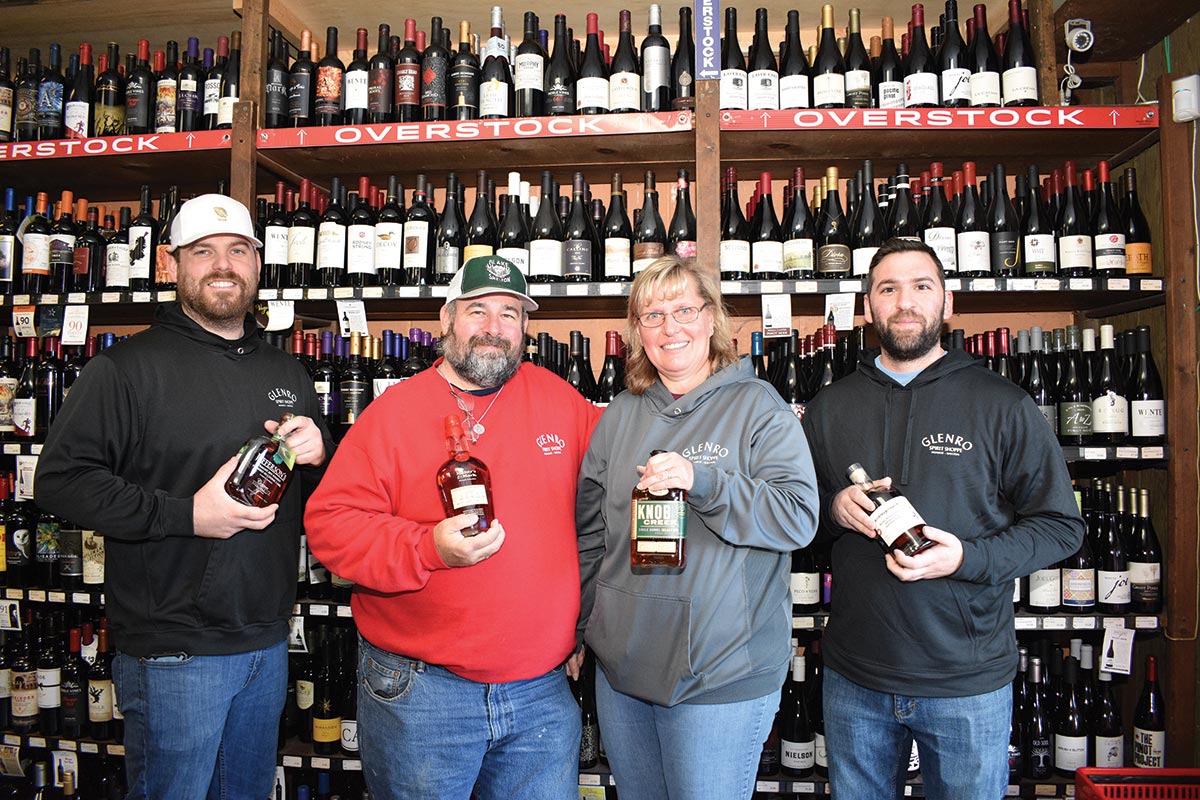 Glen-Ro Spirit Shoppe
487 Monroe Turnpike
Monroe, CT
Square footage: 5,000
Years in operation: 49, 12 years under current management
By Sara Capozzi
Celebrating its 50th anniversary in 2022, Glen-Ro Spirit Shoppe has become a destination store for customers in Monroe and surrounding towns in eastern Fairfield County. The 5,000-square-foot shop has seen multiple expansions to its footprint since its inception in the early 1970s, alongside substantial sales growth with current owner, Larry Cass, at the helm.
Cass began working at Glen-Ro in the mid-1980s when he was in high school and has seen the store through all its iterations, he said, watching the industry evolve along with it. After college, Cass spent 12 years in the restaurant industry and three years with a distributor, before returning to Glen-Ro in 2007. With his expertise gained by working across all three tiers in Connecticut, Cass purchased Glen-Ro in 2010, from longtime friend and owner, Roy Nealon.
While the store's layout has changed through the years, Cass has kept much of the store's original woodworking intact, including handmade wine gondolas and the cashier station, a throwback to the shop's original owner, Bob Nealon. He also keeps the inventory of 50 percent wine as the original owners did, with the store known as a wine destination among locals, and beer and spirits evenly split across the remaining 50 percent.
Cass keeps Glen-Ro's sales volume growing by offering top-notch selection, service and pricing in a building that looks small on the outside, but is cavernous on the inside with a labyrinth of rows and sections. "We use every square inch of that store for sure," Cass said.
A strong brand presence is another key to store success. "The brand is everything: staff, service, selection, pricing," Cass said. He opened another Glen-Ro location in Shelton in 2014 and attributes its success to what their reputation represents.
"They come back for the trust, they come back for the recommendations. We hear it all the time: 'you've never steered me wrong.' That's our real culture, our ability to understand the customer and their needs and to fulfill them. We pride ourselves on service, selection and pricing – we're min. bottle for pretty much everything."
Customers also enjoy an unmatched, well-rounded variety at Glen-Ro, be it rare wines, the latest craft beer or sought-after bourbons. "If we don't have it, it probably doesn't exist in the state of Connecticut," Cass said.
"The trick to our business is you have to buy correctly; you don't have to buy crazy, but you have to buy correctly … You've just got to be ahead of the curve," Cass said. Communication with supplier and distributor salespeople is always key, said Cass, and especially in the past pandemic year, it has helped him stay ahead of the current product shortages that are plaguing the industry.
A lifelong native of Monroe, Cass enjoys long-standing relationships among his local clientele. He regularly sees old friends, former classmates and teachers from Masuk High School. "To me, it's more than just a store, it's a home, and that I think gives me an incredible advantage because I'm in my own hometown."
Cass said he couldn't do it without the hard work and expertise of his staff of about 25, many of whom are Monroe natives, as well. "I do have some incredible, knowledgeable people that work for me and with me, and so that's how we get it done," he said.