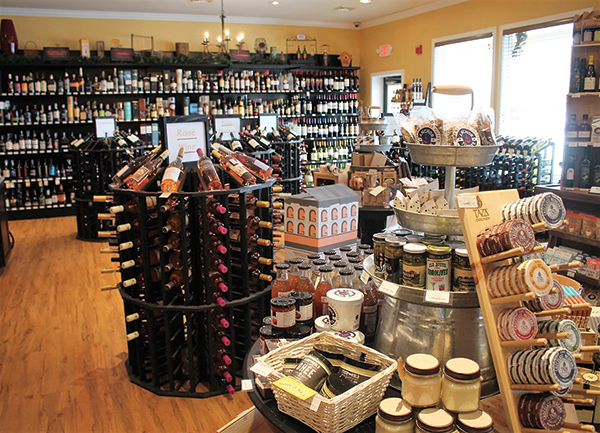 Grapes & Grains
24 Bosworth Street
Barrington, RI
Square footage: 2,500
Years in operation: 5
By Savannah Mul
Rare reserve vintages, exotic to natural wine and spirit finds and an ever-changing craft beer selection greet shoppers at Grapes & Grains in Barrington. Novelty glassware, home bar accessories, gourmet cheeses and cured meats are available to pair with a purchase and are always accompanied by a friendly staffer offering assistance.
The store is owned by proprietor Matthew Amaral, who made local history in 2012 as the first person to be awarded a Class A liquor license for the town of Barrington.
"This store is really cool and unique," said Marc Berry, Wine Sales Manager. He explains most, if not all, of the products in the store require handselling and the staff is ready to answer any questions and guide consumers to finding their next bottle of wine, beer or spirit.
The store keeps about 2,000 product SKUs in stock, of which 750 define the wine offerings. "We focus on boutique brands we think are good," said Berry, as well as stock from customer recommendations and feedback from sales representatives. Berry and Craft Spirits Manager Justin Garrison said they seek to give shelf space to the products they "truly believe in," with tasting a critical component to each brand they bring in.
"If we don't carry the item and it's available in Rhode Island, we'll get it for you," said Berry. Grapes & Grains offers special orders in-store as well as delivery via the third party alcohol delivery service Drizly, providing another way to connect with and reach the local customer base. "It's been growing [delivery service]," he said, "and each year seems to grow a
bit more."
Grapes & Grains offers a "loyalty" shoppers reward program. Email newsletters offer news on promotions, new products, targeted offers, cocktail recipes and other information about products and the industry.  Social media helps promote in-store tastings and brand education with distributors and local suppliers.
Shopping becomes an experience for Grapes & Grains customers. "People will come here and put together gifts; it is one-stop shopping," said Garrison. Grapes & Grains gives back to the community by partnering with local organizations and donating a percentage of sales from events to the charities.
"It's a lot of fun. We get to taste wonderful wines and it's fun to learn and see the new trends," said Garrison.