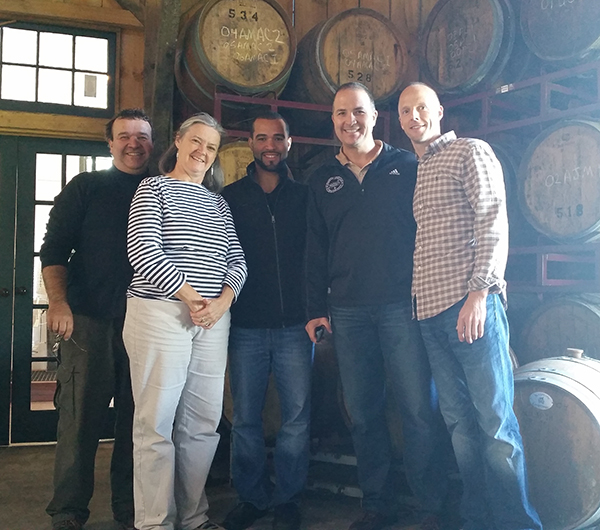 By Jason Snopkoski
In this renaissance age of food and beverage that our industry is immersed in, the number of spirit brands seems to be growing by the day in every category. Generally speaking, this is a beneficial thing for our industry, as the growth appears to be accompanied by a focus on quality as well. There will always be brands that attempt to capitalize on the "ultra-premium," "craft," "artisanal" and "boutique" movement, but if simply focusing on spirits that are truly great we are still left with more choices than we can possibly fit on our back-bars. What makes a great spirit brand stand out amongst a sea of other great spirit brands? In my opinion, it is the people and stories behind the brands and what they stand for.
Often in our industry we are subtly given "stories" crafted by marketing departments of the brands we carry for us to utilize behind the bar with our guests. Every so often some of these stories, people or brands exist for a bigger reason than to simply sell great products. These are the brands and people that tend to hold a special place in my heart, so much so that they've inspired me to write about them in previous articles.
For example, Ben Jones doesn't just represent Rhum Clemént; he represents the category of rum called rhum agricole, as well as the culture and tradition of making rhum in the French Caribbean. Ron Cooper has a company that sells mezcal, but a quick google search will turn up enough info to make one realize that his focus is more on sharing the magic found in his green bottles. He is about celebrating the incredible artistry and uniqueness that comes out of each of the different single villages that he works with.
Recently a group of Connecticut industry professionals got to see these qualities personified when Diego Loret de Mola spent some time with us at Mezón in Danbury for a seminar on all things Pisco. Diego Loret de Mola, founder of BarSol Pisco and Connecticut resident, is also part of this group of individuals who represent more than their product; they embody the passion and spirit of it as well.
For those that are unfamiliar, the liquor called pisco is a white eau de vie made from specific grapes in the countries of Peru and Chile. BarSol makes authentic Peruvian pot-distilled, small-batch, estate bottled pisco of exceptional quality. Once an extremely popular category in its home country, led by its use in Pisco Sours and Pisco Punches, pisco entered into a dark ages period initiated by prohibition, and solidified by political turmoil in Peru later in the century, during which quality declined and exports ceased.
The BarSol brand is spearheading a movement to return pisco to its former popularity with their mission to "bring every bar in the world the finest product produced under the sol of Ica," the place in Peru where their pisco is produced. For de Mola, the mission statement is more about sharing a passion for quality, for pisco and for the culture and history of Peru than it is about his company.
de Mola accompanied some of the Mezón team on a recent visit to Westford Hill Distillers in Ashford, as the guests of Lou and Margaret Chatey, where the Chateys have been producing their own high quality eau de vie for the past several decades. The excitement exhibited by both parties for their craft was readily apparent as they discussed the different nuances of making products that are similar, albeit in different parts of the world and with different methods.
Several weeks later at the above mentioned pisco seminar, it was somewhat of a surprise to see de Mola arrive with not just his pisco, but that of other producers, and not just Peruvian pisco, but pisco from Chile as well. The talk and tasting that followed was dominated by history, culture and process with BarSol being relegated to just one tiny part of that discussion. It takes a person of tremendous character to realize there are things in this world that are bigger than themselves.
A bartender has a lot of great categories and brands to choose from and guests often leave the choices up to me. At the end of the day, I'm going to reach for the bottles that I feel connected with, and when I pour them, there are going to be stories involved. For me, the stories in a bottle that I reach for are the ones from guys like Diego Loret de Mola, Ron Cooper, Ben Jones and the Chateys, because when I pour that liquid into a glass, it's more than just a liquid; it's the spirit, passion and soul of the people and places from whence those inspired beverages come.
Jason Snopkoski became a bartender at the age of 19, working in a variety of establishments for the past 18 years. Snopkoski says his career truly began as a bartender only two years ago, when he joined Mezón Tapas Bar & Restaurant in Danbury. He is now it's beverage director.