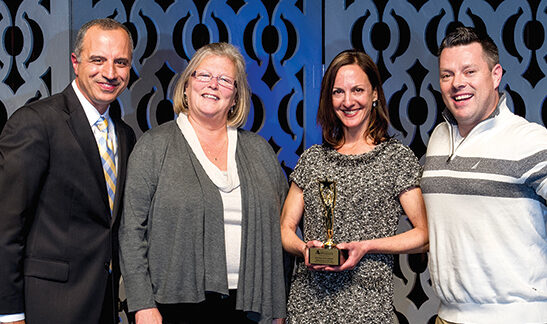 The Rhode Island Beverage Journal, sister publication of The Connecticut Beverage Journal, both based in Hamden, Connecticut, was recognized by the RI Hospitality Association as "Media Partner of the Year" at their annual "Stars of the Industry" awards ceremony held on Dec. 2 at Twin River Casino.
More than 595 guests attended the industry celebration that was created more than 25 years ago to honor a range of professions and personalities within the restaurant and hospitality industries. A cocktail reception and exhibition hour preceded the main awards dinner event. Rhode Island native and Billboard "Top Country Album" chart topper, singer Billy Gillman was a special award recipient, feted guests with two songs as part of the event's highlights.
The Rhode Island Beverage Journal received the award for its reporting on issues that impact the industry and association, as well its coverage of the local market beverage business.