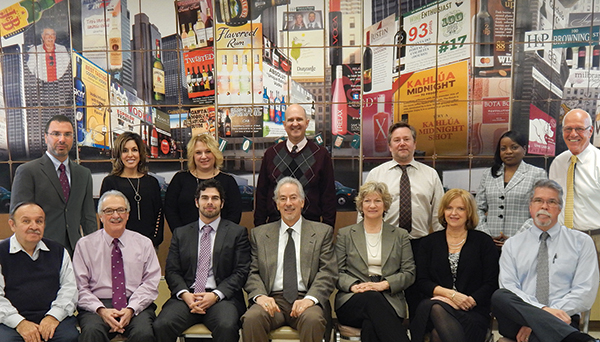 A family business builds on its history serving the market
Hartley & Parker, Limited, Inc., one of Connecticut's oldest wholesalers of fine wines and spirits, celebrates its 75th anniversary this month. The family proudly marks this milestone with a business history, which began in 1941.
Founded by Julius Rosenberg, Hartley & Parker started as a small storefront business in Bridgeport. Over its 75-year span, it has grown into managing a portfolio of more than 6,000 brands from around the world, with 165 employees, operating out of a 100,000-square foot facility at 100 Browning Street in Stratford.
The company remains a family-run organization today that is still "committed to achieving exceptional service in the presentation and delivery of our products," said Jerry Rosenberg, Julius' son and the company's current president.
The Early Years
Julius Rosenberg started his venture in the alcoholic beverage industry in his late teens at Star Liquor Distributors in New York. Owned by his brother Abraham, Star Liquor Distributors was the first company to be issued a liquor license in New York State after Prohibition.
Julius was committed to the industry. "My father served on the Wine and Spirit Wholesalers of Connecticut and the Wine and Spirit Wholesalers of America," said Jerry, who is currently serving on those boards.
Julius was an entrepreneur who was "committed to learning everything he needed to know about the industry," said Jerry. After several years with Star, Julius and his wife, Lil, moved to Bridgeport, Connecticut to open what would be called Hartley & Parker, Ltd., Inc. on Crescent Avenue.
In the mid-1950s, Hartley & Parker moved to a larger warehouse on Front Street. In 1966, Julius built an even bigger warehouse facility located in Stratford, and for the last 49 years, the company has remained at 100 Browning Street.
The Second Generation
During school vacations, Julius and Lil's children, Jerry, Mindy and Judy, would assist at the company. At age 15, Jerry would help out in the warehouse sweeping floors, receiving orders, loading delivery trucks and learning various parts of the business. On college breaks, he would continue his work at the company. In 1968, Jerry earned a degree in business management and marketing from Boston University.
Jerry's ambition was driven by his father's success. In 1981, TIME magazine honored Julius as one of the industry's "Men of the Year." Jerry "had big shoes to fill … not only was Julius an innately brilliant businessman, he was philanthropic, generous and cared deeply about his employees," he said.
Through the years, Jerry played a larger and larger role in the company and after the passing of his mother, in 1984, who was the company's vice president, he stepped into the title. In 2012, after Julius passed at the age of 94, Jerry became the president of Hartley & Parker.
An Eye on the Future
As the third generation, David Rosenberg officially joined the family business in 2008, after completing college.
A graduate from Bryant University with an undergraduate degree in business management, David had "imagined entering into the family business," and now serves as its vice president. "My goal is to learn all I can, and continue to rise to challenges ahead," he said.
Serving the Market
Jerry said Hartley & Parker Limited, Inc., "owes its success to our valued customers, loyal suppliers and dedicated employees." The employees, some of whom have served with the company for more than 30 years, are committed to "continually exceeding the expectations of their customers and building strong relationships with their suppliers," he continued.
"All of our customers have different needs and our suppliers have different products to sell to various customers. Our job as the middleman, so to speak, is to match up our suppliers' products with the appropriate customer accounts. To the extent that we can do this, we can be successful," said Jerry.