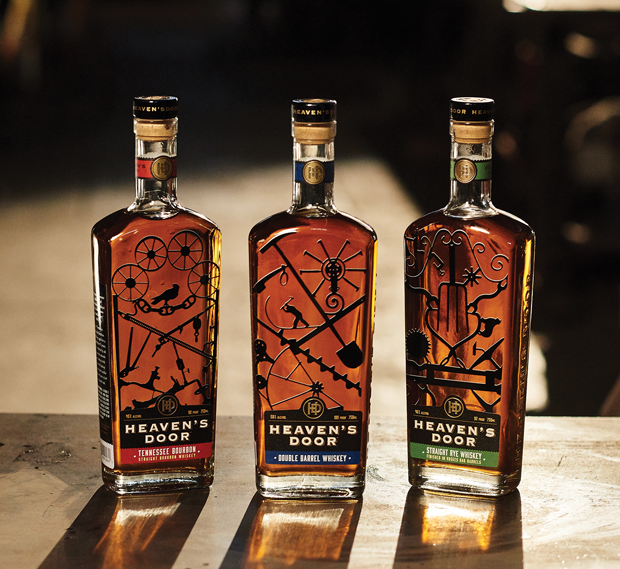 Heaven's Door Whiskeys by Bob Dylan
By Kristen Bieler
The challenge for any brand associated with a famous person is to establish the credibility of the product in its own right. When Bob Dylan partnered with Spirits Investment Partners to realize his vision for Heaven's Door Spirits, their singular focus was to create exceptional whiskeys for whiskey enthusiasts.
Unlike many celebrities who merely endorse or promote brands, Dylan has been meticulously involved in all aspects of the brand, from bottle design to the flavor profiles of each expression. Moreover, Dylan was adamant that the brand not be about him. "Bob did not even want his name on the bottle," explains Marc Bushala, co-founder and CEO of Heaven's Door Spirits. "It was no small effort to get Bob to agree to discretely include his signature on the back side of the front label, like an artist signing the back of a painting, and which is only visible when the bottle
is emptied."
Their whiskey-centric vision gave rise to the core trio of Heaven's Door whiskeys that stole the spotlight. Since taking the stage in May of 2018, Heaven's Door has won awards in most major spirits competitions, including "Best in Show" across all categories at the London International Spirits Competition this year.
A Stream of Greatest Hits
A lifelong whiskey enthusiast, Bob Dylan was in the process of creating his own brand, trademarking the name "Bootleg Whiskey" in 2015. Bushala had served as CEO for Angel's Envy Bourbon, which had been acquired by Bacardi. He was fascinated to learn of Dylan's interest in whiskey, and eventually convinced him to partner up. Bushala and Master Blender Ryan Perry also convinced him to name it Heaven's Door, a subtle nod to the well-known Dylan lyric.
What followed was an intense year of barrel sampling and finish experimentation. "Bob is very involved in the creation of the taste profile of each of our whiskey expressions," says Perry. "His direction yielded wonderful results." Perry and Bushala felt strongly that Dylan should not produce a single whiskey. "It's more interesting if—like his music—he produced an evolving repertoire of whiskeys," Perry adds.
The range varies dramatically: The Tennessee Straight Bourbon doesn't go through the Lincoln County process (filtering with sugar maple charcoal), which results in a robust, spicy profile. The Straight Rye is full-bodied and smoother than most, benefiting from time in cigar-shaped French oak barrels. A blend of Tennessee whiskeys and a straight rye, Double Barrel (100 proof) has become a bartender favorite.
"We're very determined to use older whiskeys with the right finish­. We've spent years trying to pry loose rare stocks and then seeing what we can do to make them our own," explains Perry. "It's very hard to find unique offerings in any quantity."
The plan is to keep the core range, and unveil limited releases every year. In June they re-released a 10-Year-Old Tennessee Bourbon (100 proof, $129.99) and this fall will debut The Bootleg Series, a 26-Year-Old whiskey finished in Japanese Mizunara Oak ($499). Like Dylan's many music collaborations, Heaven's Door plans to work with other master distillers to co-create unique barrel offerings. For Dylan fans, the varying expressions offer a connection to the artist, a translation of his palate preference. For everyone else, it's just damn good whiskey.