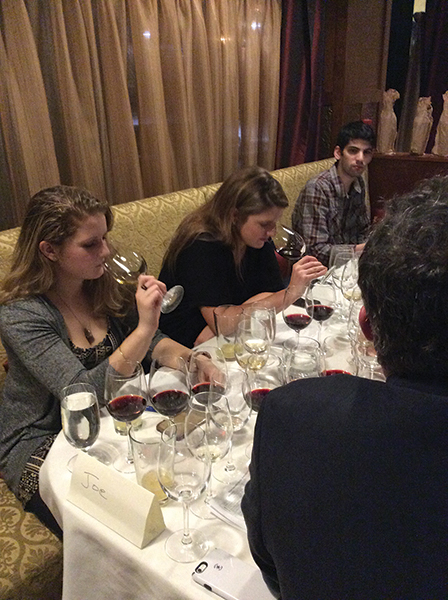 By Katrina M. Herold
A seemingly endless sea of glassware, bottles of wine disguised in brown bags and stacks of detailed wine analysis forms neatly stacked at each setting. It's easy to see that this is no ordinary table scape, but the typical scene at the beginning of a Rhode Island Chapter of the Boston Sommelier Society meeting and tasting.
The RI Chapter was started in January of 2015, after a conversation I had with Ian Magiros, On Premise Key Account Specialist for M.S. Walker. Each of us were members of the Boston Sommelier Society, but we found it difficult to travel to Boston for the weekly tastings and were looking for more opportunities to taste wines blind and work towards our future sommelier certifications. We decided to start a local chapter. We secured support from Johnson & Wales University and local restaurants willing to open up their space in order to accommodate the gatherings.
The first meeting and tasting was a huge success, attracting beverage sales professionals, wine educators, restaurant floor staff, Johnson & Wales sommelier students and even a private wine consultant. The society has since grown to more than 75 members and regularly accommodates more than 25 at each monthly tasting.
The RI Chapter supports the Boston Sommelier Society mission:
"We are a fun loving group of wine professionals and enthusiasts committed to advancing Boston's reputation in the wine world. Our goal is to push the boundaries of common wine perception such that wine becomes regarded as an accessible beverage for all to enjoy."
While anyone with a genuine wine interest is welcome to attend the tastings and meetings, most attendees have a professional connection to the beverage and restaurant industries. Many have goals in pursuing wine certifications from respected educational organizations such as the Society of Wine Educators, WSET and the Court of Master Sommeliers, all of which include a blind tasting component in their upper levels of certifications.
Our group is more directed towards the Court of Master Sommeliers, an organization offering four levels of sommelier certification. Level 1 is the Introductory Sommelier Course and exam, a two day commitment. The Court recommends that Level 1 candidates have done some studying on their own before attending the course and have read a list of recommended reading materials.
Level 2 is the Certified Sommelier, which does not include a course, only the exam, and the expected level of knowledge is considerably higher than Level 1. The exam consists of a written, blind tasting and a practical exam component.
The Advanced Sommelier, Level 3, involves an exam similar in format to the Certified Sommelier exam but at a level of knowledge exponentially higher than that of Level 2. At this level, candidates must apply to take the exam by showing a related work history and pass a timed wine knowledge quiz as a part of the application.
The highest honor the Court offers is The Master Sommelier certification. There are currently 230 Master Sommeliers worldwide with an exam that results in less than a 10 percent pass rate.
The role of the professional sommelier may be changing in the restaurant industry, yet this doesn't seem to have diminished the interest in pursuing the certifications. In less than a year, the society has helped three members pass the Certified Sommelier Exam by offering mock exams and coaching them with service drills.
One of the successful members has secured a position as a sommelier in one of New York City's highest rated restaurants. Several have attended the Introductory Course and passed the exam and there is no indication that they plan to stop working towards higher certifications. Small study groups and blind tastings have become a normal routine.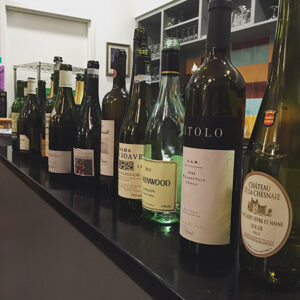 A typical meeting is organized by the board members collecting RSVP's via email or using social media. Teams are formed and leaders send out wine assignments to each attendee. A variety of regions and grape varieties that are on a CMS approved list are represented.
Each attendee arrives to the tasting with their wine disguised and is asked to pour for a different team. Once the wines are poured, each attendee has the opportunity to analyze and taste six to eight wines using a timed deductive process similar to that used by the Court of Master Sommeliers. There are meetings where we seem to pinpoint exactly which grape variety, region and vintage is represented. On other occasions, it seems we are on the other side of the planet, a truly humbling experience.
The ability to talk through the blind tasting process enables us to develop a deeper understanding of wine in a practical way and we benefit by hearing the perspectives of other wine professionals. This is an invaluable asset to those hoping to become better sales professionals or educators, all of who will make Rhode Island a more consumer friendly wine hub.
For information on membership, please email kmherold@jwu.edu.
Katrina M. Herold is an Associate Professor at Johnson & Wales University, a Certified Sommelier, Court of Master Sommeliers, Certified Specialist of Wine, Society of Wine Educators, and Advanced Certificate Wines and Spirits, WSET.