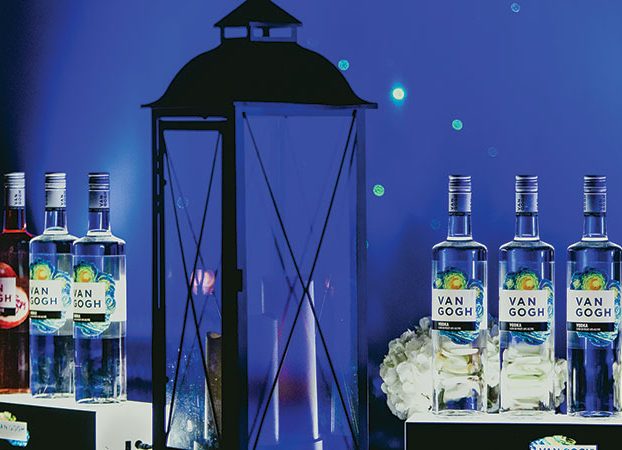 Imported vodkas used to rule the U.S. market, so the pendulum swing toward American vodka  should be kept in perspective—who knows where the vodka-lovers' arrow will be pointing in a decade?
Being notoriously neutral in character, vodka has always been ultra-pliable clay in the hands of marketers. Promotional hooks over time have shape-shifted considerably.
Back in the 1950s, ads proclaimed Smirnoff "leaves you breathless." Decades later, keeping vodka in your home freezer became au courant.
And of course, who could forget the one-upsmanship around number of times distilled, not to mention filtration methods. Here are some contemporary ways that the clear, theoretically odorless, tasteless spirits are being pitched.
---
Rosé, you say? Why not! Svedka, Effen and Three Olives have all put a pink spin on vodka. Svedka's boasts the inclusion of real wine. Three Olives has been supporting theirs with an aggressive social media campaign—begun on April Fools Day—in which towns named Roosevelt compete to become "Rosévelt" (Photoshopping and all).
---
Taking pride. More so than any other spirit, vodka brands have embraced the LGBTQ+ community. Stoli does an annual art bottle; this year's commemorates the 50th anniversary of the Stonewall Riots. Absolut has just made their hand-painted Rainbow bottles a permanent addition. Smirnoff and Effen both released limited editions in June.
---
Stayin' old school. If imitation is the highest form of flattery, there is admiration for Russia evident among American value vodkas sporting names like Georgi, Popov, Romanoff and Ruble. Among the made-in-Russian vodka brands here: Beluga, Czar's Original, Hammer & Sickle, Jewel of Russia, Legend of Kremlin, Ruskova and Russian Standard. And Poland continues to hold value as a source of authentic vodka, via the likes of Belvedere, Chopin, Kurant, Luksusowa, Lvov, Sobieski, Wodka, Wyborowa and Zu (Žubrówka, the ultra-authentic Polish vodka, with a blade of bison grass in the bottle).
---
Clarifying the message. Sensing that new campaigns each year were leading consumers to save Grey Goose for special occasions, the brand recently revamped their approach. "It was important to create an impactful, unified platform with a very long runway for consistency over time, that would translate across all of our markets globally," notes Chief Marketing Officer Lee Applbaum. "Live Victoriously does just that—reminding consumers everywhere to celebrate life's big and small moments."
---
Stand up to stand out. The embrace of craft spirits in general has opened the door for vodka producers to highlight their ingredients, methodology, even their inspiration. Broken Shed, from New Zealand, is made from whey, making it sugar-free, gluten-free and slightly viscous. French-made Cîroc has kept the brand's flames stoked by releasing limited summer editions; this year's Summer Watermelon also tapped a fresh fan base as Sean "Diddy" Combs collaborated with longtime friend DJ Khaled. Iceland's Reyka, has taken up a cause, raising funds to help protect endangered puffins, in Iceland and beyond. Van Gogh Vodka is prepping a multi-city "Starry Night" campaign. These rooftop-bar events feature both an astronomer and an astrologer, bringing the artist Van Gogh's experience up to date while guests sip Starry Night cocktails.