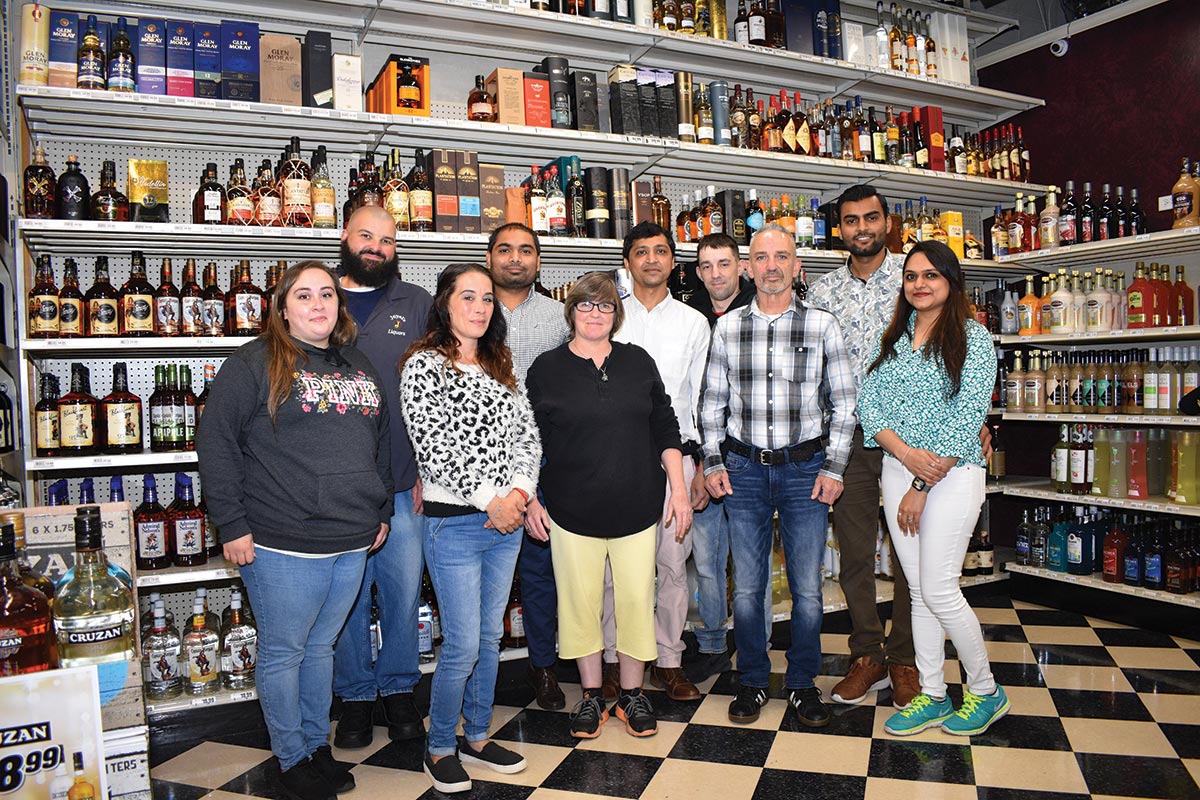 Joyal's Liquors
90 West Warwick Ave.
West Warwick, RI
Square footage: 8,000
Years in operation: 1 year under current ownership
By Sara Capozzi
A fixture in the town of West Warwick for 50 years, Joyal's Liquors was owned by the Joyal family, beginning with founder Arthur Joyal, with sons Dennis and Paul carrying on his legacy. In December 2019, Dennis Joyal sold the store to a new family team: brothers Ujash and Vikas Patel and their brother-in-law Ravi Patel.
Originally starting their careers managing and working at family-owned gas stations, the Patels held an interest in the liquor business. "We were born into the gas business, but my uncle brought me into the liquor business," said Ujash Patel, explaining his employment at the uncle's package store. The Patel team has since gone on to purchase Lakewood Liquors in Warwick in 2016 and Town Line Liquor in East Greenwich in June 2020.
According to the Patels, each family member has a different interest and specialty. "I'm into more craft beers and wine, my brother is into more Scotch and bourbon, and [Ravi] is into everything, so basically we use our own knowledge together," said Ujash.
Former owner Dennis Joyal has also kept in touch to assist the Patels through the ownership transition. "He has helped us a lot, he's still helping us a lot," Ravi Patel said. "We are keeping up whatever he left and are still trying to learn more."
The Patels have kept much of what the Joyals spent their career building intact, namely the store's vast selection of Scotch whiskies and bourbons, which reaches from the floor to the ceiling. Customers looking for a cigar to pair with their whisky selections have a variety to choose from at the shop's cigar counter. Joyal's also has plentiful SKUs of tequila and a variety of vodkas, rums, gin and liqueurs for shoppers to choose from.
As the popularity of craft beer continues to grow, especially among younger shoppers, the Patels have expanded the shop's craft beer cooler space to seven doors. Upon purchasing the store, "that was one of our first projects," Ravi said.
While liquor and craft beer make up the largest portion of sales at Joyal's, customers seeking wine tend to buy boxed varieties and value brands such as Barefoot, with some higher-end selections in the mix.
Many of Joyal's 11-person staff have worked at the shop for 15 years or more and are an asset. "They know all of the products too so they've helped us a lot," Ravi said. "Also, they do really good customer service and they know everybody by name." Along with the selection, the personalized attention to customer service that shoppers have come to expect at Joyal's keeps them coming back.