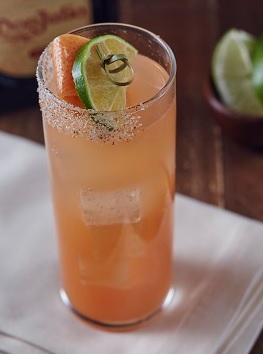 This year,  National Tequila Day  falls on July 24. The long history of tequila has evolved from mezcal wine to a popular spirit to savor. If neat is not your style, try some creative spins on classic cocktails, using the famed blue agave base spirit to lead the flavor profile.
Agave Sazerac
2 oz. Roca Patrón Añejo
.5 oz. Simple syrup
1 dash Angostura bitters
1 dash Peychaud's bitters
1 dash Absinthe
Lemon peel for garnish
Method: "Rinse" a chilled rocks glass with absinthe or Herbsaint by swirling the spirit, allowing it to coat the glass, then discard the excess. In a mixing glass, combine Roca Patrón Añejo, simple syrup and bitters. Add ice and stir to chill. Strain into the absinthe-seasoned rocks glass and garnish with a lemon peel.
Orale!
1 3/4 oz. 1800 Coconut
1/4 oz. Mango Nectar
2 dashes Jalapeno Hot Sauce
1/4 oz. Simple syrup
Top with Champagne
Garnish with Mango Slice
Method: Combine all ingredients, except Champagne. Add ice. Shake for 10 seconds. Top mixture with Champagne in mixing tin. Double Strain into coupe glass.
Reposado Paloma
1 1/2 oz. Don Julio Reposado
1 oz. Fresh Grapefruit juice
1/2 oz. Fresh lime juice
1/2 oz. Agave nectar
Splash of soda water
Grapefruit peel or lime wedge for garnish
Method: Combine Don Julio Reposado, fresh grapefruit juice, fresh lime juice, and agave nectar into a cocktail shaker with ice. Shake well. Strain into a glass over ice. Add a splash of soda water and garnish with a grapefruit peel or lime wedge.
Ancho Verde Margarita
1 part Ancho Reyes Verde
1 part Milagro Silver Tequila
1 part fresh lime juice
1/3 part agave nectar
Method: Add all ingredients to a shaker, add ice, and shake hard. Strain over fresh ice into a rocks glass with half its rum salted. Garnish with a lime wheel.
El Diablo
50 ml KAH Reposado Tequila
15 ml of lime
10 ml Crème de Cassis liqueur
90 ml Ginger beer
Shake first three ingredients with ice and strain into ice-filled glass. Top with ginger beer.
Cuervo Flirt
2 parts Jose Cuervo Especial Silver
3/4 part apricot brandy liqueur
1 part cranberry juice
3/4 part fresh lime juice
lime wedge garnish
Shake all ingredients together and fine-strain into a chilled cocktail glass. Serve with a floated lime wheel.