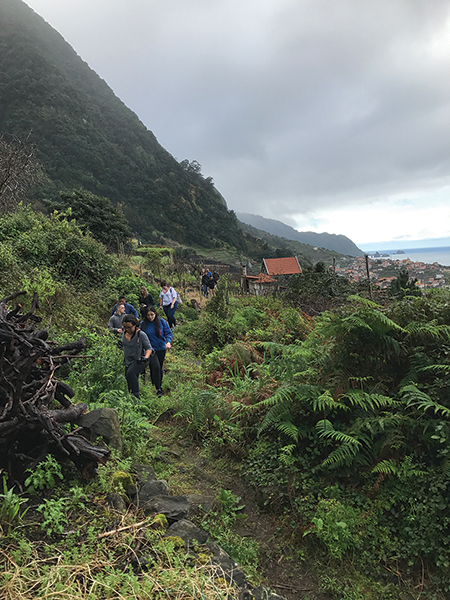 By Edward M. Korry, MA, CSS, CHE, CWE
I have just returned from Madeira and the Azores with a group of students from Johnson & Wales University, all of whom participated in a nine day Spring Break credit course. The goals of the course included experiencing and tasting wines that really do possess a "minerally" characteristic (more so than the many regions of the world claiming to have such a taste), and to experience a rewarding, connected cultural experience, a term that didn't exist in wine lexicon, yet has now become ubiquitous.
These volcanic islands, along with Cape Verde and the Canary Islands, are sometimes referred to Macaronesia. They are a result of three major tectonic plate movements including the North American plate, the Eurasian and the African plates that formed these volcanic islands, including the Azores' Pico Island that is fewer than 300,000 years old. They have formed as part of the North Atlantic deep trench and lie on the Gloria fault. It is these types of soils that give a minerally, almost salty, taste.
There were other reasons to select this destination, including travelling distance given the short length of the course, the heritage sites and the cultural connection these islands have to our New England region.
The wines of Madeira were the mainstay of wine consumption in the colonies in the early years of our republic. It was discovered that the wines aged on viajes de roda — literally 'return trips' — on sea voyaging ships to the Orient and back. The barrels, or 'pipes,' of wine were used as ballast in holds of trading ships and returned greatly improved.
I had the privilege of tasting an 1875 Malvasia Madeira on this trip that was delicious, complex and persistent on the palate. But, there is a difference between the Madeira wines that are fortified from 18% to 22% and vinhos licorosos of the Azores, particularly of Pico, that attain alcohol levels of up to 21% naturally, or without the addition of brandy.
The other cultural connection is the more than two million descendants of these islands, the great majority of whom now live in New England, including Rhode Island, and who may have forgotten or never fully known this heritage. When these island wines reached their peak production in the 17th, 18th and early 19th centuries, it was Pico's production that dwarfed that of Madeira. In fact, it is most probable that much of Pico wine was sold as Madeira wine when transported from the hub of Horta on Faial Island just a few miles from Pico to the U.S. Faial and other Azorean ports were critical victualing stations in the trade between Europe and the New World.
My students discovered on this trip how the culture and cuisines were heavily influenced by these trade routes, including the spices, and fruits now being grown, such as pineapples, chayote, bananas and, of course, grape varieties. Both the European and American hybrid varieties are grown, but so are varietals brought over by the settler populations that came from Northern Europe including Belgians, Dutch and French from Brittany amongst others.
While most wines from the islands were the stronger, indestructible ones, there is a renaissance occurring on these islands with a focus on dry white wines made from their unique varieties that are adaptations of what was originally brought from Portugal and Europe. The varietals include the Arinto dos Açores, the Verdelho do Pico, and the newly revived Terrantez do Pico that was most likely brought to Madeira from Pico.
The primary grape variety on Pico is the tart, citrusy, almost salty Arinto, while in Madeira it is the more aromatic and tropical Verdelho. The island of Pico at its height had around 14,000 acres of vineyards carved out of basaltic rock. The vineyards are an UNESCO World Heritage Site and it's not difficult to understand why. The vines were planted in the cracks of rocks, created by men, and the vines were sustained on the fresh water rainfall that collected and sat on top of the seawater that penetrated the substrata of vineyards.
Vineyard plants numbering 2 to 6 are protected by currais, or 3-foot high walls made by lava rocks, that if juxtapositioned end to end would circumnavigate the globe twice. And these were built in the 15th to 17th centuries! The impact of American imports of powdery mildew and the phylloxera pest caused an implosion so that only 25,000 liters were being produced from the late 19th century on.
Today, there are nearly 2,000 acres that have been reclaimed on Pico, and while there is plenty of dry to sweet Lajido oxidized style of wine, it is the Arinto, Verdelho and Terrantez that is the focus. While the coop dominates production, it is the likes of the Azorean Wine Company, Curral Atlantis, Burraca and Czar that are leading the new wine revolution.
In Madeira, one encounters more dry, unfortified white wines with the DO Madeirense appellation, but it's the fortified wines that can be so extraordinary. While fortified wines have lost some of their luster for a number of reasons, there is good reason to try a dry style Sercial 5- or 10-year-old with sushi or other lighter food accompaniments, or a softer, fragrant Verdelho with richer foods including pates, or a richer, sweeter Bual or Malmsey with a dark chocolate mousse or a dried fruit cake.
The point is that returning to one's heritage because one's family was originally from these Atlantic Islands, or because it connects to what our forefathers enjoyed, is one of the most authentic experiences one can have.
Ed Korry is an Associate Professor and Department Chairman of Beverage & Dining Service at Johnson & Wales University, Providence. He is also serving as President of the SWE and has attained both its CWE and CSS certifications, and holds a WSET certification. Johnson & Wales University offers courses to assist in certification exam preparation.