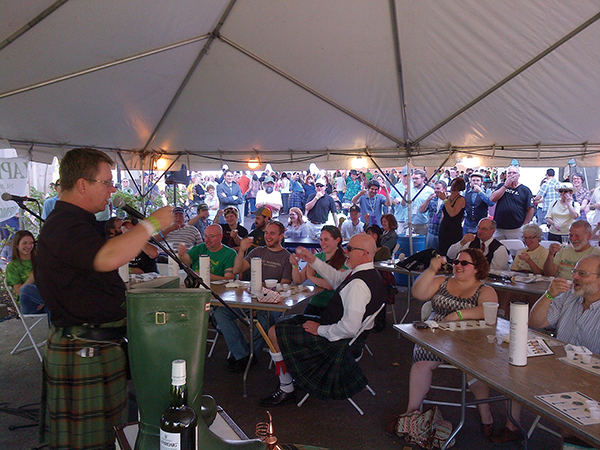 The 13th Annual "Pipes in the Valley" Celtic Music Festival featured music, food, Highland games and plenty of beverages for over 20,000 people. Sponsor Laphroaig Scotch hosted educational seminars and sampling sessions under their tent. Each session had approximately 60 people. Guests were able to sign up in advance to hear Simon Brooking, Beam Suntory's Master Scotch Ambassador, speak about the origins of Single Malt Scotch as well as Laphroaig. Laphroaig 10 Year was also featured for festival guests: served neat or in a Bloody Mary.
Simon Brooking, Master Scotch Ambassador, Beam Suntory; Sarah Alokones, North Divisional Sales Manager, Brescome Barton; and Mike DePasqua, Connecticut Territory Manager, Beam Suntory.
Simon Brooking spoke about Laphroaig and the rich history of the spirit at each seminar throughout day. The brand's 10 Year, Quarter Cask, Triple Wood and 10 Year Cask Strength scotches were featured during the seminars.