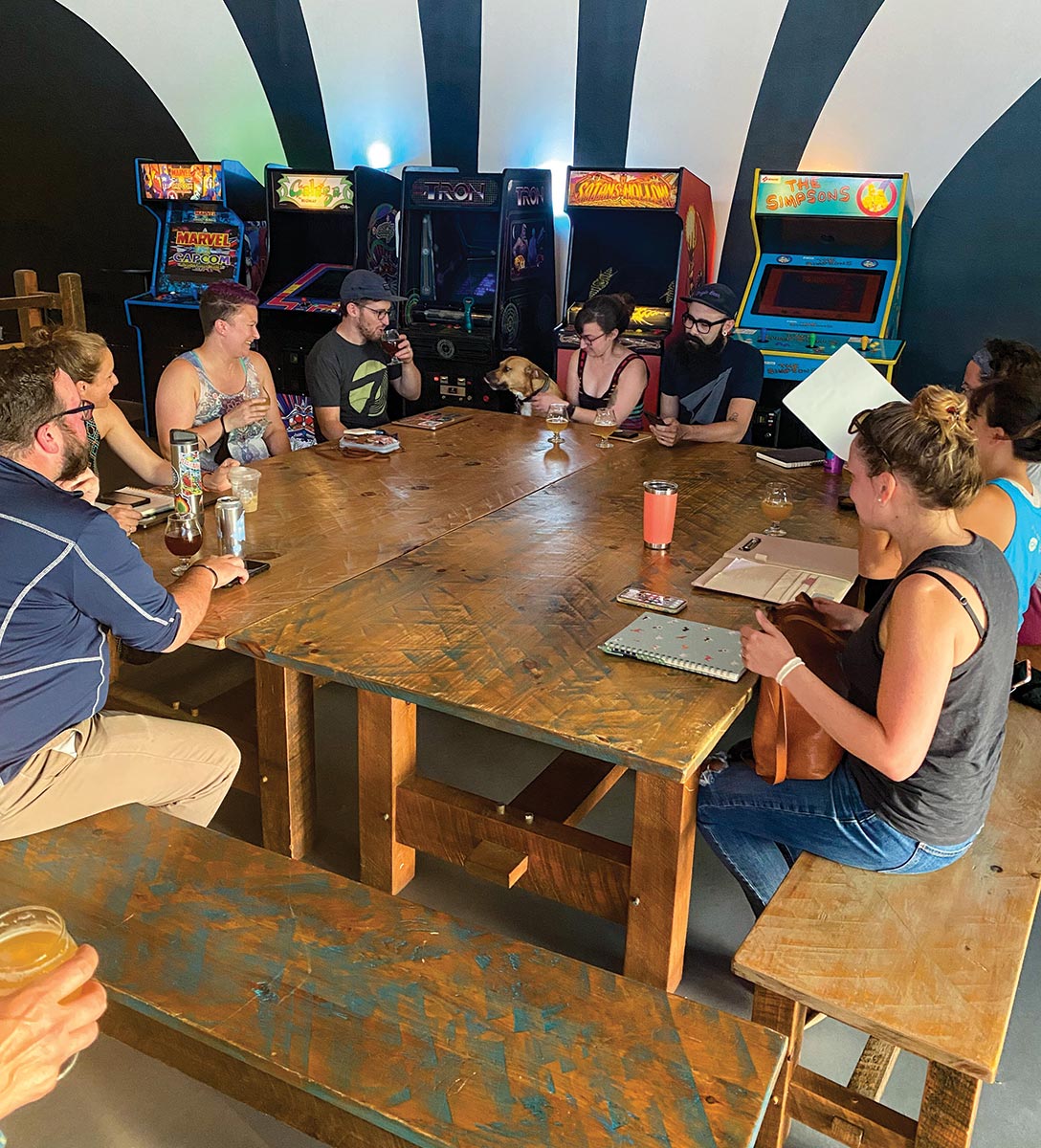 Local beer industry members work toward a more inclusive future
By Sara Capozzi
Last spring, the beer industry was forced to confront an oft-unspoken culture of discrimination, sexual harassment and abuse after multiple allegations, submitted via blind item to the Instagram account, @ratmagnet, came to light. Run by Massachusetts-based Brewer Brienne Allan, the account shared anonymous stories which shone a much-needed spotlight on issues that have gone on for far too long in the historically white and male-dominated world of craft beer. The revelations also served as an impetus for Rhode Island and Connecticut industry members to find solutions in order to make the industry safer and more inclusive for women, people of color and members of the LGBTQ+ community.
Reading the experiences of other women shared via Ratmagnet struck a chord with Jamie Buscher, who has long worked in the Rhode Island craft beer industry. She was inspired to connect with other women in the industry to do something, although at first, she wasn't sure what.
"It was a very emotional few days for me because it stirs up a lot of trauma for me personally," Buscher said. "We've all experienced a lot of BS in this industry ranging from just being dismissed because of our gender to being touched inappropriately at events. It brought up a lot for me, and I kind of didn't know what to do, but I knew that I wanted to be with other women who had gone through similar experiences."
Buscher began talking to her friends and co-workers about what positive actions they could take in Rhode Island's craft brewing industry. She reached out to her former co-worker Erika Tessier, who co-owns Origin Beer Project and had worked with Buscher at the Craft Collective, and Lee Lorde, Head Brewer, Narragansett Brewing Co., along with other concerned friends and hospitality industry members.
They held meetings with like-minded members of the community, resulting in the formation of a new advocacy group, The Rhode Island Craft Beer Diversity, Equity and Inclusion Committee, which includes men and women from all sectors of the hospitality industry – owners, brewers, restaurant workers and representatives from nonprofit organizations, with the common goal of making the craft beer industry a safer, more inclusive environment for all.
Tessier also serves on a Rhode Island Brewer's Guild committee for diversity and inclusion, as a liaison to the Guild's Board of Directors, which currently doesn't have female representation. The committee plans to work with breweries, and possibly bars and liquor stores, to create free sexual harassment training programs, "To stop this stuff before it happens, and also then help breweries write their own codes of conduct so that when it does happen, they know how to handle it," Buscher said.
Buscher and Tessier also connected with Jennifer Pereira, Associate Professor, Johnson & Wales University, who teaches Brewing Arts, to create a new scholarship in Professional Craft Brewing, which will be available to individuals who have faced hurdles in entering the beer industry due to factors including their gender, race or sexual preferences.
The scholarship will be awarded to two undergrad or continuing education students who are pursuing degree certificates in any of the university's beverage industry programs, be it the brewing program, wine program or beverage management program. Available starting in the Fall 2022 semester, it will be partially funded through proceeds generated through an annual event celebrating diversity in craft brewing and craft beverage industries.
"What's exciting right now is we have current JWU students working on projects to help with this," Pereira said. "I have Capstone Brewing students who are making prototype beers that we'll then have the brewers taste and decide which ones they like. We're following their parameters on what types of beer and what their operational constraints are. We also have design students in our design class working on labels and promotional posters to help promote the products once they're ready for market. All … will help raise money for the scholarship too."
Lee Lord, Head Brewer at Narragansett Brewing, became the company's first female head brewer when she was hired in spring 2021. Long active in the Pink Boots Society, an organization that supports female brewers through educational scholarships, Lord is no stranger to issues women in the industry face. Many leadership roles at Narragansett are held by women, its General Manager, Erin Crossett, among them. The shared allegations hit home for team members, who met and drafted up a "Zero Tolerance Policy" for Narragansett's staff, which also covers how guests treat workers. "If anything happens at any time, people should absolutely feel free to speak up and the company won't stand for any discrimination or abuse at all," Lord said.
"For a lot of us, it's been sort of a tough time because it's kind of like, every story you read, you relive your own past a little bit. To be able to not feel like you always have to look over your shoulder at beer festivals or wonder if you're getting paid less than your coworkers or if you're working at the bar, what kinds of remarks are going to be made towards you that night. Not being scared all the time would be amazing."
"I think we've come a long way in a short amount of time. I think the recent allegations all across the country and the world have brought this to the forefront, where in other times it might have been just swept under the rug or not treated as such a big deal. Everybody's taking it really seriously."
Lord said she hopes the movement doesn't make things even harder for women to find employment in the industry. "Since this whole thing blew up, I'm wondering are women seen as liabilities in the workplace now? … that's not the case at all at Narragansett, but it makes me a little afraid."
Jennifer Brinton, Owner of Grey Sail Brewing in Westerly, said the brewery hasn't needed to make changes to its policies, attributing that to the high standards it has always had in place, both for hiring and for the behavior of staff and guests. Its Head Brewer Michelle Clark has been with the company since 2012. Brinton said management keeps lines of communication open. "The positive [thing] is that it's out on the table and if there is an issue, people are doing something about it … and hopefully any wrongs get rectified quickly. Anywhere, anybody and everybody, female and male, deserves to have a comfortable work environment where they're appreciated and respected, mentally and physically. I think that's very important. And it should be inherent in any business," Brinton said.
In Connecticut, the brewing industry reacted swiftly in response to the shared allegations with a new code of conduct, devised by officers in the state's Pink Boots Society in collaboration with Phil Pappas, Executive Director, Connecticut Brewers Guild.
Pink Boots Society Chapter Leaders Mariah Billian, Taproom Manager, Outerlight Brewing and Abby Bibens, Taproom Manager, Still Hill Brewery spearheaded the creation of the plan, first meeting with a group of women in the industry to discuss their concerns and what changes they wanted to see put in place. Then, Billian and Bibens worked with Pappas and the Brewers Guild Board to put together a four-point anti-sexual harassment plan, which can be used by breweries and other venues to combat workplace harassment.
"We wanted to work quickly, but since this is a very sensitive issue, it was also important to tread carefully," Billian said. "We compiled as many useful resources as we could find and talked to several organizations, [human resource] companies and experts on the subject."
The details of the four-point plan are: to strengthen Guild bylaws and Guild membership removal from breweries convicted of wrongdoing; launch a Diversity and Inclusion Committee to increase gender, race and sexual orientation equity in the industry; work with anti-sexual harassment experts to bolster access to anonymous reporting and increase awareness of "see something, say something," which includes the creation of anti-sexual harassment posters for display in brewery taprooms with a Code of Conduct for staff and consumers.
"There was absolutely some frustration among the breweries and community due to only being able to provide resources for people to use and stepping up with legal action," she said, explaining that as nonprofits they are limited in how to use their funds.
Billian said greater accountability, from both industry colleagues and guests, in calling out abusive behaviors when they happen, is important. "Recognizing your own implicit biases is an imperative first step towards internal and external change," Billian said. "Owners and management need to be held accountable for how they handle these situations as well, so we can end the cycle of punishment and backlash towards the victims when they come forward."
She and her team are working with the CT Alliance Against Sexual Violence to hold educational events for industry members. They have also partnered with WeVow, an HR resource where workers facing mistreatment can anonymously submit a claim. "We are all here to learn to do better, and we will do it together," Billian said. "While these issues are being highlighted within this industry, it's important to remember that it's not just our industry that deals with them. This is an issue within our society, and change can only happen if everyone is on board."
Buscher, too, hopes that in the future, men can take an active role in speaking up when they see harassment and fostering more inclusion. "We do have a lot of really great men in our group that have been helping a lot … it would be nice to see more men step up and work on stuff like what we're working on, [and] also just to say something when they see stuff like this happening."
These groups continue to work to make the craft beer industry a more even playing field for all. Stay tuned for updates as this story evolves.