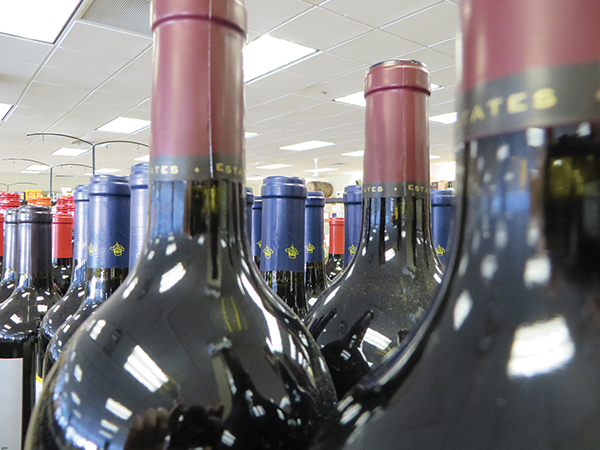 Ledgebrook Spirits Shop
200 New Hartford Road
Winsted, CT
By Bob Sample
Square Footage: 7,000
Years in Operation: 25 (Under Current Management)
For Chris Battista, owning a retail store is a lifelong ambition. That enthusiasm has guided him for the 25 years that he has owned Winsted's Ledgebrook Spirits Shop. "When I was kid my uncle owned a general store by a lake in Vermont, and since then I always wanted to have my own store," Battista recalled. Later, he worked in several package stores while in college and after graduation became a sales rep for Gallo. He purchased Ledgebrook in 1990.
At the time, the store carried perhaps eight varieties of beer, the major brands of brown spirit, and a similar selection of wines. Vodka's surge in popularity had yet to happen, and flavored vodkas were unheard of. Under Battista's leadership, the store has undergone two expansions, doubling in size to its current 7,800-square feet.
Just as wines have exploded in variety and popularity, so too have the choices in beer and spirits. "Now, we get bombarded with six to eight new products every week," Battista said. "Very few will become long-term successes. Still, consumers like seeing variety and they want to try everything, which is why we've expanded."
The hottest new trend that Battista has seen has been the surge in popularity of flavored bourbons. "It all started about five years ago with the introduction of bourbon flavored with honey," said Battista. The trend has spread to the more staid distillers of Scotch, as Battista has seen at least one honey-flavored variety.
Ledgebrook also stocks hundreds of varieties of beer, and Battista works hard to keep up with changing tastes. As customers have become more sophisticated in their beer tastes, they've begun to gravitate toward high-end European beers – many of which inspired the makers of today's craft varieties. Through all the trends, Battista labors constantly to make Ledgebrook the kind of store where customers enjoy shopping. "It sounds like a bit of a cliché, but a store always has to put customers first," said Battista.
Wine now accounts for about half of the store's sales, and Battista's goal is to provide both quality and value. To introduce customers to new wines, he hosts tastings at the store every weekend. Several years ago, Battista purchased his second store – this time in Canaan, Connecticut. Battista slightly altered the name, from Stateline Package Store to Stateline Wine and Spirits. Many current customers live in between the two stores and are likely to shop at both he said, and buying for two stores gives him greater purchasing power.
The store also runs a constant array of charity tastings, which are both popular and help cement the store's reputation in the community. "We do a small amount of print advertising, and we're now in the middle of designing an email bulletin," said Battista.