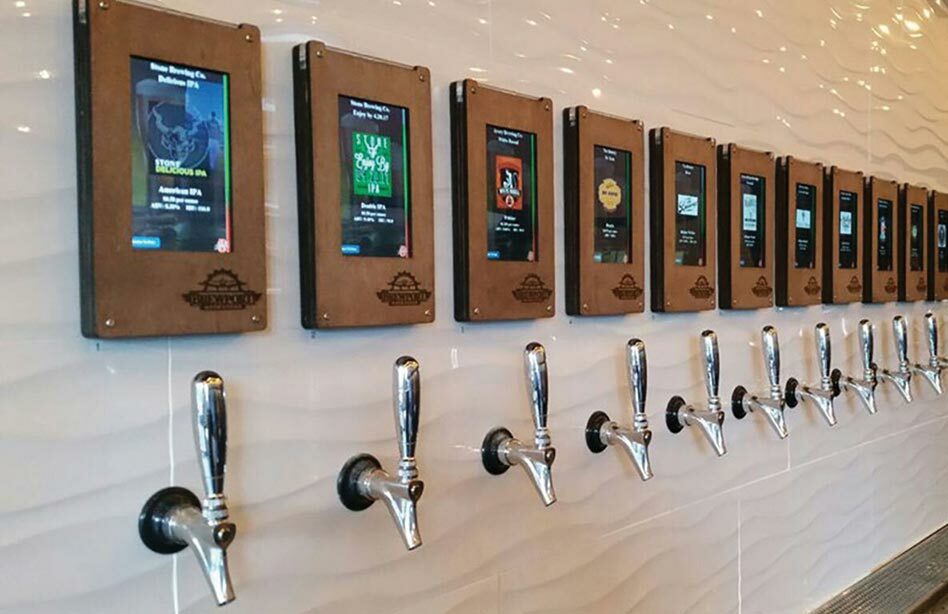 How Self-Pour Automated Systems Are Regulated in Connecticut
By Jerry Farrell Jr.
Over the years, the state legislature has created several new liquor license types. Some new license types do not see great numbers of applications that generate new licensees. Others take a while to catch on, as those who are more cautious wait to see how things turn out for those willing to take the risk. In the last year, our office was consulted by Michelle Norris, who wanted to take advantage of recent legislative changes and open a self-pour taproom here in Connecticut.
Norris, a native of Aiken, South Carolina, had done extensive research on similar venues and had frequented a self-serve taproom in her hometown. She was confident that with the legislative changes in place, Connecticut was ripe for such a venue. Fast forward to June 2022 and Tri-It Taproom in Avon became the holder of the first permit issued in Connecticut under the changed regulations. Norris' taproom hosts a wall of 44 taps in all, offering craft beer, hard seltzer, cider and wine.
Since Connecticut legalized self-pouring technology in 2021, a significant change to the landscape of selling/serving alcohol has come about, making it easier for businesses to offer self-serve automated beer and wine machines to patrons. These self-pour devices are limited to the sale of beer, cider—not to exceed 6% alcohol by volume—and wine. Hard liquor is not included. This self-serve technology is already being used at more than 340 locations nationwide.
Locations that have self-pour systems do not have "servers" as such. Rather, they have employees who greet customers at the entrance and guide them through the process of obtaining a self-serve pour card. Each patron must be verified to be at least 21 years old, via a legal state ID, to purchase a payment card to obtain beer or wine. The card uses a radio frequency identification device (RFID) that is preset with a limit not to exceed 32 ounces of beer, 32 ounces of cider or 10 ounces of wine. Norris said, "We are highly regulated and have more checks and balances in place than most breweries."
Under Senate Bill 265, allowing for the operation of self-serve alcohol technology in Connecticut, automated machines cannot dispense a serving of more than 32 ounces of beer or 10 ounces of wine. In addition, Connecticut's regulations impose significant requirements on management, such as maintaining video surveillance while the self-pour system is in operation, cleaning the system, labeling the spigots and recalibrating the system. The regulation (Sec. 30-6-A28) under the Liquor Control Act spells out the requirements in detail.
Each guest must provide two forms of ID to receive a self-serve pour card and can only purchase one device. This means that each member of a group must purchase their own RFID device using their own credit card. Most patrons are "thrilled" by the self-pour concept, "however," said Norris, "some find the two ID requirements a bit off-putting or are disappointed that we don't carry their favorite double IPAs, which are above the 6% ABV limit."
Employees must verify that the patron purchasing the RFID device is 21 years of age by examining the patron's government-issued identification card with a name that matches the name on the patron's debit card, credit card or mobile payment app. A record of this verification must be recorded in a printed or digital log, which needs to be maintained at the location for three years.
The RFID device can be reactivated a second time and subsequent times to allow another serving up to the quantity limit. If a customer requests reactivation, staff use this opportunity to make sure the guest has not over-imbibed. If so, staff are required to refuse to reactivate the RFID device.
The new regulation is a win-win for an enterprising proprietor and an economic opportunity for the state for Norris and others who chose to try it. "The taproom is a great marketing tool for the breweries represented on our tap wall and we're thrilled to offer this experience to our patrons," said Norris, who is hoping to make the experience even more inclusive by broadening offerings to include nonalcoholic beers and kombuchas.
Jerry Farrell Jr. served as chairman of the Connecticut Liquor Control Commission from 2006 to 2011. Today, he is an attorney in private practice, focusing on liquor licensing law. He can be reached at jerry@ctliquorlaw.com. This column is not intended to be legal advice; consult an attorney for answers to your specific questions and situation.