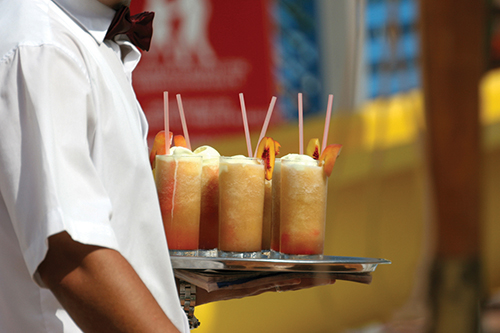 By Jerry Farrell, Jr.
Every liquor licensee lives in fear of it: being hauled before the state Liquor Control Commission for violations of the state's liquor laws.
What usually awaits a licensee after a compliance meeting is often not good news: a number of days that the establishment must close and be unable to sell liquor, as well as monetary fines, possibly in the thousands of dollars. Most cases fall into two categories: 1) sale of alcohol to a "minor" under the age of 21, and 2) sale of alcohol to someone already intoxicated.
In 2008, the state liquor laws were amended to give the Liquor Control Commission another option to deal with these violations — sending the licensee to "alcohol seller and server training" to learn how to avoid having these violations again.
Despite the law allowing this option, it really was not available through the Commission until now. During those nine years since the law passed, no one had put together a training program that adhered to the statute, namely a six-hour program that specifically discussed and taught Connecticut law.
After hearing for many years that "someone should do this," I created the course. It was approved by the Department of Consumer Protection, has recently been used by the Liquor Control Commission and the first class is being held in July.
If indeed you are asked before the Liquor Control Commission, it is an option you need to be aware of before you talk with the Commission or its staff.  Ask if your case would be eligible. As it is a new option for the Commission, it may take them some time to sort out which cases should be eligible and which may not be.
In addition to those who have committed violations and will attend the course because of those violations, based upon interest, I am also opening the course to those who have not committed violations but are interested in having their staff trained proactively. The course is appropriate for both on-premises sales locations, such as occur in a restaurant or café, as well as off-premises sales, such as in a package store or grocery store.
While those involved in the liquor trade may sometimes attend "TIPS" courses, this class should not be confused with those. "TIPS" courses are generic in nature; they do not go into the specifics of Connecticut law and what Connecticut law requires. This newly-created and state-approved course does.
To help your employees avoid selling to a person under the age of 21, the class goes into intricate detail on what Connecticut law requires in regard to "carding" liquor purchasers, how to examine drivers' licenses and other identity cards, the use of black lights and age statement forms. We talk about age verification devices, transaction scan devices, and the use of photography, and whether they can help insulate your business from legal and administrative liability.
To help your employees avoid selling to a person who is already intoxicated, the class goes into what the legal definition of a "drink" is and what servers need to know about volume of consumption. How Connecticut law affects "drink promotions" is also covered in detail, something no generic course can cover, and something every waiter or waitress needs to know when serving alcohol.
There is a lot of information, all Connecticut-specific, that will help you and your staff serve liquor responsibly and legally. To me, it is something everyone involved in selling alcohol – waiter or waitress, package store clerk, permittee, manager or owner – should attend so that they know the specifics of Connecticut law. Knowledge is power, and, in this case, the power to stay out of trouble.
This column is not intended to be legal advice; consult an attorney for answers to your specific questions and situation.
Jerry Farrell, Jr., is an attorney-at-law in private practice in Wallingford. He served as teh Commissioner of Consumer Protection and Chairperson of the Liquor Control Commission. Farrell represents clients in all these tiers of the industry. Through Connecticut Liquor Law Educational Services LLC, he offers a variety of instructional courses covering areas of interest to the industry. Contact him at jerry@ctliquorlaw.com