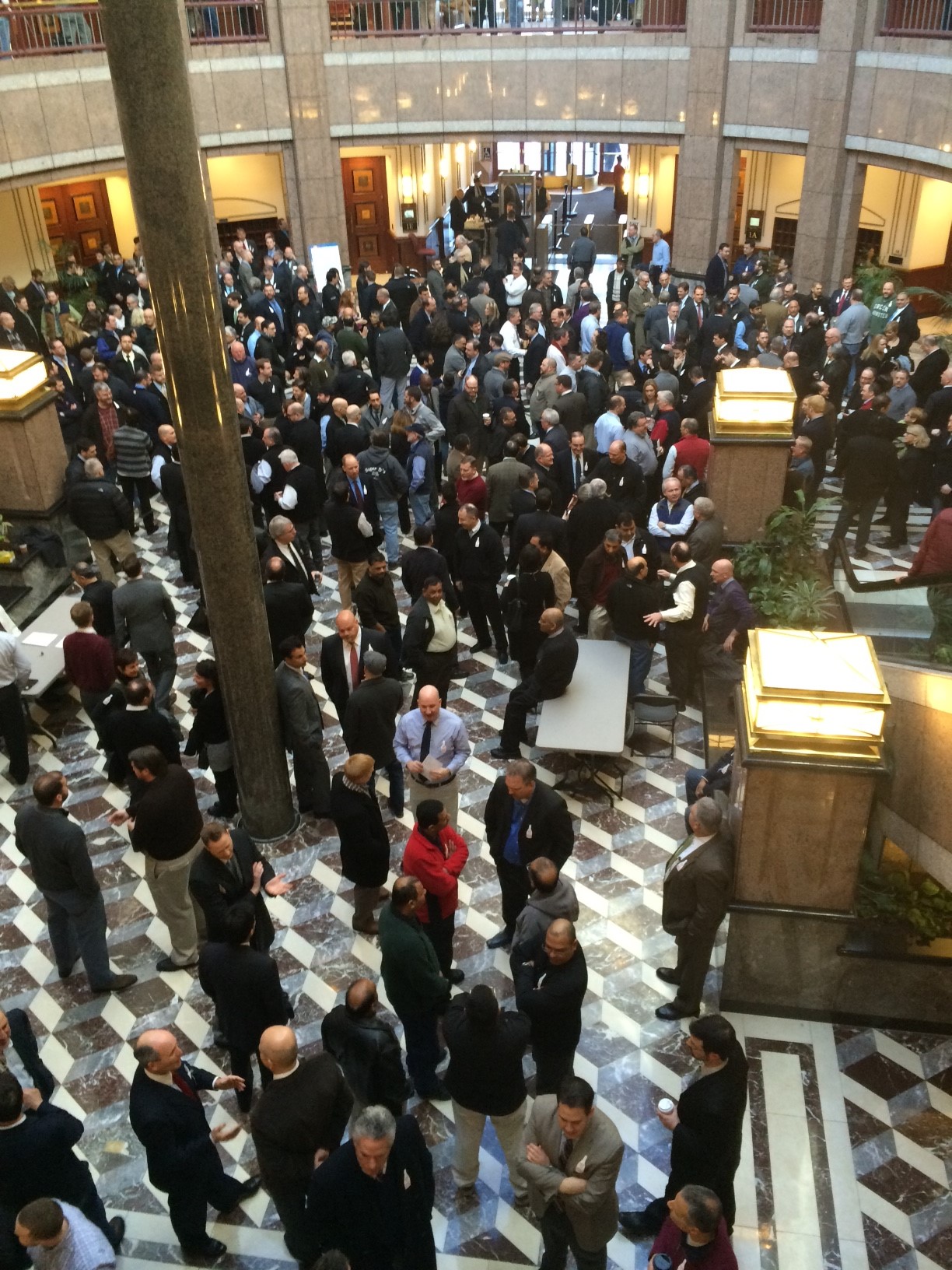 March 9 Hearing Gives Voice to Concerns
By LAUREN DALEY
HARTFORD — The Legislative Office Building was filled with hundreds of members of the state's alcohol industry for a public hearing March 9. The majority were package store owners who were there to speak out against Gov. Dannel P. Malloy's budget proposal sections that seek to make major changes to the state's alcohol industry, in the budget's sections 41 – 43.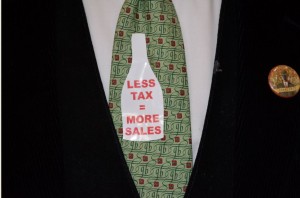 Wholesalers were bused from East Hartford to the Legislative building. Permittees drove in and parking was a premium. Many wholesalers were represented, not only by management but also drivers, staff and support positions. People were greeted at the door with a sticker "Less Tax = More Sales," visually demonstrating a core theme heard from budget proposal opponents.
Department of Consumer Protection Commissioner Jonathan A. Harris explained support of Sections 41 – 43, calling the changes "modest" and "more consumer-friendly." Many legislators questioned the proposed changes.
Sen. L. Scott Frantz of Greenwich said he was concerned about a "detrimental effect" on small package store owners who are already struggling. Rep. Christopher Davis said he's never heard any of his constituents in Ellington or East Windsor complain: "I never had one of them say, 'I wish I could buy liquor at 10 o'clock at night," Davis said. "So what caused this push to change this year?" Many questioned the changes and the data projections including State Rep. Laura Devlin, Rep. Rosa Rembimbas, Rep. Dave Yaccarino and Rep. Vincent Candelora.
Carroll Hughes, a lobbyist for the Connecticut Package Store Association, told the Finance Committee what he and his association has long maintained: "We don't sell as much as we should because we have an excise and sales tax," Hughes called the Governor's projection of an additional $3 million dollars in tax revenue through Section 42 (extended operational hours until 10:00pm) "ludicrous" and cited increased work hours, increased operational expenses and no revenue gain.
Edward Cooper, vice president for public affairs and community relations for Total Wine & More, countered: "We're for the customer on this issue, on [minimum bottle pricing], and I think package stores are only interested in themselves." Cooper said the legislation is good for the consumer, and that he didn't think it was necessarily a tax issue that made Connecticut less competitive than its neighbors — a comment that drew laughter in the room.
Also testifying in favor of the proposed budget was Stan Sorkin, President of the Connecticut Food Association, which represents supermarkets and convenience stores and the Distilled Spirits Council of the United States.
Malloy's budget director, Ben Barnes said, "The governor has proposed these changes because they are pro-consumer and they favor the residents of the state of Connecticut who purchase alcoholic beverages…I know the data is uncertain as to the impact of Sunday sales…I don't know the impact financially in terms of increased sales."
Doug Rankin, owner of Missing Link Wholesale and Imports based in Wallingford, testified: "Connecticut's minimum bottle pricing laws are not the cause for regional price discrepancies. What the bottle pricing laws do is form a firewall that prevents large chains from clubbing small and mid-sized package stores out of business… Well-financed chains have the power to maintain artificially low prices…Then we compound this problem by allowing these big-boxes an additional three permits."
Adam Von Gootkin of Onyx Spirits Company in East Hartford and president of The Connecticut Small Brand Council, said the current laws "keeps the playing field fair" for smaller suppliers, allowing products to be available in stores and bars. He stated that for distillers in the state, "repealing single bottle pricing will destroy the product selection available today in the market" and make smaller brands "no longer viable."
Sarah Gersky, of The Cork Fine Wine & Spirits in Torrington, testified: "Removing the minimum bottle pricing was discussed several years ago and the Governor's own task force concluded that Connecticut's sales and excise taxes are higher than surrounding states and CT prices before taxes are actually competitive with surrounding states—so why is this being proposed again? Repealing minimum pricing only allows out of stats big-box retailers to do predatory pricing…Once they dominate the marketplace, pricing will no longer have competition and our businesses cease to exist …How does this help the consumer?"
Full testimony can be found at www.cga.ct.gov/asp/CGABillInfo/CGABillInfoDisplay.asp and scroll to SB 946.