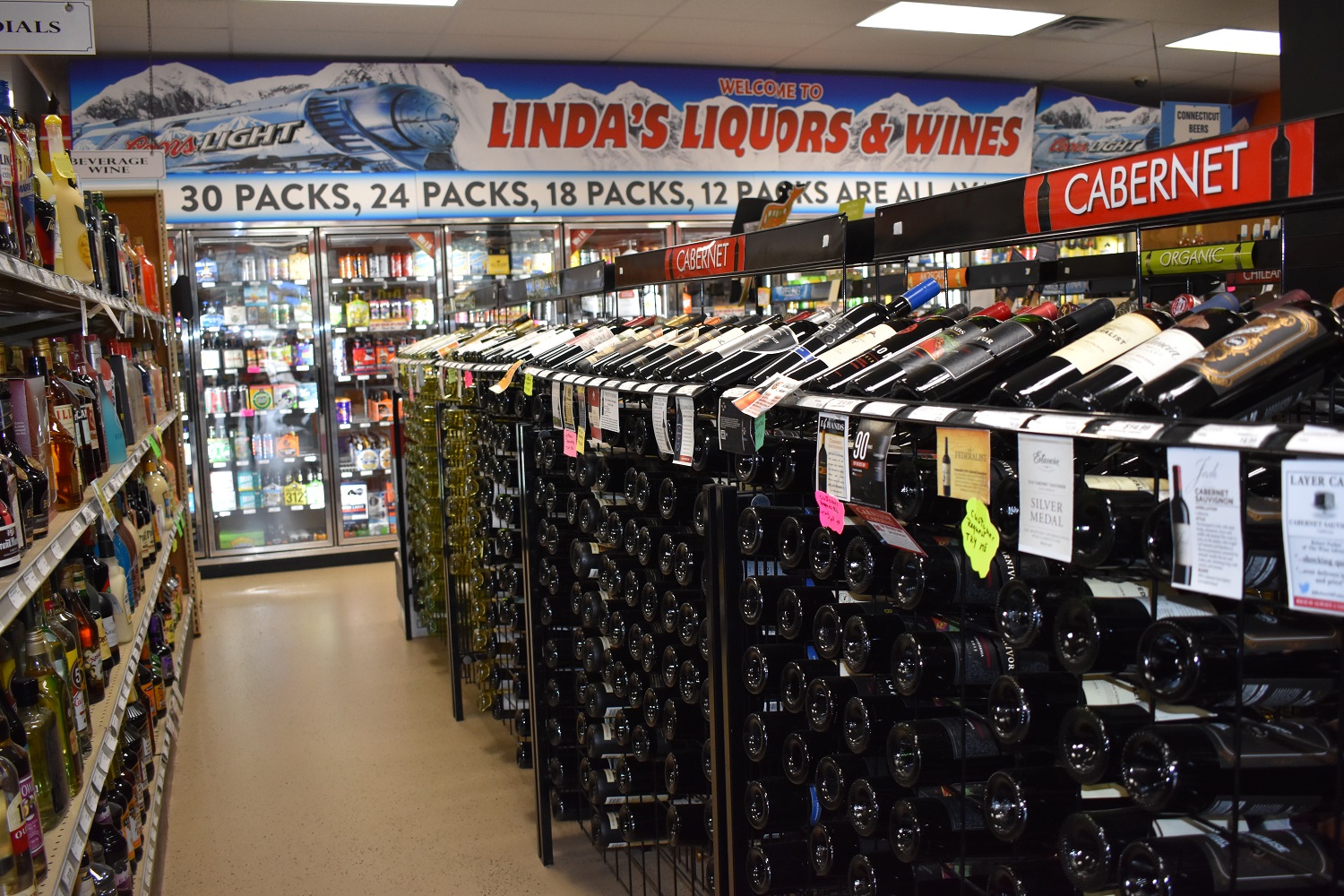 Linda's Liquors & Wines
350 Bridgeport Ave
Shelton, CT
Square footage: 3,200
Years in operation: 8
By Sara Capozzi
Husband and wife Linda and Angelo Borgia were new to the beer, wine and spirits business when they opened Linda's Liquors & Wines in the fall of 2010. Angelo had previous experience in business ownership and sales, and when they relocated from Queens, New York, to Connecticut in 2010, they decided to open their own retail venue.
"When we came up here, we thought it would be nice [to have a store] because we're both people persons," said Linda Borgia. "And it's nice to learn all this, the different wines and varietals … and the different bourbons and the Scotches. I think we did quite well since we first started eight years ago." Beginning a new business in a new industry was "a little bit of a learning curve, but sales is sales," she said. The couple now runs two thriving beer, wine and spirits shops – they opened Linda's Wines & Liquors in Seymour almost a year ago. Angelo oversees the newer shop while Linda manages the Shelton location.
Borgia said customers enjoy the "mom-and-pop store" atmosphere as well as the level of customer service they receive when they walk in the door.
That friendly vibe and the store's willingness to provide customers with the products they request "means a lot to the customers," Borgia said. She continued, "That's how we get a lot of our new products … the customers request it – this is what you like, this is what you want and we bring it in. I go that extra step to bring in a product," Borgia said.
Seasonally, shoppers are snatching up autumn-themed items such as Oktoberfest and pumpkin craft beers, Baileys Pumpkin Spice and Rum Blast Balls. "With all the October beers, everyone's loving the new pumpkin stuff that's coming out," Borgia said.
Popular wine purchases include Josh Cellars and Apothic, with customers also gravitating toward proseccos and rosé choices. Craft beer remains popular, especially from local producers, she said, noting selections of Kent Falls, Bad Sons, Black Pond, as well as customer favorites Two Roads Two Juicy and Lawson's Sip of Sunshine. And, no matter how rare the beer brand or new the release, Borgia said she never hides any of her craft beer selections. "What I've got is what you see," she said.
Linda's Liquors specializes too in selections of whiskies, bourbons and Scotches, carrying brands such as Laphroaig and The Glenlivet, along with those from local craft distilleries such as Shelton-based Bella's Bourbon.
"We try to be different," Borgia said. "We try to have a nice selection of single malts and our bourbons … Something the store down the block doesn't have and we have it. That's how I try to stay ahead and have the customer come here versus someplace else."