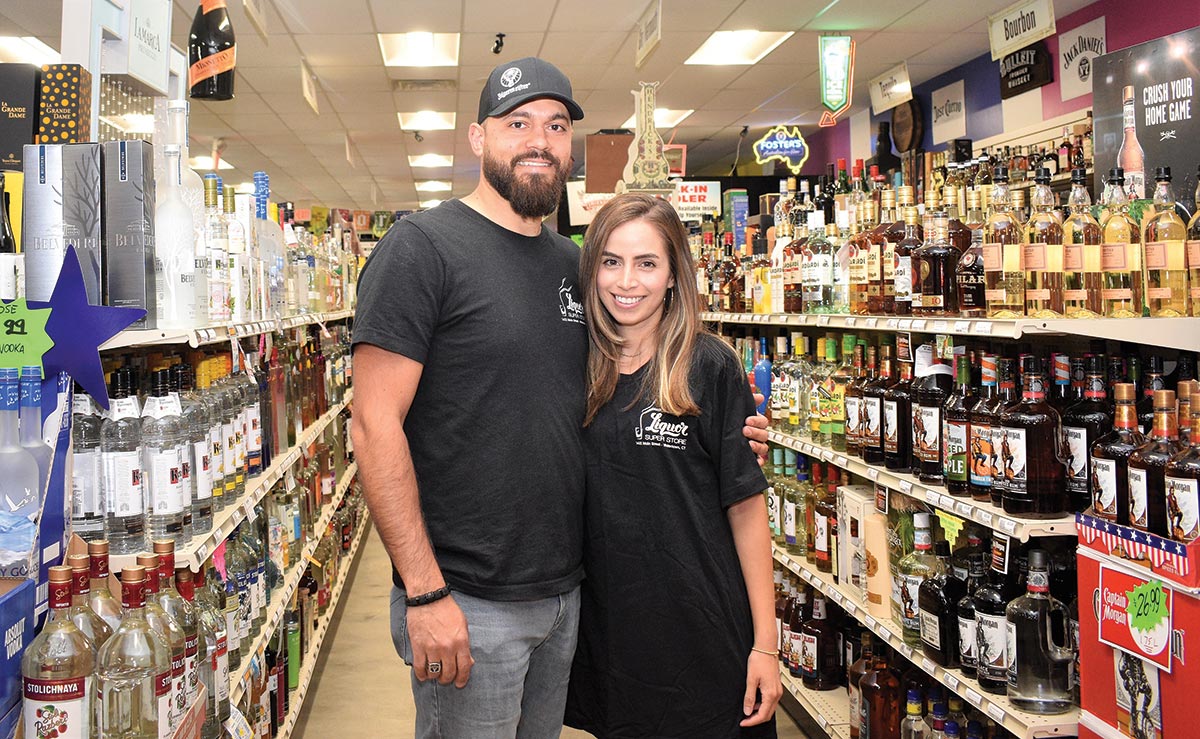 Liquor Super Store
1432 Main Street
Watertown, CT
Square footage: 7,000
Years in operation: 6
By Sara Capozzi
Celebrating six years serving the Watertown community this fall, business continues to increase at Liquor Super Store. Owner Sultan Ayash credits the store's success to superior customer service, while offering a plentiful selection and competitive prices. The store's convenient Main Street location is easily accessible and offers shoppers plenty of parking. Ayash oversees all aspects of the store's operations day to day, along with Store Manager Melanie Sperry and a group of family members who help out when needed, including his wife, Noor Ayash.
Ayash, who has a background in retail and management starting with his experience selling frozen food overseas for a multinational company, began working in the package store industry in 2015, managing Liquor Super Store in Wolcott, owned by his father-in-law Adam Hadir. After Hadir sold the store in the spring of 2016, he and Ayash purchased Echo Lake Liquors in Watertown later that year. They moved the store to its current location on Main Street, opening Liquor Super Store in November of 2016.
With 7,000 square feet of retail space, Liquor Super Store lives up to its name. Its 1,600-square-foot beer cooler is one of the largest in Litchfield County, according to Ayash, with 21 doors dedicated to imported, domestic and craft beer selections, along with the ever-growing array of ciders, seltzers and nonalcoholic brews, which continue to enter the market. Among wines, varietals from around the globe await shoppers at a variety of price points. In spirits, it's tequila that sells best, mirroring the continued rise in U.S. sales and Ayash continues to expand his selection to meet customer demand. Whiskey also continues to sell well and the store offers a huge wall filled with Scotch, bourbon and ryes.
Ayash stocks inventory based mostly on customer requests; he says that listening to customers is key for his business. "Customer service is my No. 1 goal all day long," he said, "We always fulfill [customers'] orders — never say no to anything. If we can get it, we get it." And that has paid off in six years as business at the store continues to thrive. "We're expanding and expanding," Ayash said. "And inventory never stops growing."
The store also differentiates itself with convenient delivery services, which are free to Watertown residents. Customers can easily search and order products online through Liquor Super Store's app, available on the Apple App Store and Google Play for download, and through its website, buymywineonline.com, serving the entire state of Connecticut and shipping to other states.
Day to day, Ayash and his team work to ensure the shopping experience for customers is unbeatable and that keeps them coming back. "You can buy the same bottle anywhere else," Ayash said. "Sometimes if the difference is a dollar or two, people don't care about it if they get treated nicely, fairly and respectfully. All this counts."
Ayash loves being a part of the community, frequently contributing to town fundraisers for the police force and fire department. "We're blessed that we're in Watertown," Ayash said. "There're great people here, the atmosphere is great … it's not about how much [customers] spend, it's how they treat you, they like you, how they treat your store. They leave good reviews, they recommend your store. I love Watertown."