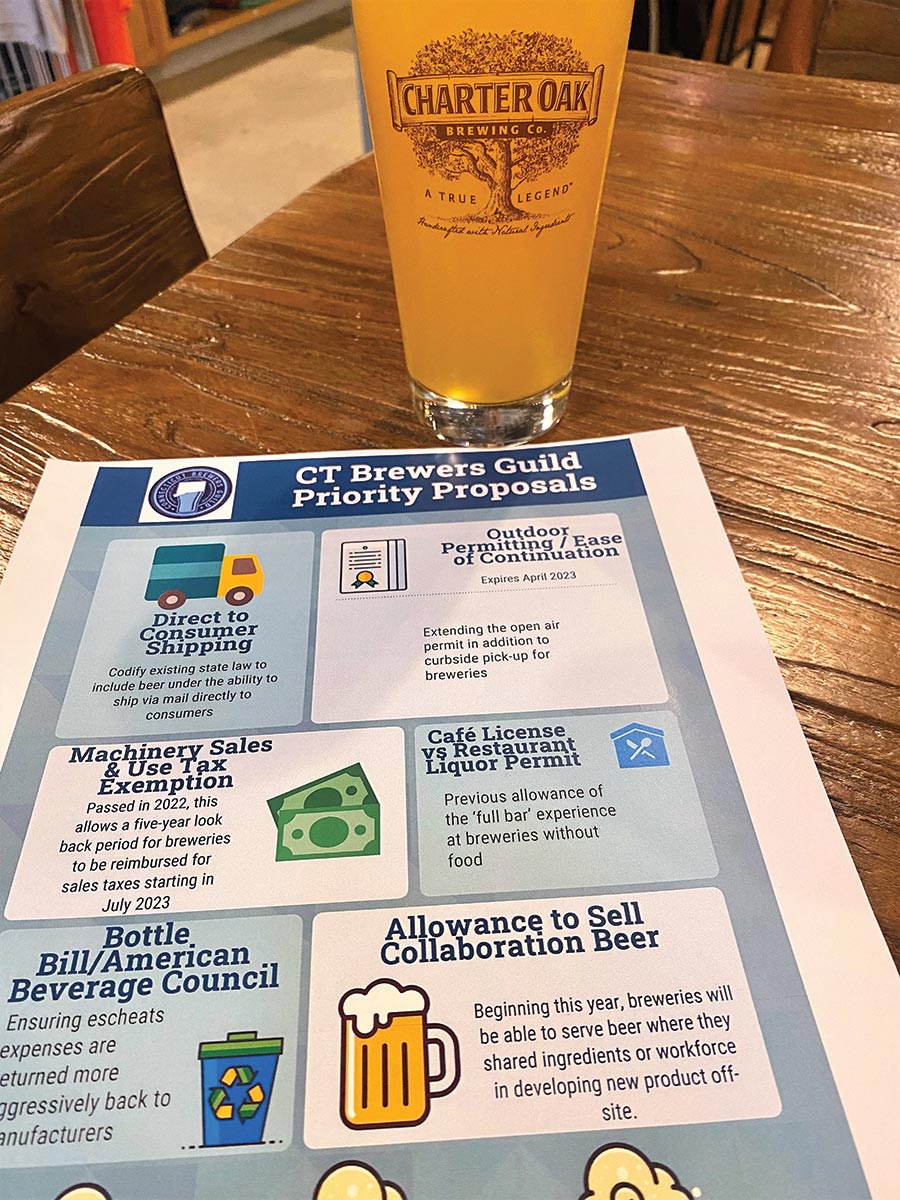 A town-hall style event brings together stakeholders
By Sara Capozzi
A little understanding can go a long way. Danbury, Connecticut-based Charter Oak Brewing Company hosted a town hall to discuss issues affecting the state's craft brewing industry in its taproom on June 16. Hosted by P. Scott Vallely, Owner, Charter Oak Brewing Company; Duane Perkins, Danbury City Council Member; and Phil Pappas, Executive Director, Connecticut Brewers Guild; Pints & Politics brought together local craft brewing professionals and state politicians with the goal to engage and educate.
A number of Connecticut officials attended, including Sen. Julie Kushner, Sen. James Maroney, Rep. Holly Cheeseman, Rep. Kenneth Gucker, Rep. Bob Godfrey, Rep. Raghib Allie-Brennan and Danbury Mayor Dean Esposito. A handout outlined shared priorities by the Connecticut Brewers Guild members in summary to guide the discussion with hopes for outcomes in the coming legislative session. Participants walked through a range of issues including direct-to-consumer shipping, outdoor permitting, machinery sales and use tax exemption, allowance to sell collaboration beer and the "Bottle Bill."
Connecticut breweries are not currently allowed to ship beer directly to customers. Participants said having the ability to do so would help them stay competitive with regional breweries whose states allow that option.
"Direct-to-consumer shipping would be a huge advantage for us," said Mike Larson, Co-founder, Alvarium Beer Co. in New Britain. "Right now, across the border with New York, there are two brewers who are allowed to ship their beer to the state of Connecticut," he said.
As Connecticut brewers cannot do the same, third-party consumer companies exist that can offer beer brands shipping from a centralized location. Brewers can legally ship their product to another state, then beer fans can order it and have it shipped. In the end, the host state collects the excise tax and the brand stands to lose a bit of control by not being able to manage its own processes.
Next, the panel discussed outdoor permitting, a temporary measure adopted at the beginning of the COVID-19 pandemic allowing restaurants, bars, breweries and other establishments to expand their outdoor spaces in order to safely serve more patrons. On March 30, Gov. Ned Lamont extended the law through signing House Bill 5271, which allows venues to continue operating in expanded outdoor spaces through April 30, 2023. Business owners have discussed making the law permanent since venues and guests alike have enjoyed the eased restrictions.
Many breweries expanded their outdoor footprints since the temporary measure went into effect, in some cases using parking spots or town sidewalks. Many have also spent money on outdoor seating and lighting for the new areas. Brewery representatives at the town hall agreed that knowing whether the measure will be made permanent would help them decide whether or not to make lasting changes to their outdoor setups.
Charter Oak has operated its beer garden from its parking lot since the summer of 2020 and Vallely said that putting the extra money into its outdoor area has been worth it. "On a decent Saturday or Sunday, we have a hundred seats out there, people bring their own seats," Vallely said. "It's that popular; they love it … It is an unbelievable success being outside."
Rep. Godfrey gave his point of view as a legislator. "[The] outdoor dining has been a wonderful asset for places like this and even our restaurant industry," he said. The challenge Godfrey has encountered is that all the planning and zoning commissions in the 169 towns across the state have not been able to come to an agreement on whether to make the measures permanent.
"I would see no problem in continuing this and, luckily, we can work with the zoning board and city planning committee to make this work, but when it comes to some of these other communities, they have an issue with it, so we have to be able to write legislation in a way that we're not upsetting everybody but we can also take care of progress. I am in full support of this [motion], but we also have to allow the zoning commissions and boards in the various towns and communities to have a say … I think it comes down to where we have to get all of our zoning boards on one page," Godfrey said.
Also discussed was the Machinery Sales & Use Tax Exemption, passed during the 2022 legislative session with the support of Rep. Cheeseman. The measure allows for a five-year period for breweries to go back and be retroactively reimbursed for sales taxes, effective July 2023. According to Pappas, this will result in state breweries being reimbursed for collectively $400,000 next year. The panel briefly discussed the section of House Bill 5331, passed during the 2022 legislative session, which allows breweries to sell collaborative brews in their taprooms, a benefit that was lauded.
Next, participants shared collective thoughts on carrying café licenses versus restaurant liquor permits as brewery owners, on top of their manufacturer license. Their goal is to have one permit that allows them to make beer, serve and sell beer, serve food and additionally, if chosen, offer choices of cider or wine from Connecticut manufacturers or from outside of the state. In order to sell cider or wine, they are required to offer only those made in Connecticut and only if they have an additional café license. They are already required to offer food if they are serving versus manufacturing, resulting in the need for three licenses, creating additional expenses and inspections.
"It's definitely an issue for every brewery I've spoken to," Vallely said. Brewers discussed the difficulties of the current system and offered a solution: the state could return to its original permitting system for breweries, when one permit encompassed both the manufacture permit and the café permit. Plus, removing the rule that wines and ciders offered at breweries must be Connecticut-made would give visitors more selection.
Lastly, the town hall touched on Connecticut's bottle redemption program, known as the Bottle Bill and the American Beverage Association's goal to recycle 80% of bottles by 2025. This would double the already 50% of bottles being recycled in the state, according to the Department of Energy and Environmental Protection. In January 2022, it was announced that a Glass Recycling Task Force has formed to figure out how best to bring the plan to fruition. Brewers want to ensure the process and benefits are shared back with them as manufacturers.
Vallely plans to host additional Pints & Politics town halls in the future to continue to keep the lines of communication open between local brewers and state politicians. This first debut shared a deeper dive into the challenges and opportunities state brewers can achieve with legislative backing.
"The key is to ferment on it, to think more about it," Vallely said about the event, which he conceptualized with Perkins. "Are these issues something that [legislators] can take back to Hartford … do you think there's a solution?"
# # #