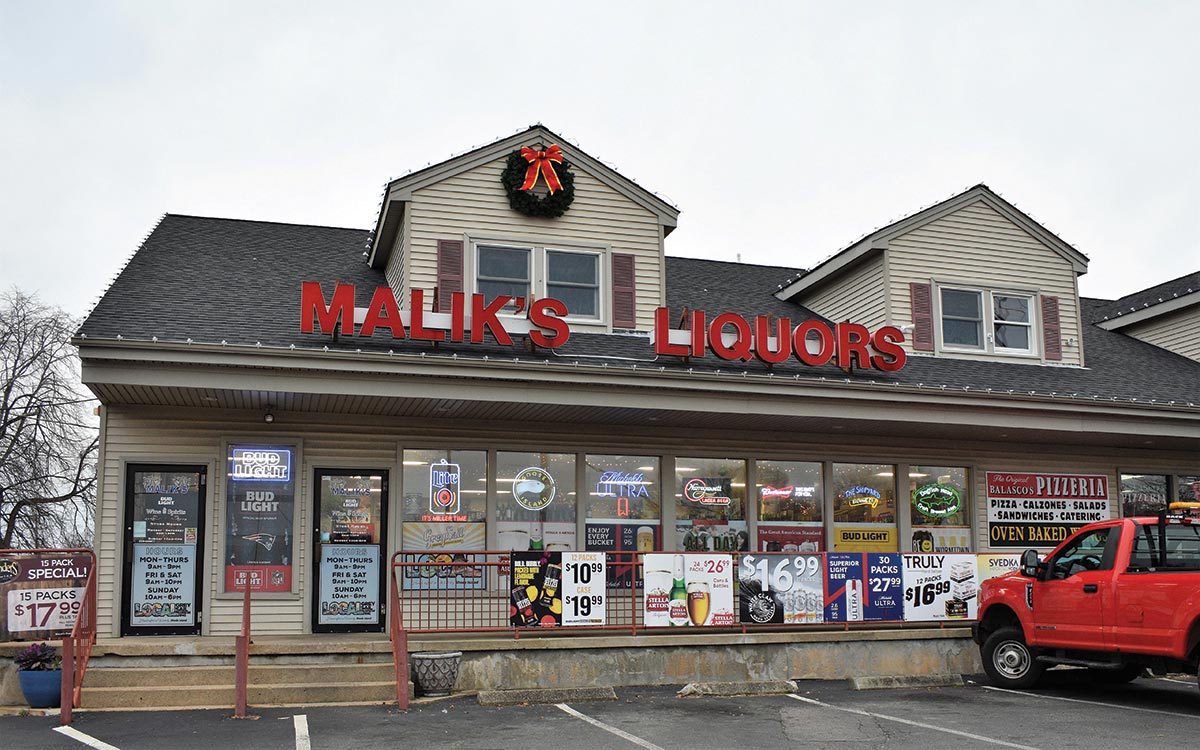 Malik's Fine Wine & Spirits
254 Market Street
Warren, RI
Square footage: 3,600
Years in operation: 39
It's been almost 40 years since Jan Malik got into the package store industry. As the owner of Malik's Fine Wine & Spirits in Warren, he's seen a variety of trends come and go in the past several decades.
"The business has changed a lot over the 39 years," Malik said. "I thought this store would be big enough for all the products that they had back then when we started, because there was no such thing as any flavors. And now there are flavors, seltzers, tea; you name it, they have it in this industry … IPAs, [craft] beers, all categories have changed."
Malik runs the bustling Market Street shop day-to-day with his wife, Mary. The 3,600-square-foot retail space is located in a plaza that the Maliks built and own, a straight shot off of Rt. 136 overlooking Belcher's Cove.
While they are Rhode Island natives, the Maliks were once living in Illinois in the early '80s, where Jan was employed as an ironworker at a nuclear power plant. After a career change, the Maliks moved back to the Ocean State in 1982 and bought their first package store on Metacom Avenue in Warren.
After a year, they bought their current business property at 254 Market Street and built the plaza which housed their store and a pizza restaurant. In January of 2001, there was a fire that wiped out everything in the plaza. The Maliks rebuilt, reopening in May of that same year.
Through the years, Malik worked at the shop part-time while serving as the Head of Public Works in Warren, while Mary ran the store. In December of 2021, he retired from his city job with plans to dedicate the new-found time to the business.
Remembering changes in the industry throughout the years, Malik recalled how challenging it was doing business just two miles from the Massachusetts state border, and competing with the neighboring state's lower prices on spirits and wine. However, he said, the tax break that Rhode Island enacted in November of 2013 for beer and wine has helped the Maliks and other stores stay competitive. Fast forward to late 2021 and the issue facing package stores everywhere is product shortages and shipment delays.
"What makes it tough now, like a lot of small businesses, is getting product," Malik said. "I can't get certain products. I haven't been able to buy certain ones for 11 weeks. That's a trend now in the industry. I had no problems during the heart of COVID, but in the second year now, wherever you see an empty shelf, I can't get that product."
Pandemic or not, Malik said he tries to carry a little bit of everything. "We may not have the biggest selection in one category, because we try to spread it out price-wise too, from thrifty shopper to the shopper looking for high-end or boutique wines, we try to carry a broad range," he said.
Shoppers will find a plentiful wine selection, in a variety of price points from bargain to boutique, arranged in sections by varietals and regions, with an emphasis on Italian and French wines. Approximately 372 brands of wine can be browsed on lay-down racks, plus shelves of 1.5Ls and categorized 750mls. Other popular shopper picks at Malik's are bourbon, seltzers, craft IPAs and 50mls.
Upon reflecting over the past several decades, Malik said, "It's been a successful small business. I still enjoy it, and my wife, I know, enjoys it." One of his favorite parts of the job is his day-to-day interactions with customers. "I'm a people person," he said. "Meeting people, talking to them about everything from sports to politics to the day's weather. So that's enjoyable … And you find all different kinds in the liquor business. It's been rewarding the 39 years we've been here."