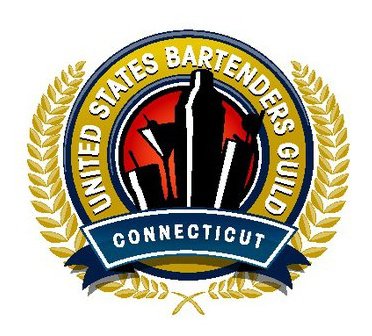 By Lauren Daley
When Dimitrios Zahariadis returned to Connecticut after bartending in New York a few years ago, he was disappointed to find that his home state had no chapter of the United States Bartending Guild. So, in 2010, he co-founded the Connecticut chapter of the USBG with bartender David Roth. Zahariadis is the current vice president of the USBG-CT, which now has more than two dozen members and counting.
Established in 1948, the United States Bartender Guild is a professional association of bartenders and mixologists dedicated to improving the image of bartending in America and educating industry members about their craft through education and a supportive network of industry peers.
Zahariadis said the guild is open to anyone from mixology buffs to "beer and shot slingers." He said, "I don't want bartenders to feel intimidated by thinking that we're a guild for craft cocktail bartenders only. We're open to every kind of bartender." Through cocktail competitions and training camps, their goal is to "empower bartenders to take charge of their careers" through peer-to-peer learning, expert instruction, service projects, and competition.
"I've gained hundreds of friends I can lean on, be it for a recipe critique, support for natural disasters or important causes. I've met the best in the business. We're like-minded individuals who share the same passion," said Chapter President Anthony DeSerio, who has been tending bar for two decades. He currently works at J. Christians Restaurant in Wallingford and as a sales representative for Worldwide Wines. He added that the guild has grown rapidly around the country in the last few years: there are currently 41 USBG chapters around the nation—up from 17 two years ago.
The guild is known for the cocktail competitions. DeSerio said the competitions help create better mixologists by inspiring members to search for a great and unique cocktail, study the flavors and how they balance or counteract each other, and how to make a good cocktail better. He called the competitions "intense exchanges of talent, education and ideas with peers I look up to.I always walk away inspired, and with new knowledge and respect for all involved."
The mission of the Connecticut chapter is to "educate bartenders, bar owners and cocktail enthusiasts about premium spirits, fresh juices and mixers, bitters and proper bartending techniques, and to teach members about cocktail history as well as the future of the craft," according to their Facebook Page, which is their primary online presence. The group is also on Twitter.
The guild also has strong relationships with the wine and spirits industry, and works to build relationships with local communities through regular charity initiatives. For instance, the USBG-CT hosted a benefit for Sandy Hook Elementary School victims in January at the Shamrock Pub and Grill in Waterbury.
Of course, there's also the social aspect of being part of a club of like-minded individuals. USBG-CT Member Rob Martini, the bar manager at 1249 Wine Bar in Waterbury said working with other passionate mixologists in the USBG-CT is "amazing. We fuel off each other." Martini said, "I love the competitiveness and the quest to perfectly present a cocktail to a judging panel of my peers. We have formed friendly rivalries and feed off each other in order to further develop our craft," Jason Snopkoski, bar manager at Baró in Fairfield who joined the USBG in August, said "it's like a whole new world has been opened up to me. Creativity is welcomed and encouraged, so much so, that many of my (created) drinks end up on our cocktail menu."
Traveling is a key—and fun—part of being a USBG member. Connecticut members attend competitions, camps and seminars all over the country, from leadership conferences in Austin, Texas to Absolut Bloody Mary Competitions in New York and Miami, to name a few recent events. At the time of the interview, Zahariadis was en route to a bourbon education camp, Camp Runamok, in Louisville, Kentucky.
Zahariadis asked that distributors "reach out to us with any new products or seminars they may be hosting. We're all about educating our members and introducing them to different spirits, beer and wine." Snopkoski said the guild and wholesalers could help bring to market new products "that would better equip us, and to work hand in hand to keep things exciting and trending in a positive direction."
DeSerio said "educated bartenders translates to educated consumers," many of whom end up looking for new products on the shelves of their local package store. Any consumer who asks a guild bartender about a product "will definitely get an education by asking." DeSerio said he's been "guilty many evenings" of turning his bar into a classroom on bourbon or gin after a customer asks him about a product—from what to do with the spirit or how to re-create it at home. "We are happy to oblige every ingredient and portion right down to how to make the syrup if necessary," he said.
Learn more about the USBG-CT on their Facebook page or by following them on Twitter. Find out about more about the national organization at www.USBG.org/wordpress.
The Connecticut Beverage Journal will begin featuring USBG-CT contributor columns for added local product insight on a regular basis.
More from the Members
John Bourdeau, chef and owner of the Main Street Grill in Watertown, joined the guild to "help promote and to be involved in this burgeoning trend towards craft spirits and quality mixology." Bourdeau works "closely with my wholesalers to find unique quality spirits to keep my program interesting."
Peter Clayton, a New York City native, opened a bartender training center in Waterbury in 2009 and a second location in Fairfield this past June. He's been a member of the guild for three years and said, "Our industry is on the verge of a major evolution: embracing classic cocktails while simultaneously exploring the use and combination of new and incredible ingredients. It's awesome to witness this."
Rosanna Hin joined the guild to "be tuned in with what's going on" in the industry. Although she hasn't competed, she said competitions "help elevate craft cocktail culture."
Tammy Torres is not a bartender but the founder of a cocktail and restaurant review Web site, MartiniHunter.com. As a drink reviewer, Torres sees the USBG as a way to educate herself about the industry. "The knowledge I've gained from attending educational seminars hosted by brand ambassadors, top bartenders and industry insiders has been invaluable to my work," she said.
John Tsipouras is the bar manager at Grants Restaurant in West Hartford. "Having a deeper understanding of spirits and mixers allows me to inform customers about the origins of their cocktail, which adds a level of professionalism and respect to my line of work," he said. "Competitions allow me to showcase my creativity and passion for this craft. A good challenge forces me to think outside the box."