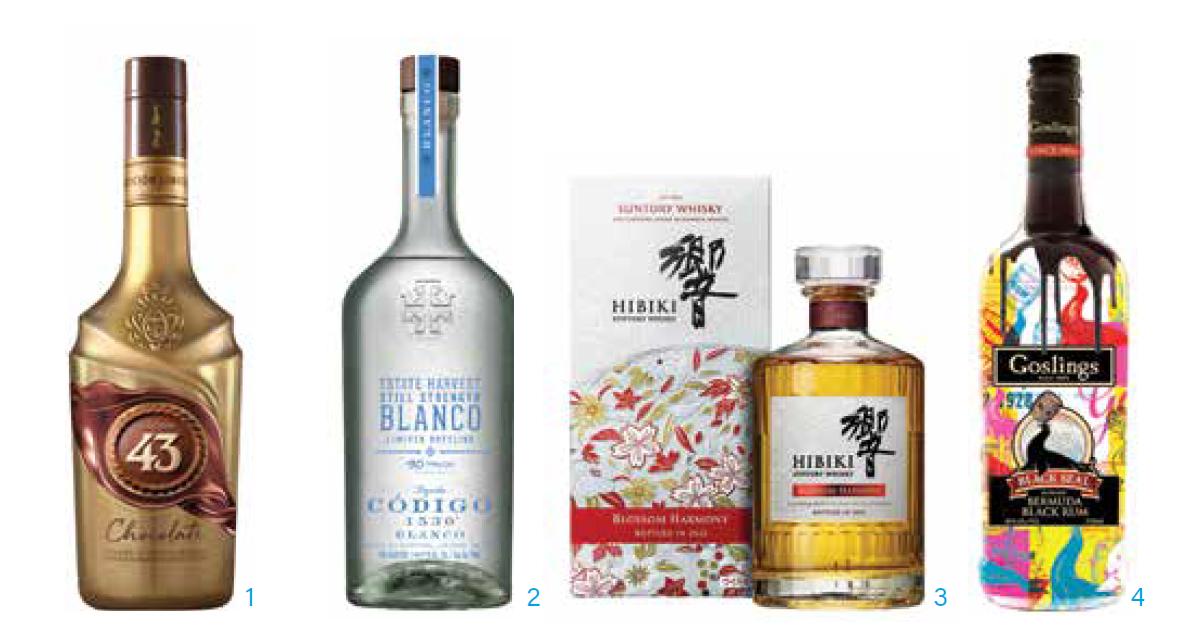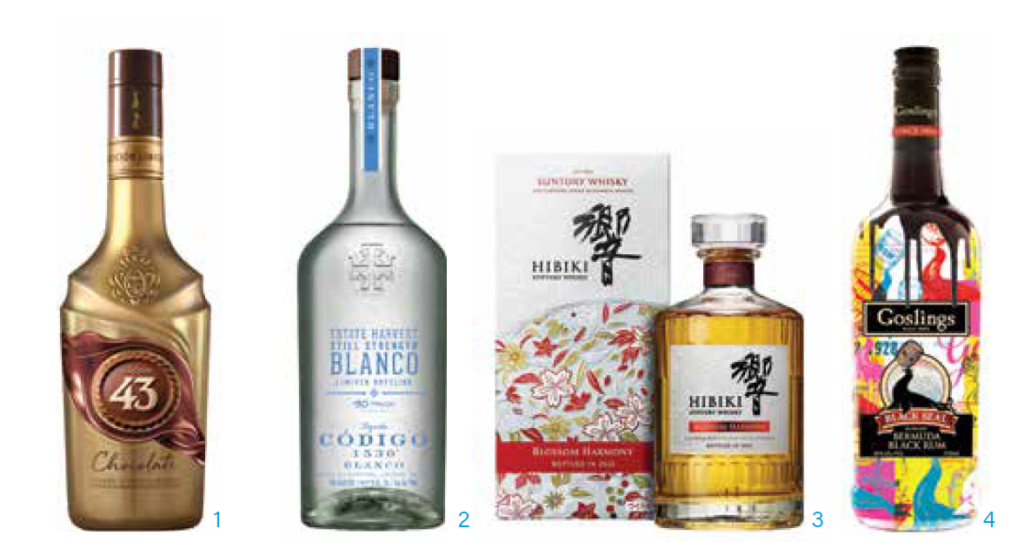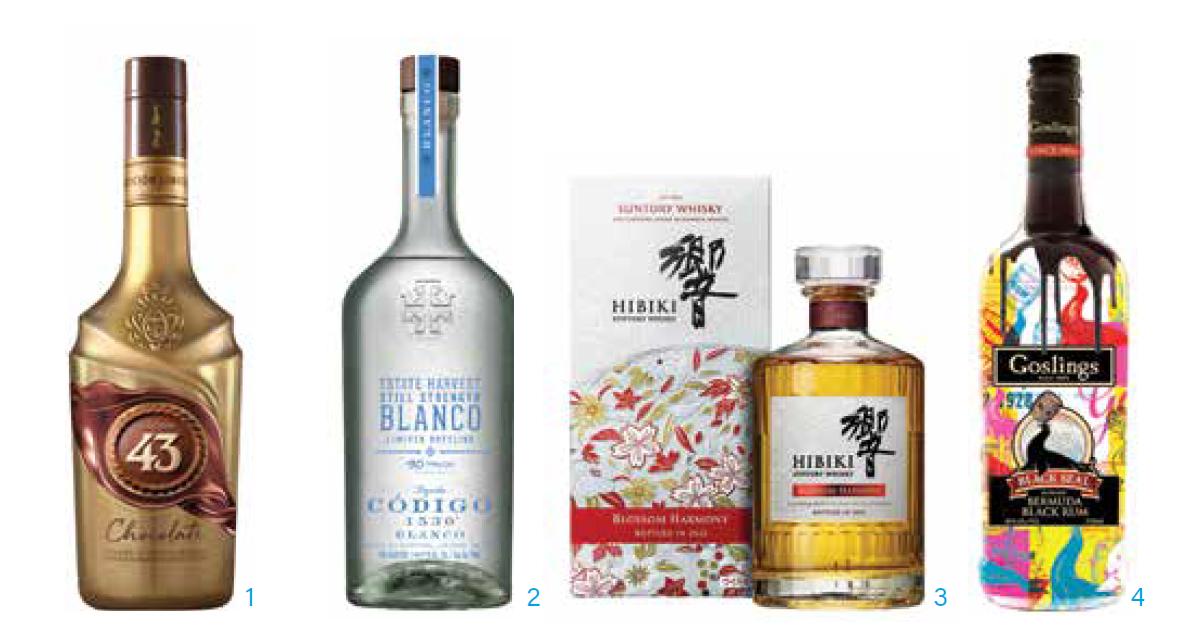 1. Licor 43
Last year, Spanish liqueur Licor 43 introduced a vegan horchata cream variant to the U.S. market. Now, in response to the rising interest in chocolate cordials, Zamora Company USA is further growing the brand with Licor 43 Chocolate. It pairs the original Licor 43 with chocolate from 100 percent sustainably sourced cocoa. Given its fruit and spice undertones and milk chocolate texture, it's ideal for dessert Martinis.
SRP: $29.99 per 750-ml bottle
buylicor43.com
2. Código 1530
One of the few tequila brands to own the entire field-to-bottle process, Código 1530 maintains its ambitious streak with the Estate Harvest Still Strength Blanco expression. Aging the blanco in French oak white wine barrels is typical for the brand, but this time around it boldly fermented the tequila inside the casks in small batches, resulting in a buttery profile tasting of clove and pumpkin seed.
SRP: $79 per 750-ml bottle
codigo1530.com
3. Hibiki
Springtime in Japan is renowned for its blooming cherry blossoms, and the beauty of these lush Sakura trees is articulated in House of Suntory's 86-proof Hibiki Blossom Harmony. A blend of malt and grain whiskies from the Yamazaki, Hakushu, and Chita distilleries finished in Sakura wood casks, its acacia honey and French pear flavors evolve into a long-lasting finish.
SRP: $160 per 750-ml bottle
beamsuntory.com
4. Goslings Rum
Bermuda-based artists Nhuri Bashir and Domico Watson took a mixed-media approach to reimagine the first-ever limited-edition Black Seal Rum bottle for Goslings, the island's largest export product. Drawing from vintage Goslings advertisements and street and pop art, the vibrantly colored bottle captures the island's soul through techniques like paint dripping and stenciling.
SRP: $21.99 per 750-ml bottle
goslingsrum.com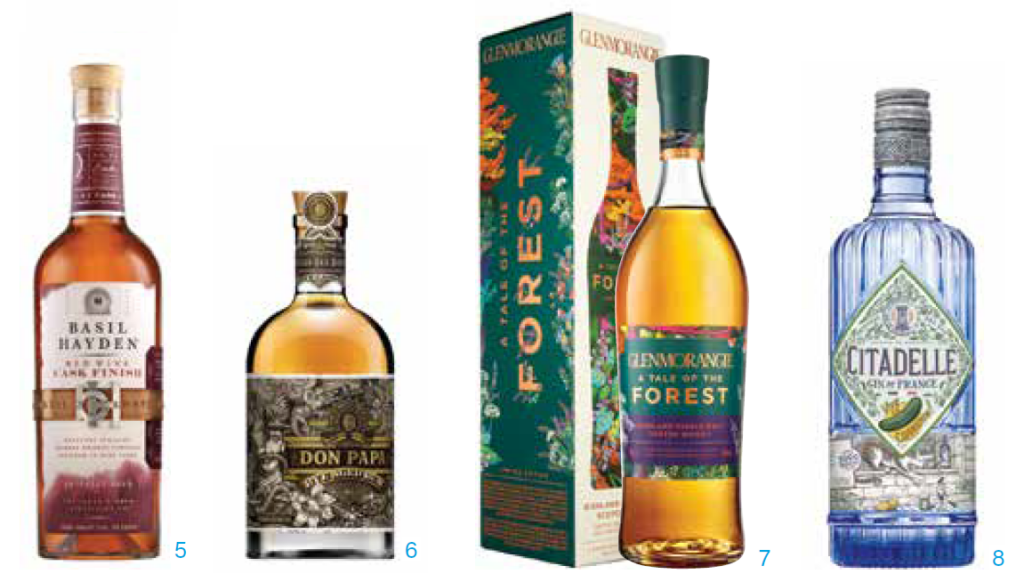 5. Basil Hayden
Oenophiles will gravitate toward the Basil Hayden Red Wine Cask Finish, eighth-generation master distiller Freddie Noe's newest cocktail-friendly, limited-edition release. Partially aged in California red wine barrels, it marries dried fruit and sweet nectar notes with the jolts of vanilla and charred oak that Basil Hayden Kentucky straight bourbon whiskey is known for.
SRP: $59.99 per 750-ml bottle
basilhaydenbourbon.com
6. Don Papa Rum
Filipino and American culture come together in Negros, an island in the Philippines that is home to small-batch Don Papa Rum. Joining its seven- and 10-year-old varieties is the limited-edition Don Papa Rye Aged Rum, crafted from local molasses and matured for four years in first-fill American rye casks beneath Mt. Kanlaon, a still-active volcano.
SRP: $54.99 per 750-ml bottle
donpaparum.com
7. Glenmorangie
Dr. Bill Lumsden, Glenmorangie's director of whisky creation, was so inspired by the walks he took in the woods near his house, that it motivated him to create the limited edition A Tale of the Forest. The 92-proof whisky, featuring a profusion of peppermint, eucalyptus, and pine on the palate, is created from barley kilned with botanicals like juniper berries, birch bark, and heather flowers. It's aptly complemented by dreamy colorful packaging from Bangkok-based illustrator Pomme Chan.
SRP: $102.99 per 750-ml bottle
glenmorangie.com
8. Citadelle
Alexandre Gabriel, the restless Maison Ferrand owner and master blender, has rolled out Citadelle Gin Vive le Cornichon. The inaugural offering in the brand's new limited-edition Les Excentriques collection, which explores the relationship between gin and unexpected ingredients, Vive Le Cornichon is the first product to be made at the new Citadelle distillery. It showcases an infusion of juniper and 19 other botanicals, including cornichon pickles from the family-owned Maison Marc in Burgundy, and unconventional salty, vinegary notes.
SRP: $29.99 per 700-ml bottle
Citadellegin.com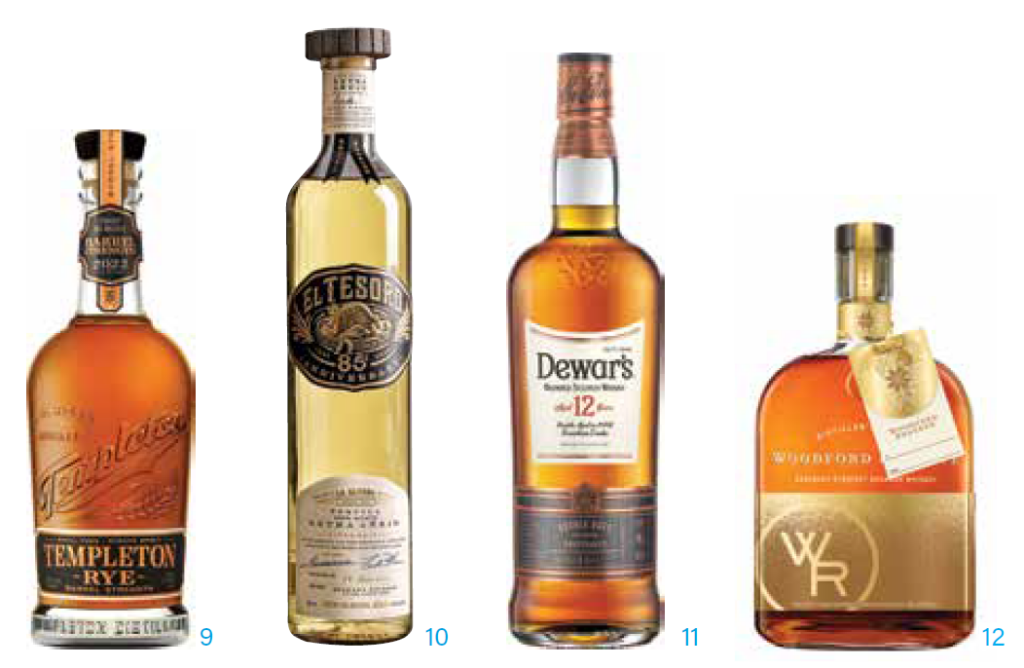 9. Templeton
For the fourth iteration of its Barrel Strength series, Templeton Distillery, in Iowa, selected optimum rye whiskey barrels of varying ages. Following the 2018, 2019, and 2020 releases, the 114.6-proof 2022 imparts layers of raisin, dark chocolate, and black pepper.
SRP: $59.99 per 750-ml bottle
templetondistillery.com
10. El Tesoro
La Alteña Distillery was founded in the highlands of Jalisco 85 years ago. To celebrate, El Tesoro Tequila's third-generation master distiller Carlos Camarena partnered with seventh-generation James B. Beam Distilling Co. master distiller Fred Noe on an 85th Anniversary Limited Edition bottle aged in Booker's Bourbon 30th anniversary barrels. The vanilla-laden casks, brought to La Alteña from Kentucky, held the whiskey for up to 16 years before the tequila rested in them for a minimum of 36 months.
SRP: $499 per 750-ml bottle
eltesorotequila.com
11. Dewar's
Stephanie Macleod, the master blender of Dewar's, has elevated the 12-year-old blended Scotch whisky expression. After a decade of experimenting with various cask types, Macleod has settled on double-aging the whisky in first-fill American oak bourbon barrels to lend it a richer mouthfeel. The 80-proof reformulated spirit is made with up to 40 quality single malt and grain whiskies from Scotland.
SRP: $29.99 per 750-ml bottle
dewars.com
12. Woodford Reserve
It's time for Woodford Reserve's annual holiday bourbon bottle. A departure from previous editions that were adorned with artist-designed labels, the 2022 rendition is simply dressed in a thick band of gold that accentuates the Kentucky straight bourbon whiskey's warm hue.
SRP: $50 per 750-ml bottle
woodfordreserve.com