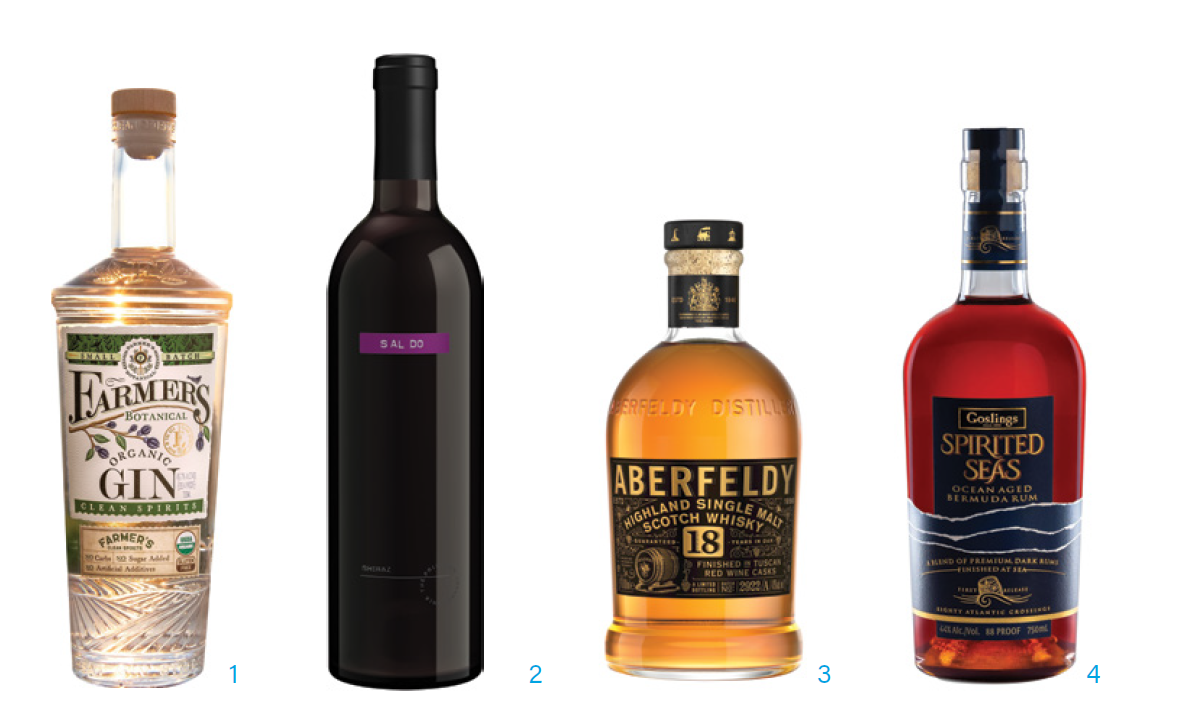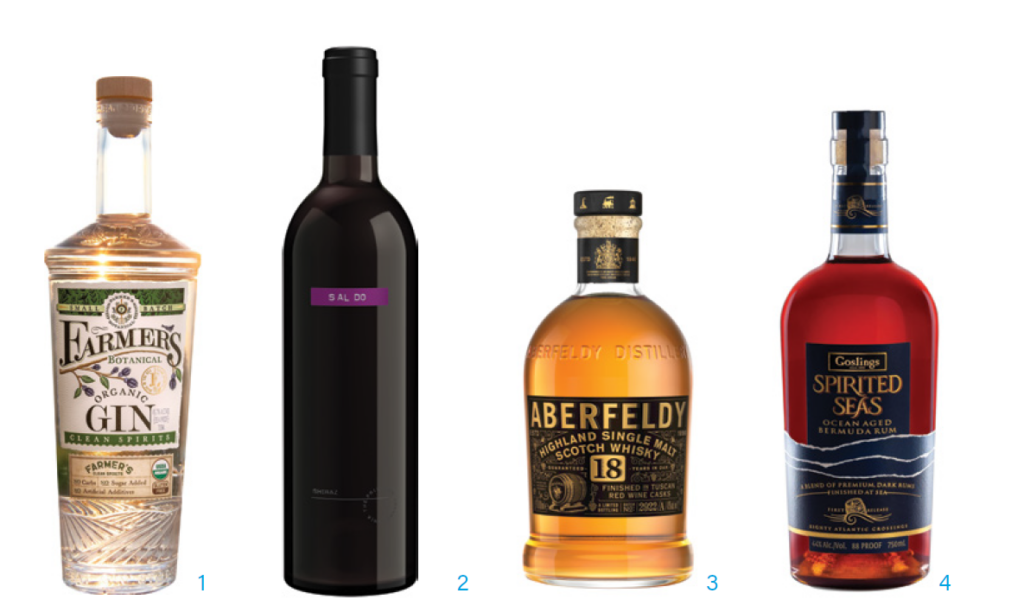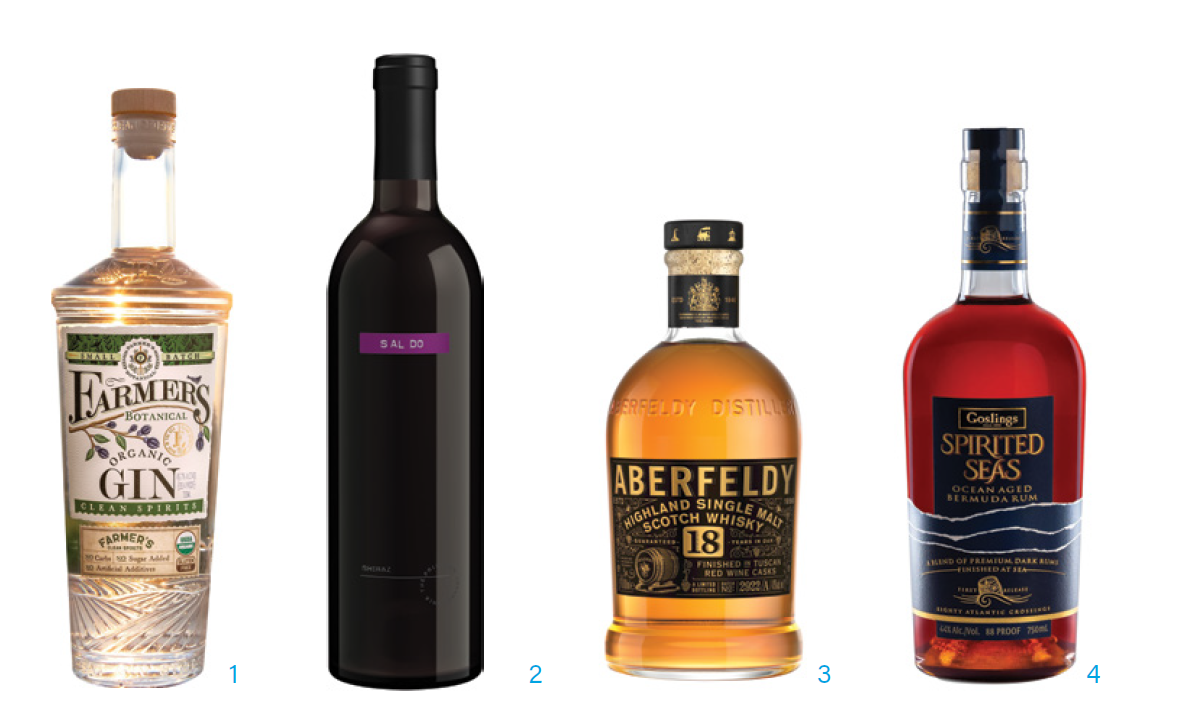 1. Farmer's Organic Gin
Chatham Imports is the mastermind behind a revamped version of Farmer's Organic Gin. The spirit is crafted from certified organic wheat grown at 1,000 Springs Mill Farm in Buhl, Idaho, that then migrates some three and half hours north to Distilled Resources in Rigby, where it is fermented, distilled, and steeped into such botanicals as juniper, elderflower, hemp seed, lemongrass, coriander, rose, and Angelica root.
SRP: $34.99 per 750-ml bottle
farmersgin.com
2. Saldo
The Prisoner Wine Company has already launched its burgeoning Saldo brand with a flagship Zinfandel, a Petite Sirah-forward red blend, and a California Chenin Blanc. Now, it is making its mark on international territory with a Shiraz. Balanced with five percent Cabernet Sauvignon, the wine, which hints of cocoa and vanilla, centers on fruit sourced from premier sites across
South Australia's Barossa Valley, Limestone Coast, and Clare Valley.
SRP: $34 per 750-ml bottle
theprisonerwinecompany.com
3. Aberfeldy
Cherry frangipane and vanilla spice meld with green pepper and lime in Aberfeldy's 18-year-old, 86-proof Scotch whisky finished in Tuscan red wine casks from Bolgheri. Part of the brand's limited-edition Red Wine Cask collection (there are also whiskies finished in barrels from Bordeaux and the Rhône), it underscores malt master Stephanie Macleod's passion for experimentation.
SRP: $119.99 per 750-ml bottle
aberfeldy.com
4. Goslings Rum
For Spirited Seas, its first ocean-aged expression, Goslings Rum filled 60 former bourbon barrels with a proprietary blend of aged dark rums and placed them aboard the Oleander. The product-laden ship makes weekly runs between New Jersey and Bermuda, where the brand is based, and Spirited Seas spent more than 40 weeks on the vessel, traveling nearly 60,000 miles across the Atlantic. Extreme shifts in weather led to the creation of a complex rum that can be sipped neat or woven into classics like the Old Fashioned.
SRP: $59.99 per 750-ml bottle
goslingsgrum.com
5. Kentucky Owl
Stoli Group's Kentucky Owl debuted Batch #1, its first bourbon since Prohibition, in 2014. The latest limited-edition offering, the 115.8-proof Batch #12, was crafted by master blender John Rhea from a medley of seven-to-14-year-old bourbons and two different four-year-olds that illuminate spice, cream, and caramel.
SRP: $400 per 750-ml bottle
kentuckyowlbourbon.com
6. Fever-Tree
Wintry blood orange is Fever-Tree's newest ginger beer innovation. Developed with Maker's Mark Bourbon, the 35-calorie bottles of ginger beer are meant to pair with the whiskey for a riff on the simple, quenching Kentucky Mule. The mixer fuses juicy Italian blood oranges harvested between December and March and three kinds of real ginger.
SRP: $4.99 per four-pack of 6.8-oz bottles
fever-tree.com
7. Patrón Tequila
It took four years to craft Patrón El Alto, a blend of remarkable extra añejo, añejo, and reposado tequilas from 100 percent Blue Weber agave grown in the Jalisco highlands. As Patrón's inaugural foray into the prestige category, El Alto is the culmination of more than 300tastings conducted by master distiller David Rodriguez and his team. Layered with caramel, dried fruit, and vanilla, it is packaged in a distinctive azure bottle.
SRP: $179 per 750-ml bottle
patrontequila.com
8. La Marielita Rum
Janet Diaz-Bonilla was six years old in 1980 when she and her family emigrated from Cuba to the U.S. during the mass exodus known as the Mariel boatlift. As a tribute to that profound history, she collaborated with fellow Cubans Francisco José "Don Pancho" Fernández Pérez, aka the Godfather of Rum, and artist Humberto Benitez to bring La Marielita to life. The rum's burst of vanilla, coffee bean, and orange blossom comes courtesy of the American white oak bourbon barrels it was mellowed in for at least 18 months.
SRP: $59.99 per 750-ml bottle
lamarielita.com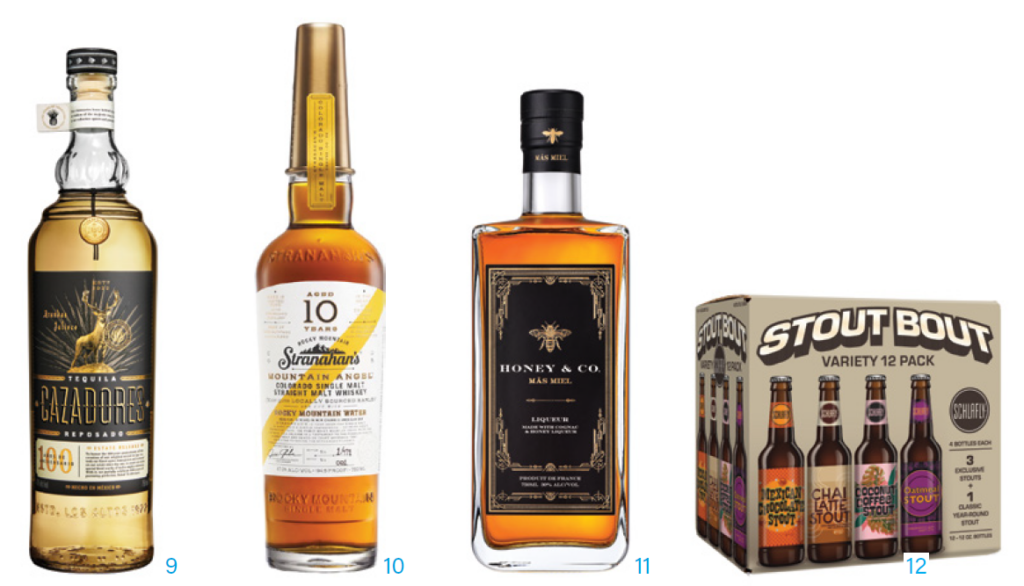 9. Tequila Cazadores
To commemorate the centennial anniversary of its original reposado recipe, Tequila Cazadores has introduced the limited edition 100 Year Estate Release that is rife with citrus and vanilla notes. One hundred percent Blue Weber agave sourced from the distillery's property in Los Altos de Jalisco is showcased through a blend of tequilas aged in hand-selected American oak and new French oak casks.
SRP: $39.99 per 750-ml bottle
cazadores.com
10. Stranahan's Whiskey
Mountain Angel Batch 3, Colorado distillery Stranahan's 10-year-old, ultra-premium single malt whiskey produced in limited quantities, is shaped by Denver's high altitude and the embrace of new American oak barrels. Together, these factors allow for a loss of angel's share that lend the 90.2-proof spirit (cut with Rocky Mountain water) a depth of flavor and velvety finish that is typical of whiskey twice its age.
SRP: $99.99 per 750-ml bottle
stranahans.com
11. Honey & Co.
Puerto Rican singer and songwriter Rauw Alejandro regularly drinks a combination of honey, tea, and ginger prior to his performances. That comforting ritual has since led to Alejandro joining forces with historic Cognac producer La Société des Vins et Eaux-de-vie on the cocktail-friendly Honey & Co. Más Miel is a VS Cognac ramped up with a liqueur that unites raw Spanish honey and a hint of ginger.
SRP: $35 per 750-ml bottle
masmielcognac.com
12. Schlafly Beer
St. Louis craft brewery Schlafly Beer has rolled out its Stout Bout winter variety pack. Along with two newcomers—spiced Chai Latte (6.0% ABV) and tropical Coconut Coffee (5.7% ABV)—the quartet of cold weather stouts includes the brand's tried-and-true British-style Oatmeal (5.7% ABV) and the return of creamy, cinnamon-tinged Mexican Hot Chocolate (6.0% ABV).
SRP: $17.99 per 12-pack of 12-oz bottles
Schlafly.com