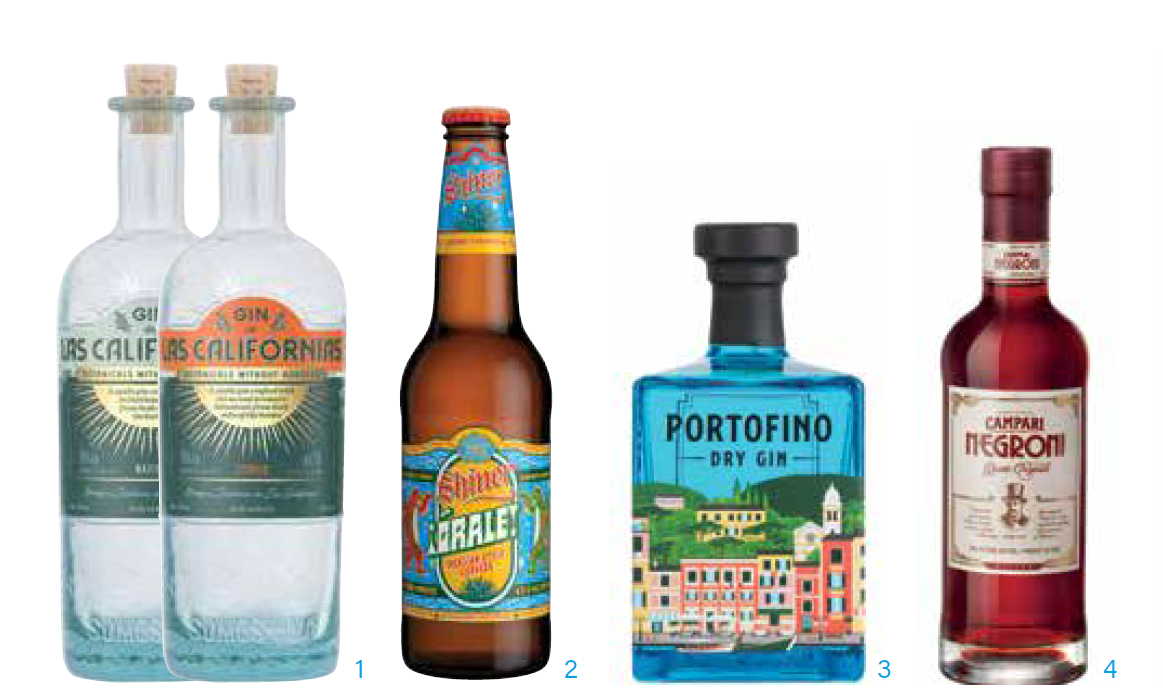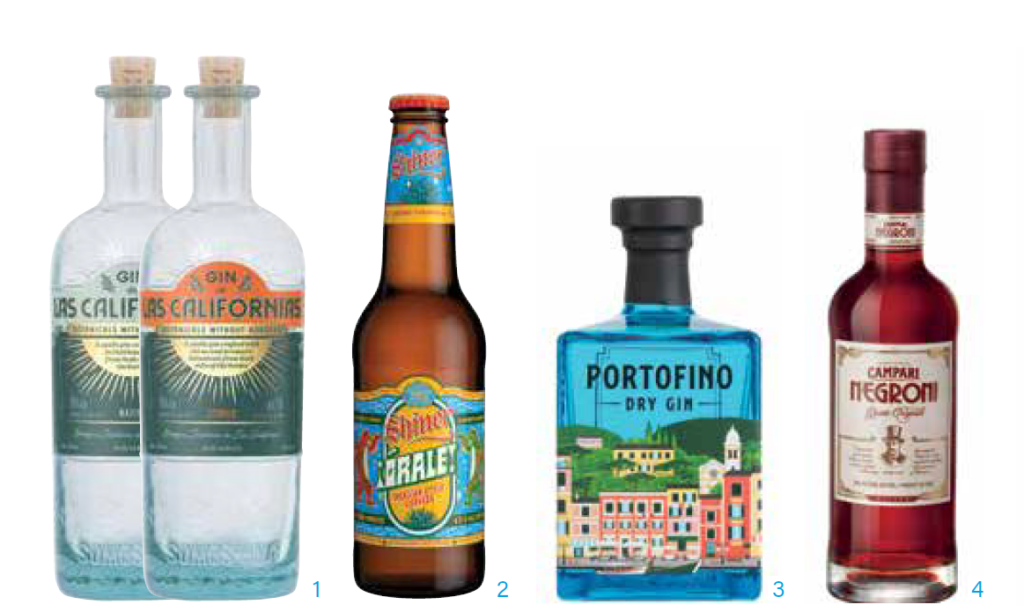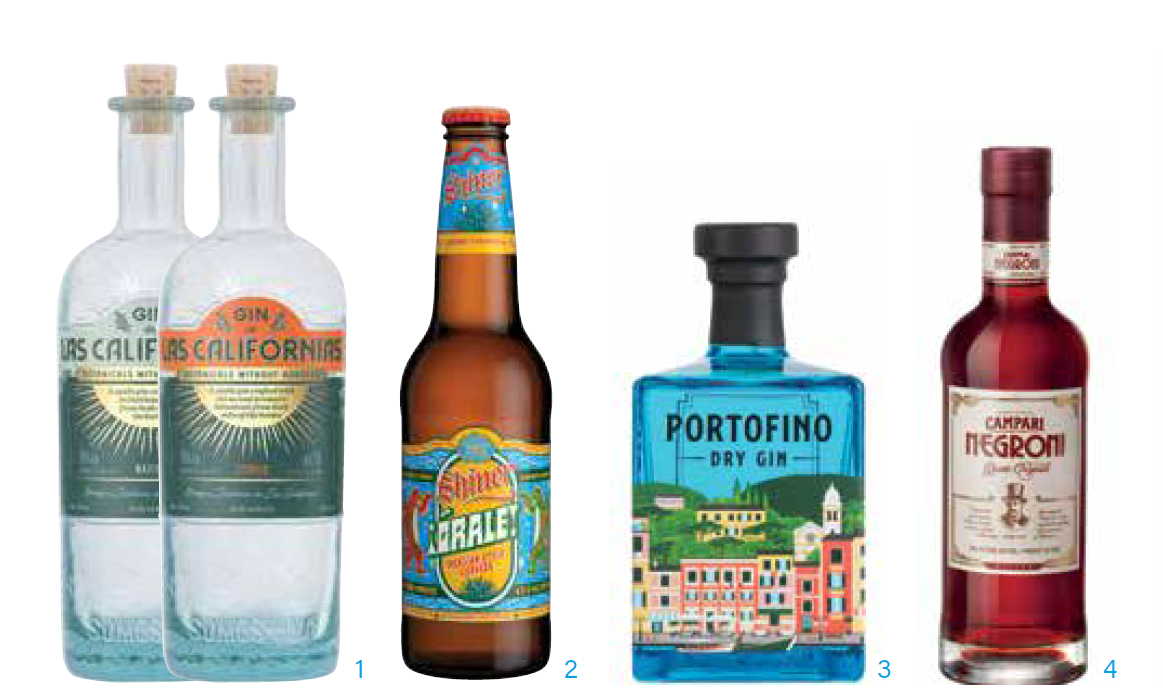 1. Las Californias Gin
Modern-day California and coastal Mexico are steeped in history, and Las Californias Gin aims to shed light on that heritage with the roll-out of its first two dual-origin expressions:
Nativo and Citrico. Both star a base of the piney native Juniperus californica, but whereas Nativo highlights indigenous botanicals like Pacific kelp, Californian artemisia, and damiana, Citrico illuminates the key roles lemongrass, fig, and almond have long played in the region.
SRP: $32.99 per 750-ml bottle
lascalifornias.com
2. Shiner ¡Órale! Mexican Lager
One of the newest additions to the slate of Texas-made Shiner Beers is ¡Órale! Brewed with agave, the Mexican-style lager (4.5% ABV) is a crisp, earthy, subtly sweet complement to taco night.
SRP: $8.99 per six-pack and $14.99 per 12-pack of 12-oz. cans or bottles
shiner.com
3. Portofino Dry Gin
Portofino Dry Gin, now available in the U.S., is an homage to cofounder Ruggero Raymo's grandfather, Klaus Pudel, who helped salvage the spirit's namesake village from the devastation of World War II. A recipe of 21 botanicals organically grown on the hills of Portofino, such as juniper, lemon, lavender, rosemary, marjoram, sage, iris, and rose, beckons the Italian Riviera.
SRP: $56.99 per 750-ml bottle
portofinogin.com
4. Campari Negroni Ready to Serve
Aperitivo hour has become a tad easier to orchestrate with the arrival of Campari's on-the-go iteration of the classic Negroni. Each bottle contains four servings of the drink, an
equal parts blend of Campari, London dry gin, and sweet vermouth, that can be simply poured over ice and spruced up with an orange slice garnish.
SRP: $24.99 per 375-ml bottle
campari.com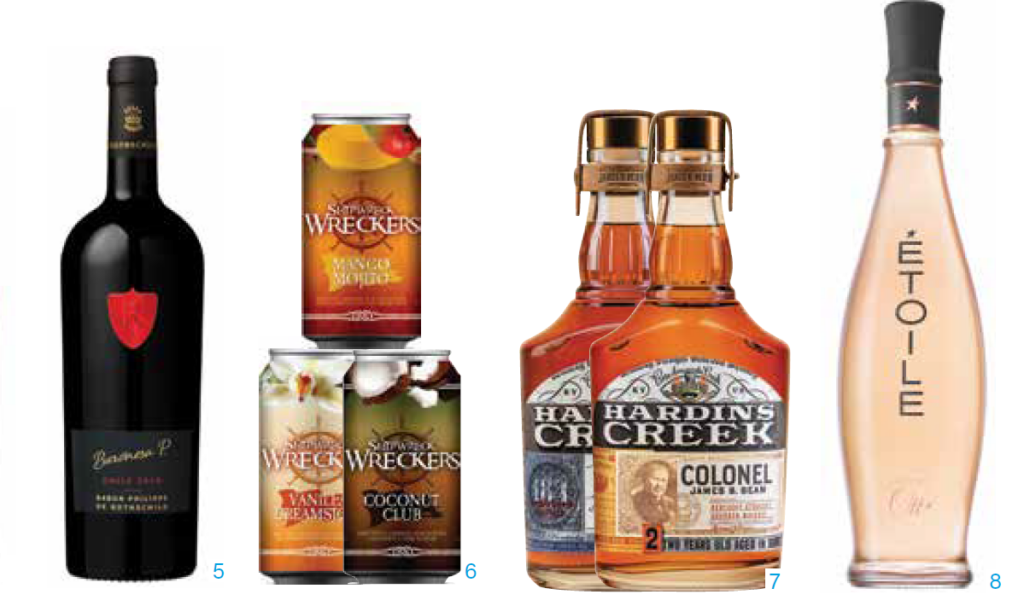 5. Escudo Rojo Baronesa P.
Escudo Rojo, Baron Philippe de Rothschild's Chilean enterprise, has unveiled the complex, concentrated Baronesa P. 2019. An ode to the late Baroness Philippine de Rothschild, the cuvée is dominated by Cabernet Sauvignon and rounded out with Carménère, Petit Verdot, Syrah, and Cabernet Franc, unleashing a tangle of blackcurrant, blackberry, and Ente plum.
SRP: $65 per 750-ml bottle
escudo-rojo.com
6. Shipwreck Rum's Wreckers
Brinley Gold Shipwreck Rum ventures into the ready-to-drink realm with Wreckers, a trifecta of summery 6% ABV cocktails packaged in 100 percent recyclable cans. A portion of all sales from the tropical libations—Mango Mojito, Vanilla Creamsicle, and Coconut Club—go toward preserving wildlife through the St. Kitts Sea Turtle Monitoring Network.
SRP: $14.99 per four-pack of 12-oz. cans
brinleygoldshipwreck.com
7. Hardin's Creek
To celebrate the vast Beam family legacy, the James B. Beam Distilling Company has debuted Hardin's Creek, a collection of rare, limited edition whiskeys from Freddie Noe, the master
distiller at Fred B. Noe Distillery. The first of the annual releases are the 108-proof Jacob's Well and Colonel James B. Beam. The former is a blend of 16-year-old traditional and 15-year-old high-rye bourbons, while the latter is a two-year-old whiskey showcasing unusual depth because it's taken off the still at a lower distillation proof.
SRP: $149.99 (Jacob's Well) and $79 (Colonel James B. Beam) per 750-ml bottle
beamsuntory.com
8. Domaines Ott Étoile
Domaines Ott, led by fourth-generation winemaker Jean-François Ott, has added Étoile 2020 to its lineup of Provence wines. Comprised of 80 percent Grenache and 20 percent Mourvèdre, the rosé brings together grapes from three distinct terroirs: Clos Mireille, Château de Selle, and Château Romassan, culminating in a tangy mélange of wild peach, raspberry, and mango.
SRP: $199.99 per 750-ml bottle
domaines-ott.com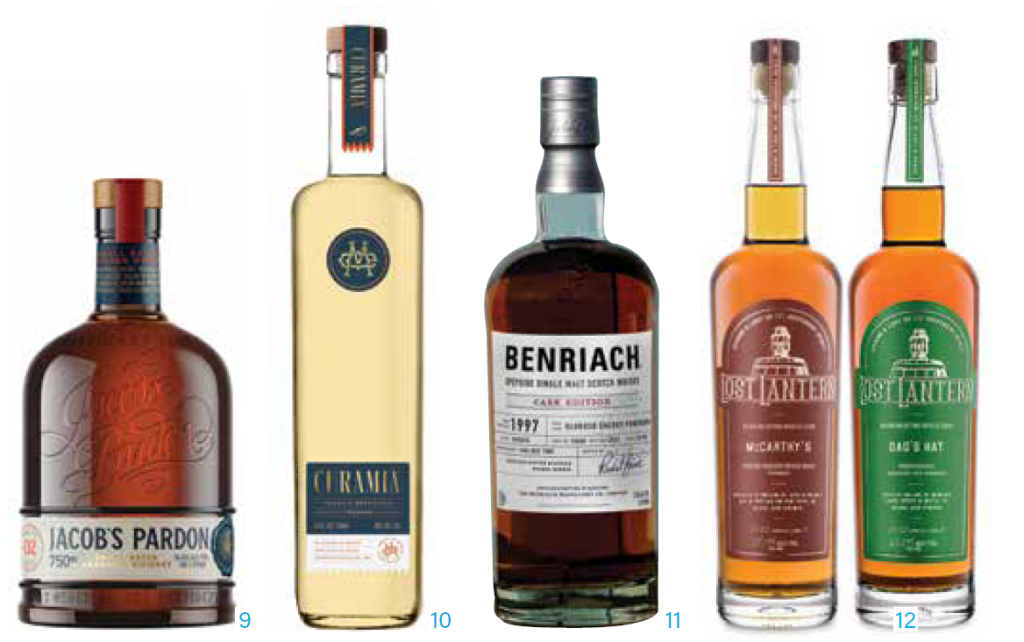 9. Jacob's Pardon Small Batch Recipe #2
The latest edition of Jacob's Pardon, the Kentucky whiskey that traces its roots to two resourceful bootlegging brothers during Prohibition, is the 109.3-proof Small Batch Recipe #2. Exhibiting motley notes of cocoa butter, clove, caramel, and baked honey ham, it's ideal in an Old Fashioned.
SRP: $89.99 per 750-ml bottle
palmbay.com
10. Curamia Tequila Reposado
In 2021, Jalisco-raised chef Dafna Mizrahi launched woman-centered Curamia Tequila, a brand that stands out for its sustainable distillation process using deep well water. Mizrahi's initial blanco offering is now followed up by an herbaceous reposado made from 100 percent Blue Weber agave that is distilled twice in copper pot stills and aged for four to five months in American oak casks.
SRP: $100 (3812), $330 (10297)
curamiatequila.com
11. Benriach Cask Edition
Speyside distillery Benriach has, for the first time ever, introduced its single cask, single malt Scotch whisky bottlings to the U.S. market. Drawn from individual barrels selected by master blender Rachel Barrie, the expressions include the 116.4-proof Cask #3812: Pedro¢Ximénez¢Puncheon from 2009, the 110.8-proof Cask #10297: Marsala from 1998, and the 110.8-proof Cask #15058:Oloroso Puncheon from 1997.
SRP: $44.99 per 750-ml bottle and $380 (15058)
benriachdistillery.com
12. Lost Lantern Summer 2022 Single Cask Collection
Independent American whiskey bottler Lost Lantern presents its summer bundle of¢seven single casks from six craft distilleries. The bundle includes McCarthy's three-year-old Oregon peated single malt, Frey Ranch Distillery in Nevada's three-grain straight bourbon, Starlight Distillery in Indiana's straight bourbon, St. George Spirits' California single malt, Balcones Distilling's Texas single malt, and two expressions of Dad's Hat Pennsylvania straight rye.
SRP: $80 to $160 per 750-ml bottle
lostlanternwhiskey.com