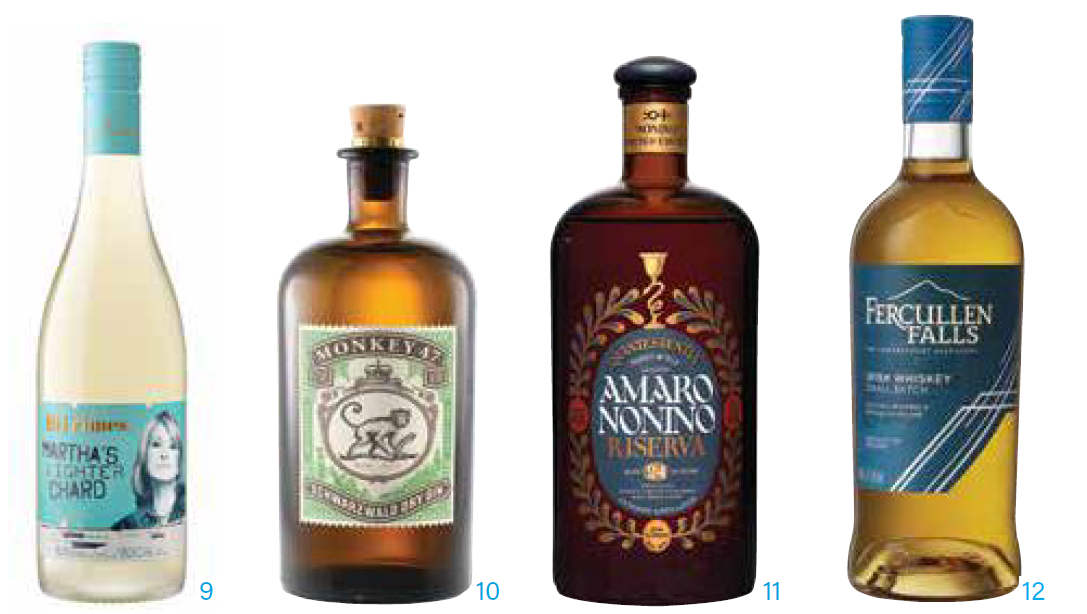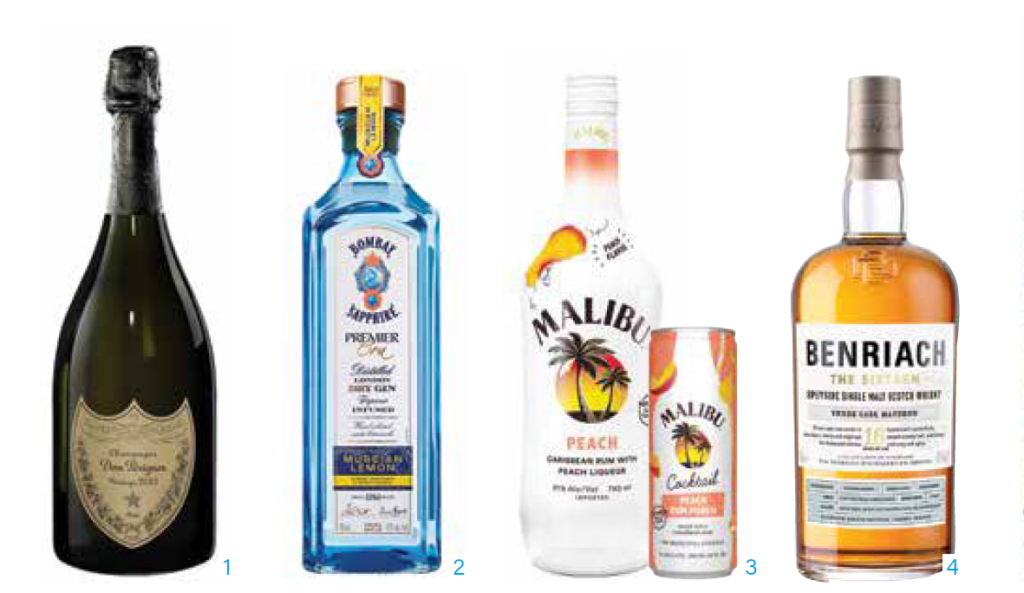 1. Dom Pérignon
The most recent release of Dom Pérignon Champagne is the late-harvest 2013 vintage. A Brut that opens with fragrant apricot and orange blossom aromas, it builds up to a long saline-tinged finish.
SRP: $285 per 750-ml bottle
domperignon.com
2. Bombay Sapphire
An homage to Murcia in southern Spain, Bombay Sapphire Premier Cru Murcian Lemon puts the region's Mediterranean-ripened citrus in the limelight. Bright, sustainable Murcian Fino lemons, grown during a single late harvest, are bolstered by mandarins and sweet navel oranges for an expression that plays well in the French 75 and Martini alike.
SRP: $34.99 per 700-ml bottle
bombaysapphire.com
3. Malibu
Conjuring juicy, yellow summertime peaches, the launch of Malibu Peach Rum reinforces the brand's "Do Whatever Tastes Good" mantra. The line extension—which joins Malibu Watermelon, Malibu Pineapple, Malibu Strawberry, and Malibu Original—also includes a breezy ready-to-drink variant, Malibu Rum Punch Cocktail in a Can ($12 per four-pack of 12-oz. cans).
SRP: $14.99 per 750-ml bottle
maliburumdrinks.com
4. Benriach
After it was retired in 2016, The Sixteen is returning to the Benriach range. Sporting a reformulated recipe, the 86-proof single malt Scotch whisky was aged for at least 16 years in bourbon, sherry, and virgin oak casks, garnering concentrated bursts of fruit, honeyed malt, and oak.
SRP: $115 per 700-ml bottle
benriachdistillery.com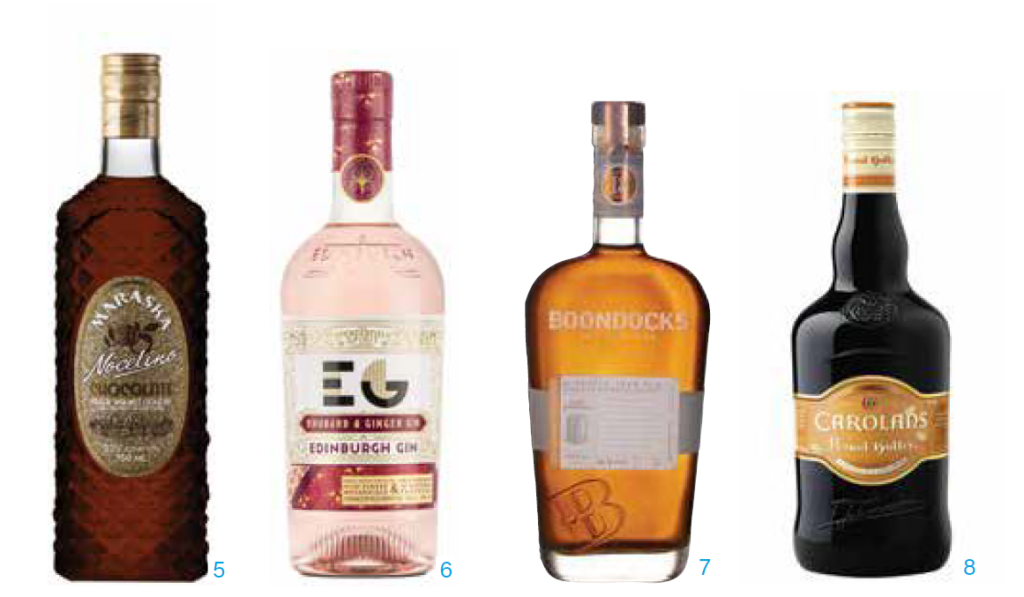 5. Maraska
Best known for its slivovitz, Croatian distillery Maraska is expanding its presence nationally with Nocelino Chocolate via Worldwide Libations. The versatile liqueur melds macerated green walnuts from Croatia's Dalmatian coast with an infusion of natural chocolate that works as well in an Old Fashioned as it does on its own as a digestif.
SRP: $24 per 750-ml bottle
maraska.hr
6. Edinburgh Gin
Fresh to the U.S. market, Edinburgh Rhubarb & Ginger Gin takes cues from the Scottish distillery's liqueur starring the same two ingredients. Beyond the base of London dry-style Edinburgh Classic Gin, which lends the spirit piney and citrusy notes, an infusion of natural rhubarb and ginger rounds it out with jolts of tangy fruit and spice.
SRP: $30 per 700-ml bottle
edinburghgin.com
7. Boondocks Whiskey
As part of the Boondocks Signature Series collection, Royal Wine Corp has unveiled Boondocks 18-year-old straight bourbon whiskey from Kentucky. Overseen by master distiller David Scheurich, the 105.4-proof limited-edition release (there are only 1,620 bottles) is enveloped in layers of Tahitian vanilla, butterscotch, and dark roast coffee.
SRP: $279.99 per 750-ml bottle
boondockswhiskey.com
8. Carolans Irish Cream
Like Carolans Cold Brew and Carolans Salted Caramel, Carolans Peanut Butter begins with Carolans Irish Cream, the original velvety liqueur that brings together farm-fresh cream, Irish whiskey, and naturally harvested honey. It's then mixed with a sweet, nutty flavoring that allows it to shine solo, in coffee, or libations like the Nutty Irishman.
SRP: $14.99 per 750-ml bottle
heavenhill.com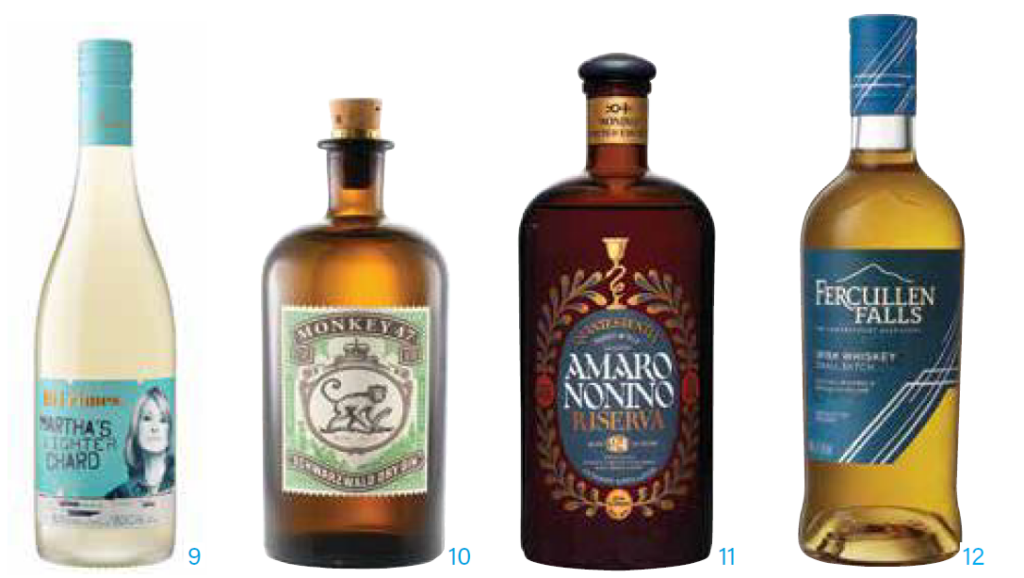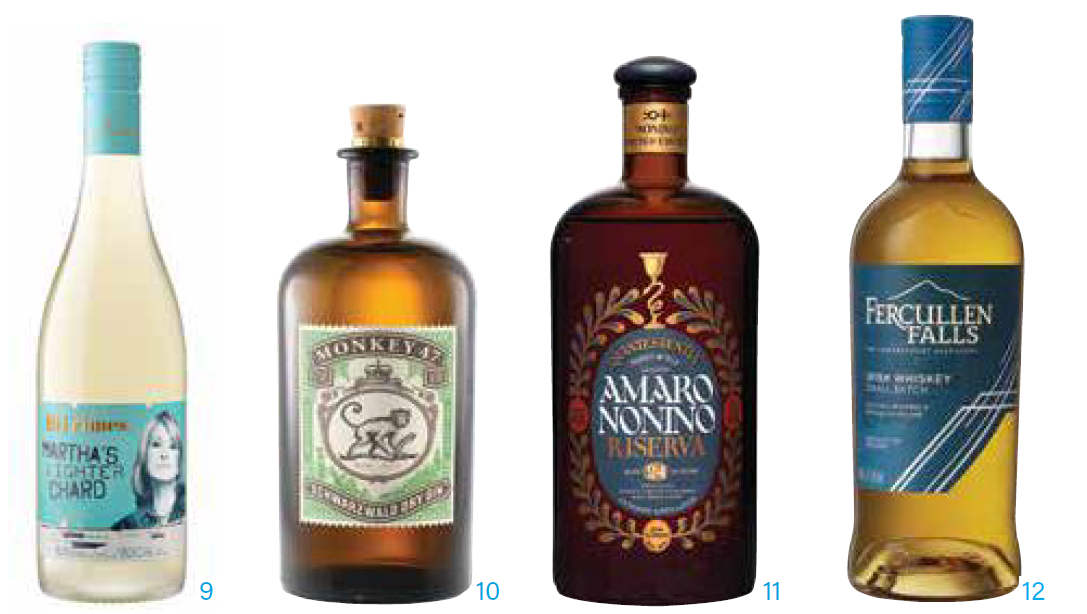 9. 19 Crimes
19 Crimes dips into the booming low-alcohol wine category with Martha's Lighter Chard, the label's second collaboration with lifestyle maven Martha Stewart. Using the same California Chardonnay grapes as her inaugural Martha's Chard, this crisp, approachable 80-calorie version has just 8.5 percent alcohol.
SRP: $14.99 per 750-ml bottle
19crimes.com
10. Monkey 47
Made in Germany's Black Forest, Monkey 47 dry gin showcases 47 hand-picked botanicals, but every year, its limited-edition Distiller's Cut features a Species Rara, a complementary 48th ingredient. For the 12th iteration, attention is on the woodruff, a flowering plant containing vanilla- and cinnamon-scented coumarin that was serendipitously sourced on the wooded grounds of the distillery.
SRP: $79.99 per 500-ml bottle
monkey47.com
11. Nonino
It is synonymous with grappa, but family owned Nonino Distillery also turns out amaro. Consider the limited-edition Amaro Nonino Riserva Quintessenia (available through Terlato Wines), a tribute to the third generation's Antonio Nonino, who kept Amaro Carnia in small wooden barrels. Aged for 24 months in oak barriques and petite casks, its melange of herbs, spices, and fruit is invigorated with aged ÙE Nonino Grape Distillate.
SRP: $110 per 750-ml bottle
grappanonino.it
12. Fercullen Irish Whiskey
Now part of the Zamora Company USA portfolio, Fercullen Irish Whiskey arrives stateside with the new flagship small-batch Fercullen Falls, a blend of 50/50 malt and grain whiskeys. The light 86-proof spirit, produced at Powerscourt Distillery in County Wicklow, will be accompanied by the Fercullen Single Malt, Fercullen 15-Year- Old, and limited-edition Fercullen 21-Year-Old Single Malt.
SRP: $34.99 per 700-ml bottle
powerscourtdistillery.com