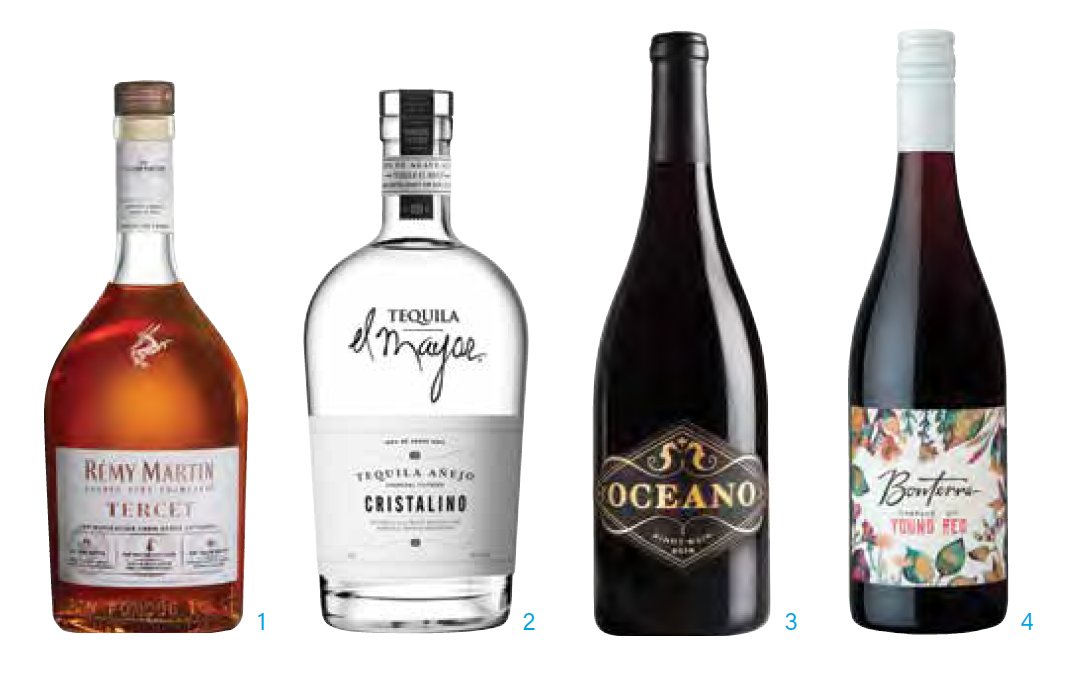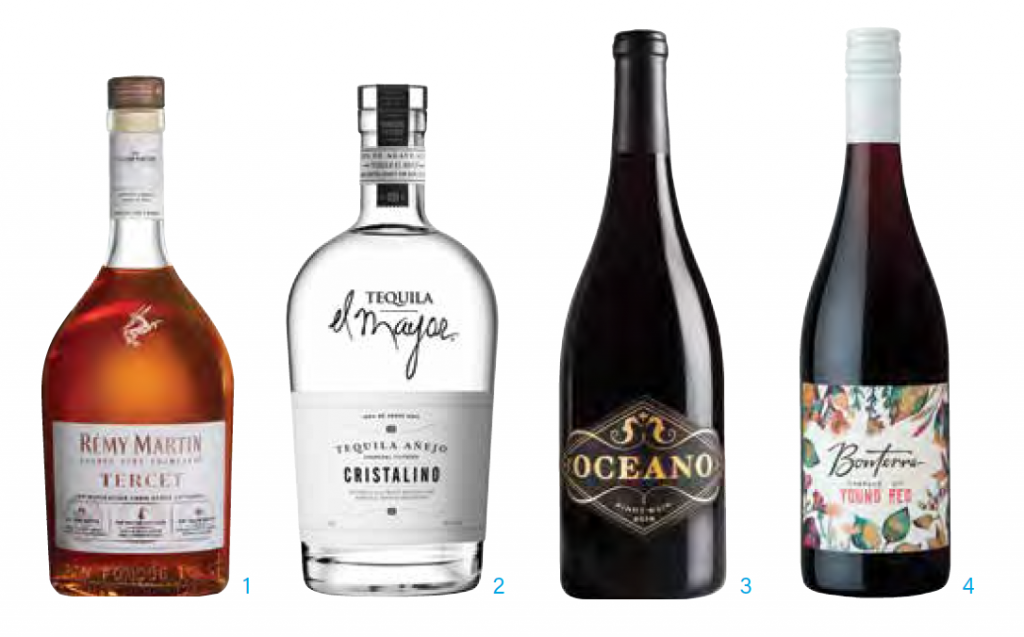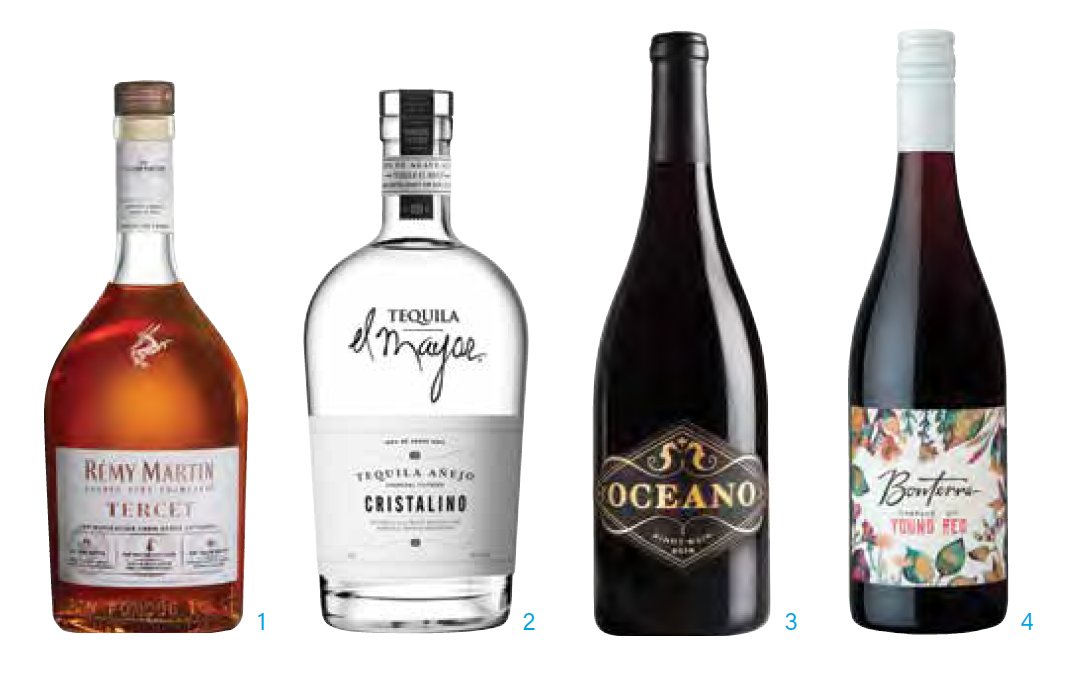 1. Rémy Martin 'Tercet' Cognac
The new expression from Rémy Martin celebrates superior craftmanship on multiple levels. Tercet (the name is inspired by three lines of rhyming verse), is a new permanent extension, highlighting contributions by three artisans: Rémy Martin's Cellar Master, Wine Master and Master Distiller. They combined their expertise to reveal the best of the Cognac terroir from the Petite and Grande Champagne zones in a fruit-driven, spicy and very long Cognac. 84 proof.
SRP: $110
remymartin.com
2. El Mayor "Cristalino' Tequila
El Mayor has launched 'Cristalino,' a crystal clear, ultra-premium añejo tequila whose blend was selected for its well-balanced oak flavors. As with every bottle of El Mayor, Cristalino is made with estate grown, 100% blue agave from the lowlands of Jalisco. The crystal clarity comes from filtering through ultra-fine charcoal; the result has the complexity and character of an añejo, with the crisp, bright notes and color of a blanco expression. 80 proof.
SRP: $39.99
elmayor.com | luxco.com
3. Oceano 2018 Pinot Noir, Central Coast
This 100% Pinot Noir is hand-harvested at Spanish Springs in San Luis Obispo County—the westernmost vineyard in California. Oceano Wines is a joint venture between Rachel Martin, a veteran of Virginia's wine scene, and Kurt Deutsch
an award-winning music, theatre and film producer. They married in 2018, the same year of their first release, a Spanish Springs Chardonnay. Marbue Marke is the consulting winemaker.
SRP: $45
oceanowines.com
4. Bonterra 2018 'Young Red'
Bonterra Organic Vineyards has introduced Young Red, a fresh take on the chilled red trend. Made from the hard press of Bonterra's rosé (Mendocino County Grenache, Syrah, Malbec), with no malolactic fermentation or barrel aging, Young Red balances the body and structure of a red wine with the refreshing profile of a dry white. Opting for fermentation without contact with skins or seeds helps avoid harsh tannins, while a cooler fermentation gives the wine a softer, rounder mouthfeel.
SRP: $16/750ml | $18/four-pack 250ml cans
bonterra.com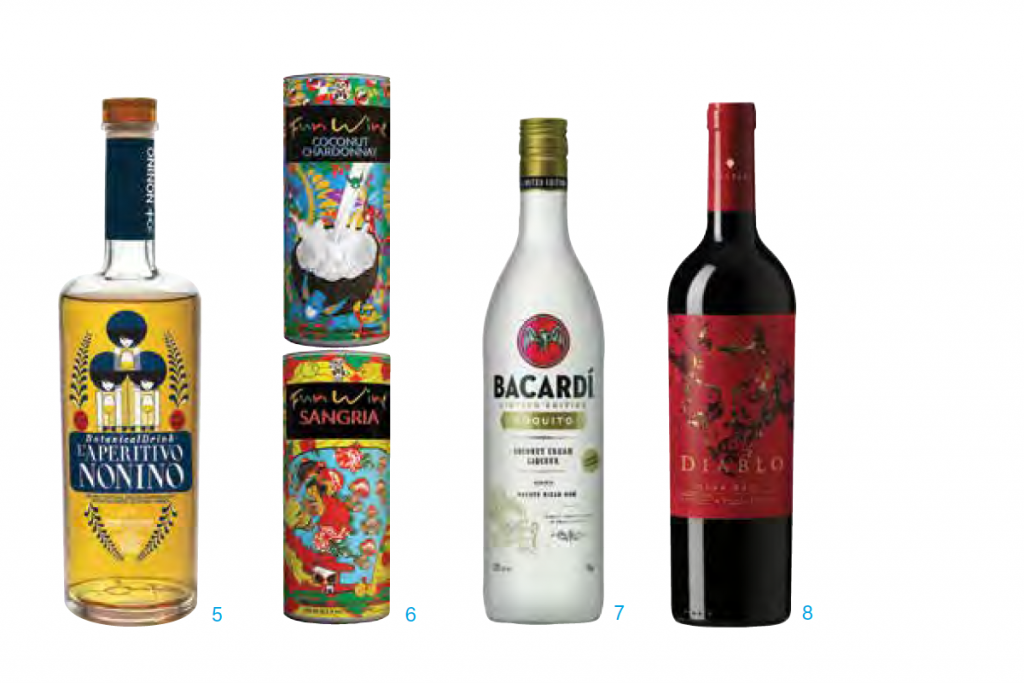 5. L'Aperitivo Nonino
When three Nonino sisters decided to create a spirit they got inspiration from their grandmother, Silvia Milocco—the first woman in Italy to produce grappa, who had also created a botanical drink called Nonino Bianco. The reborn L'Aperitivo Nonino is crafted from 100% natural ingredients, infused with botanicals grown on and around their family estate in Friuli. Gentian root, rhubarb, lemons, limes and oranges are dried at a low temperature to preserve
their natural intensity. 42 proof.
SRP: $39.99
terlatowines.com/artisan-spirits
6. 'Fun Wine' Slim Cans
Inspired by the vibe and culture of Miami, Fun Wine, a low-alcohol flavored wine, is now available in single-serve 250ml slim cans as well as 750ml bottles. Fun Wine comes in three flavors: Coconut Chardonnay, Strawberry Rosé Moscato and
Sangria. Packaged in bold, eye-catching, original, wraparaound art by famous urban artist Miguel Paredes, the 5.5% ABV, Fun Wine is gluten-free and all natural. Rolling out nationally.
SRP: $2.29/250ml | $5.99/750ml
funwine.com
7. Bacardi 'Coquito' RTD Cocktail
Bacardi is aiming to bring the magic of the Coquito, a beloved Puerto Rican holiday libation, to the masses with a limited edition ready-to-drink version. Following the traditional recipe closely, Bacardi Coquito
combines their signature Puerto Rican rum with toasted spices, coconut cream, vanilla and cinnamon to create a creamy, low-ABV (13%) libation that tastes like eggnog on a tropical vacation.
SRP: $17.99
bacardi.com
8. Diablo 2017 Dark Red Blend
Named after the Devil himself, Concha y Toro's new standalone release, Diablo,invites consumers to step up to a new, intense red blend, featuring notes of black fruits, mocha and creamy vanilla. Crafted in the Maule Valley of Central Chile, Diablo Dark Red Blend is composed of Syrah and Malbec—and was (devilishly) stored in both French and American Oak Barrels for precisely 6 months, 6 weeks and 6 days.
SRP: $18
conchaytoro.com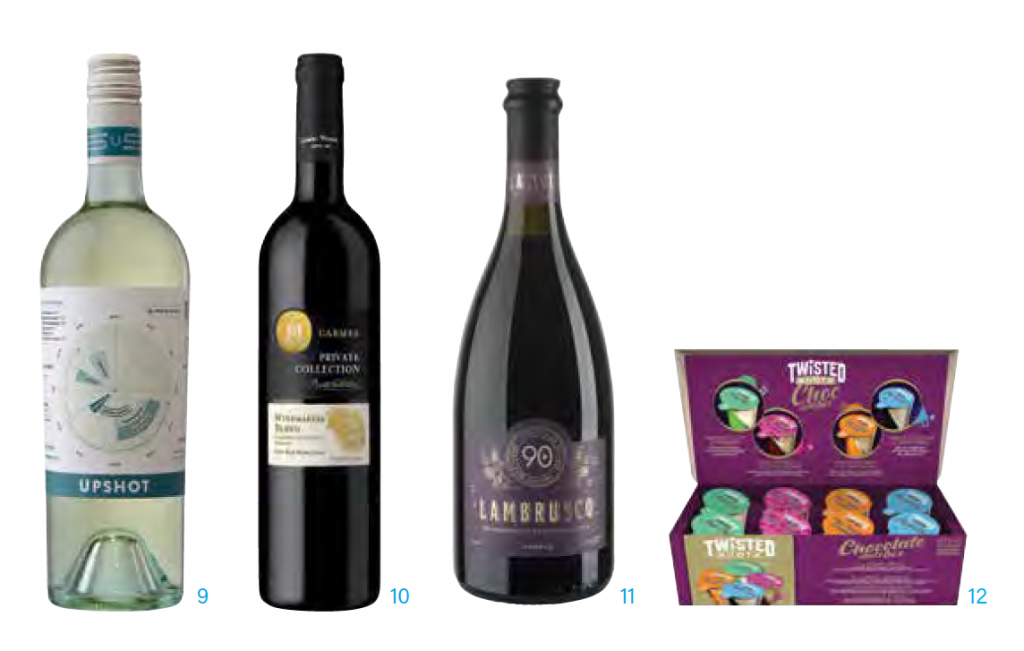 9. Rodney Strong 2018 'Upshot' White Blend
Rodney Strong Vineyards has released a white version of Upshot, an innovative blended wine. This wine joins Upshot Red; both feature labels illustrating the growing, making and blending experience from the vineyard to the glass. Upshot White includes Chardonnay (27%), Grenache Blanc, Gewürztraminer. Pinot Noir, Viognier and Sauvignon Blanc.
SRP: $18
upshotwines.com | rodneystong.com
10. Carmel 'Private Collection'
New from Carmel Winery, one of Israel's leading producers, comes a new Private Collection series that showcases the country's most prized growing regions and Carmel's 137 years of winemaking expertise. The dry, fruit-forward trio includes 2018 Cabernet Sauvignon, 2018 Shiraz and 2018 Winemaker's Blend (50/50 Cabernet/Merlot); all are made by Carmel's Chief Winemaker Yiftach Peretz. All wines are certified OU Kosher, and produced using state-of-the-art technology.
SRP: $15
carmelwines.co.il/en/ | royalwine.com
11. 90+ Cellars Lambrusco
Latitude Beverages has added Lambrusco to the 90+ Cellars portfolio, anticipating new popularity for the Italian sparkling red, which is far more sophisticated than what was popular late last century. Lot 172 Lambrusco, made using the Charmat method, hails from the DOC region of Lambrusco Grasparossa di Castelvetro. The wine is deep purple-red in color, with aromas of fresh strawberries and violets; light effervescence carries flavors of plum and berries.
SRP: $12.49
latitudebeverage.com
12. Twisted Shotz 'Choc Box'
Twisted Shotz's new Choc Box, a limited edition 8-shot combo pack, highlights four brand new chocolate shot combinations: Chocolate Mousse; Chocolate and Mint; Chocolate and Salted Caramel; and Chocolate Mocha. The latest release follows
the company's Twisted Shotz Party Pack, a 15-shot box. As with Twisted Shotz's core flavors, Choc Box shots come in a double- chambered, reusable shot glass. 32 proof.
SRP: $10.99/8-shot pack
twistedshotz.com