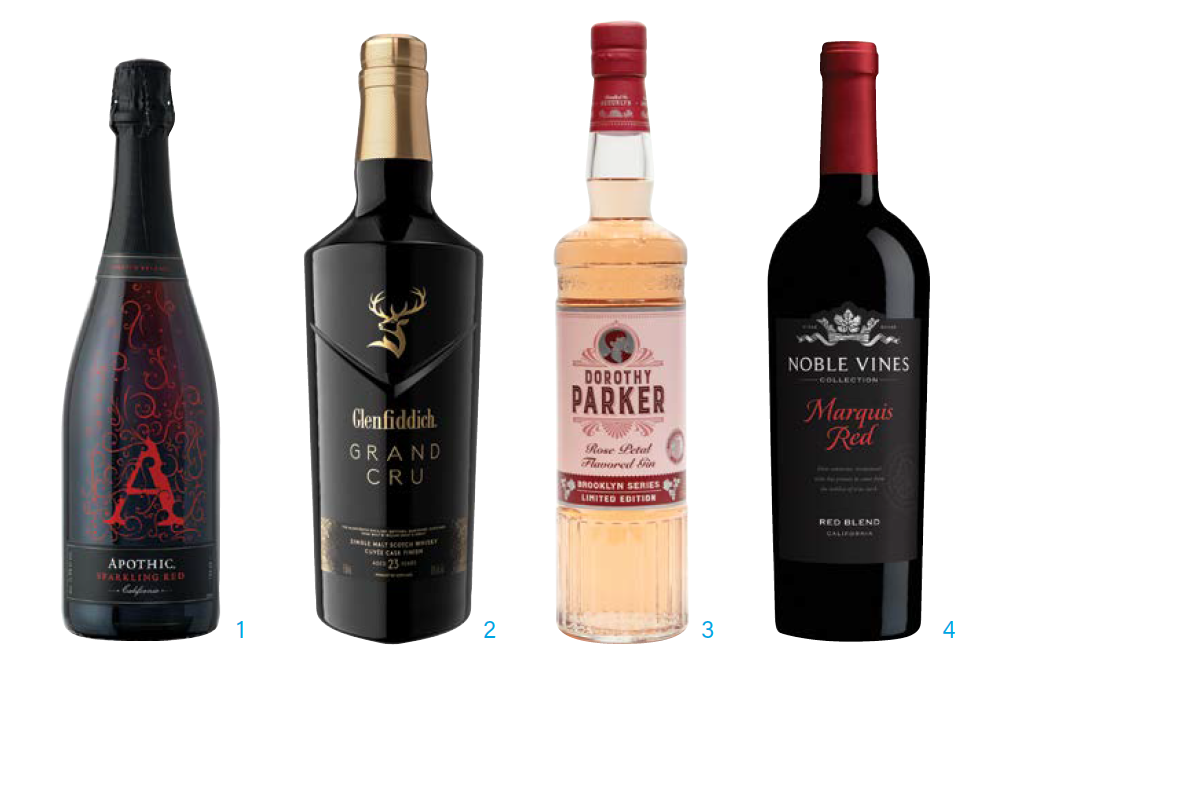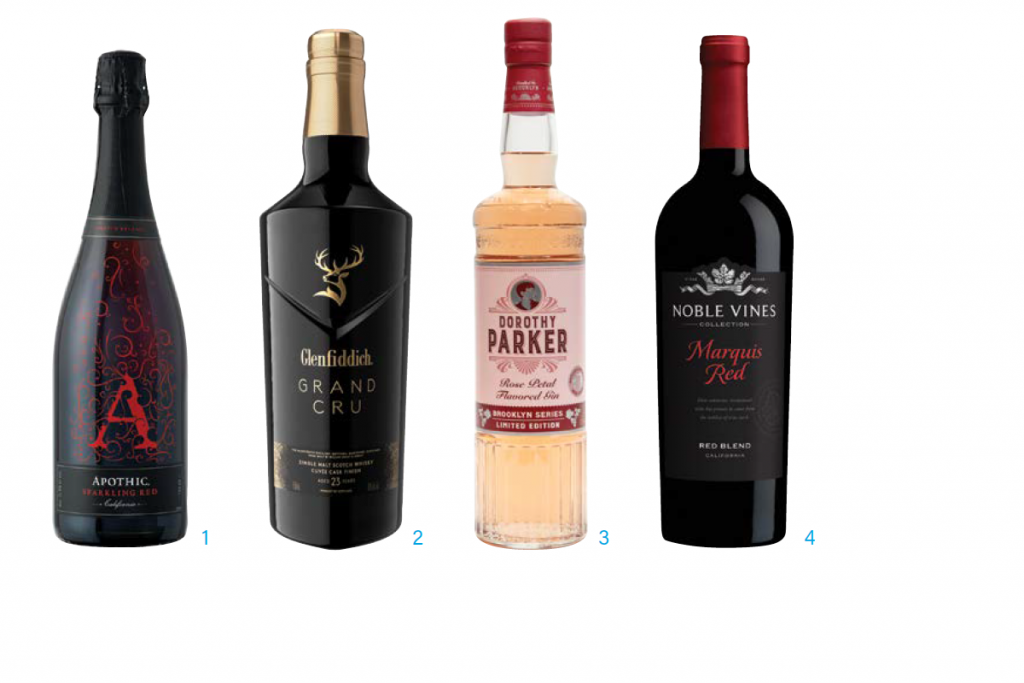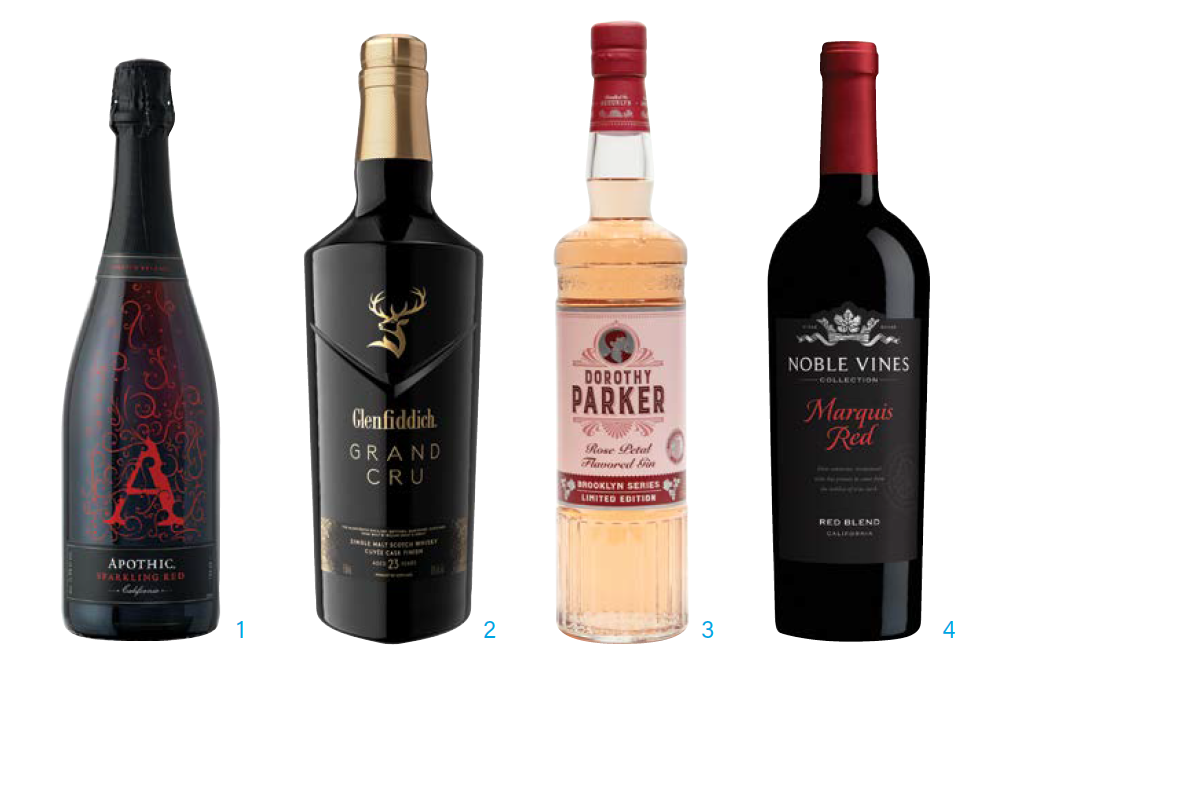 1. Apothic Sparkling Red
Apothic, a brand that began with one jammy red blend, continues to expand. Apothic Sparkling Red is a bubbly with vivid ripe cherry fruit, accented with hints of citrus and apple. Made by winemaker Deb Juergenson, it features an unusual mix of 48% Colombard, 42% Chardonnay, 10% Lagrein) and 11.5% ABV. Like Apothic Inferno, Apothic Sparkling Red is a limited edition—when it's gone, it's gone.
SRP: $16
2. Glenfiddich 'Grand Cru'
Glenfiddich has released a new top-tier expression: Grand Cru. Single malt whisky that has matured 23 years and then been finished
in French casks used in Champagne base wine production, Grand Cru encompasses a myriad of aromas, from apple blossom to candied lemon and freshly baked bread. Palate notes of vanilla, brioche, sandalwood and pear sorbet are enhanced by a long finish. The sleek black glass bottle comes in an opulent box featuring a sparking golden firework design. 8o proof.
SRP: $299.99
3. Dorothy Parker Rose Petal Gin
On August 25th, New York Distilling Company released Dorothy Parker Rose Petal Gin to coincide with its namesake's 125th birthday anniversary. A founding member of the historic Algonquin Round Table, Dorothy Parker was an accomplished writer in several genres. This newest expression of the brand is infused with red and pink rose petals; elderberry is among the other key botanicals. The aroma and flavor of rose complement existing hibiscus notes; sweet, creamy finish. 88 proof; 10,000 bottles.
SRP: $29
4. Noble Vines 'Marquis Red' California Red Blend
With Nielsen now tracking Red Blends as 13% of the table wine market, Delicato Family Wines has added Marquis Red to the Noble Vines Collection. Available nationwide, the collection was borne from noble vine stocks originating from renowned appellations of France, and cultivated in family-owned estates in Monterey and Lodi. Marquis Red features aromas of dark cherry, baking spice and vanilla with smooth tannins.
SRP: $14.99
noblevines.com | delicato.com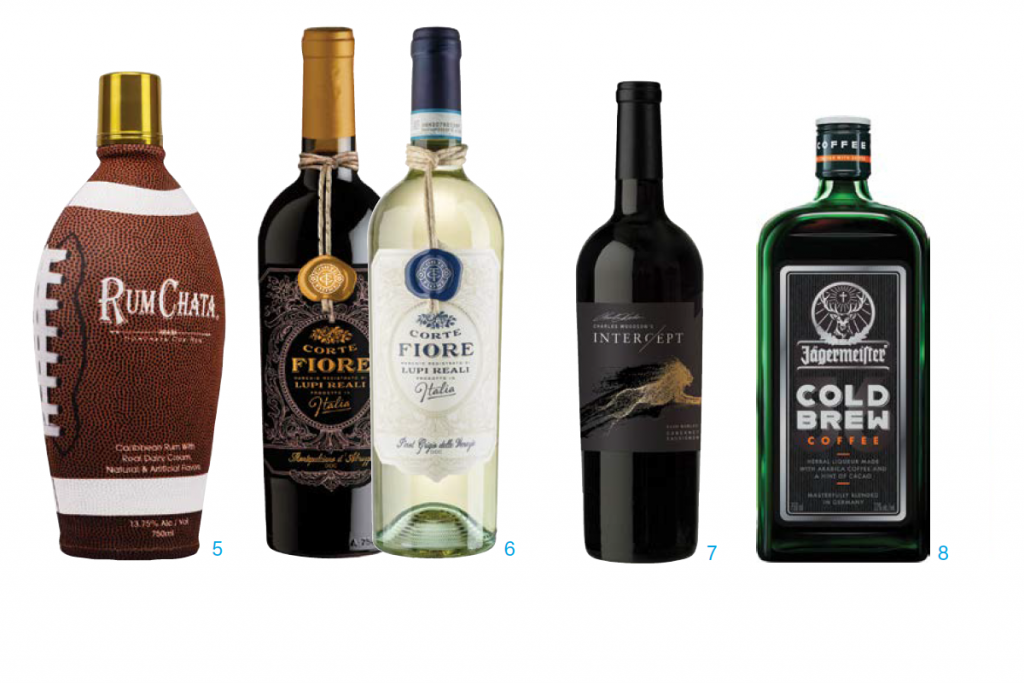 5. Rumchata Football Bottle
Here's a merger of two fan favorites: football and RumChata, the popular blend of Caribbean rum and real cream. Following successful test markets during last year's football season, the RumChata Football bottle is now available nationally. The reusable sleeve looks just like a pigskin, complementing RumChata's highly recognized oblong shape, which already resembles a football. Great for in-store seasonal displays…and tailgates. 27.5 proof.
SRP: $19.99
6. Corte Fiore Pinot Grigio & Montepulciano D'Abruzzo
Two years after partnering with Passione Natura, a group of growers in Italy's Abruzzo and Veneto, to launch Latitude Beverage's Corte Fiore in the U.S., the brand is thriving. The line is also growing, with the addition of a 2018 Pinot Grigio and a 600-case run of Montepulciano d'Abruzzo. These new wines will be available alongside the current Appassimento and Prosecco—all in decorative six-pack wood boxes.
SRP: Pinot Grigio $13.99 | Montepulciano $19.99
7. Intercept Wines
O'Neill Vintners & Distillers, a leading California producer of premium wine brands, has joined with retired NFL star defensive back Charles Woodson to launch Intercept. Woodson, who is one  of the league's career leaders in interceptions, caught the wine bug when the Oakland Raiders trained in Napa. The wines for Intercept come from Paso Robles and Monterey County, comprising Cabernet Sauvignon, Red Blend, Pinot Noir and Chardonnay.
SRP: $18
8. Jägermeister Cold Brew Coffee
Combining Jägermeister's 56 herbs, blossoms, roots and fruits with the flavors of intense rich Arabica coffee and cacao, Jägermeister Cold Brew Coffee breaks new ground for the iconic Jägermeister ice cold shot experience. Select coffee and cacao beans complement the unique ingredients and the gentle maceration process used to create Jägermeister for more than 80 years. All-natural, 66 proof.
SRP: $24.99/750ml | $32.99/1L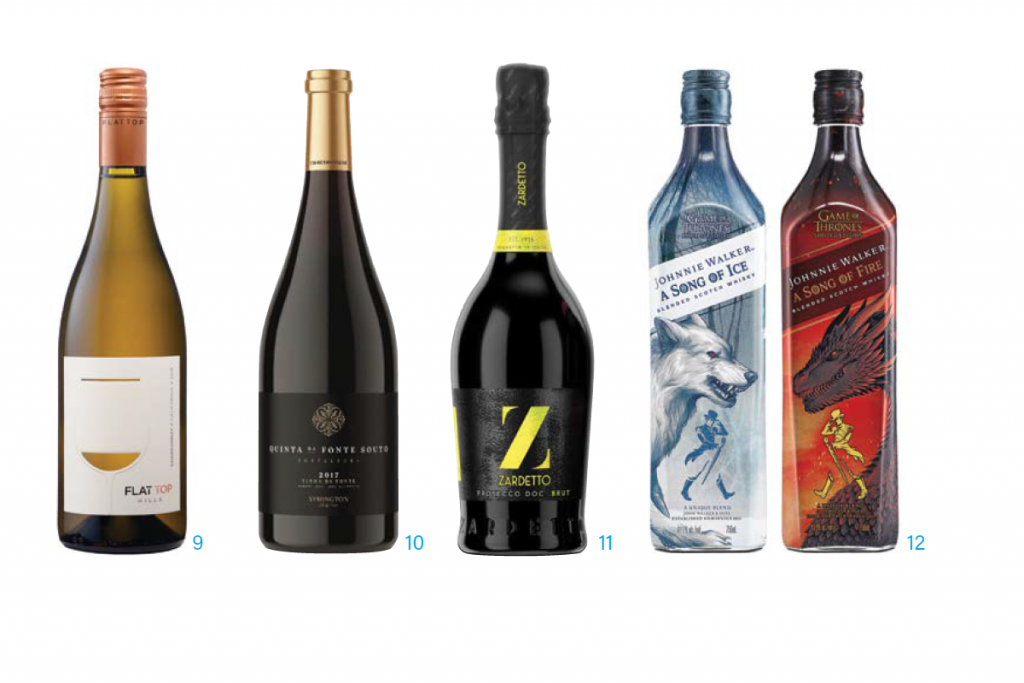 9. Flat Top Hills Wines
Flat Top Hills is a premium collection of vineyard-driven wines from the "G4," or fourth generation of the iconic C. Mondavi family, whose roots in California wine date back nearly 100 years.  Rolling out after successful test markets, the line has five wines—crisp Sauvignon Blanc, supple Rosé, lush Chardonnay, juicy Red Blend and rich Cabernet Sauvignon. Winemaker Randy Herron calls them "intense yet smooth… quaffable wines made with a keen attention to detail."
SRP: $13.99-$15.99
10. Quinta Da Fonte Souto DOC, Portugal
Symington Family Estates, based in Oporto, is launching Quinta da Fonte Souto DOC, a prestige table wine from Portalegre, a sub-region in Alentejo. All 2017 vintage, the wines include Tinto (Alicante Bouschet, Tinta Amarela, Alfrocheiro, Cabernet Sauvignon and Syrah); Branco (Arinto, Verdelho); and "Vinha do Souto," (Alicante Bouschet, Syrah), the flagship wine from the estate. Fonte Souto extends Symington outside the Douro Valley.
SRP: Tinto/Branco $30 | "Vinha do Souto" $60
11. Zardetto Prosecco
Zardetto has new packaging and an updated range. The new double-layer labels created by an award-winning Italian agency peel back, unveiling an inside layer of colorful
artwork. Plus, the Brut and Rosé bottlings carry surprise phrases in English and Italian on the back of the front label. The Zardetto range consists of: Prosecco DOC Brut; Sparkling Rosé Extra Dry;
two Conegliano-Valdobbiadene Prosecco Superiore DOCGs (Extra Dry and Long Charmat); and Private Cuvée Brut, also available in keg.
SRP: $13-$30
zardettoprosecco.com | winebow.com
12. Johnnie Walker 'Game of Thrones' Whiskies
The Game of Thrones legacy lives on in two new Johnnie Walker expressions: A Song of Ice and A Song of Fire, inspired by House Stark and House Targaryen, respectively; their house sigils—the Direwolf and the Dragon—fiercely adorn each bottle. A Song of Ice (80.4 proof) is best over ice; A Song of Fire (81.6 proof) is best neat. A face-off of Johnnie Walker's iconic Striding Man is revealed when the bottles are side-by-side.
SRP: $36