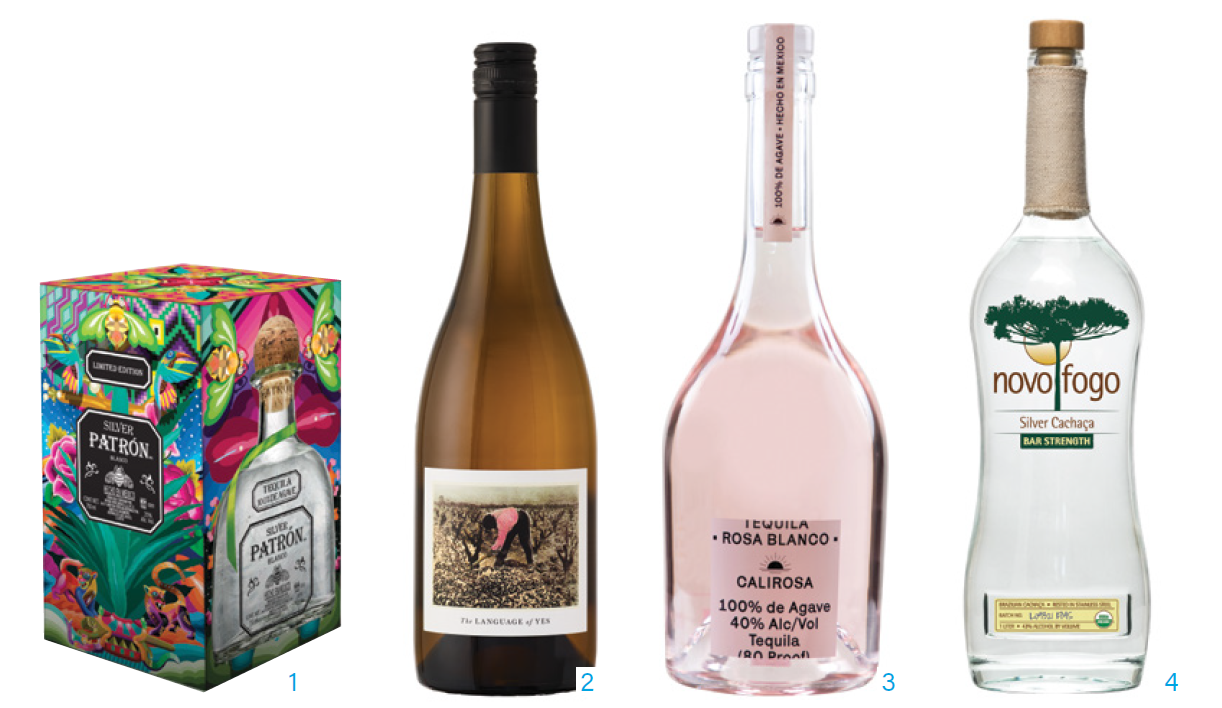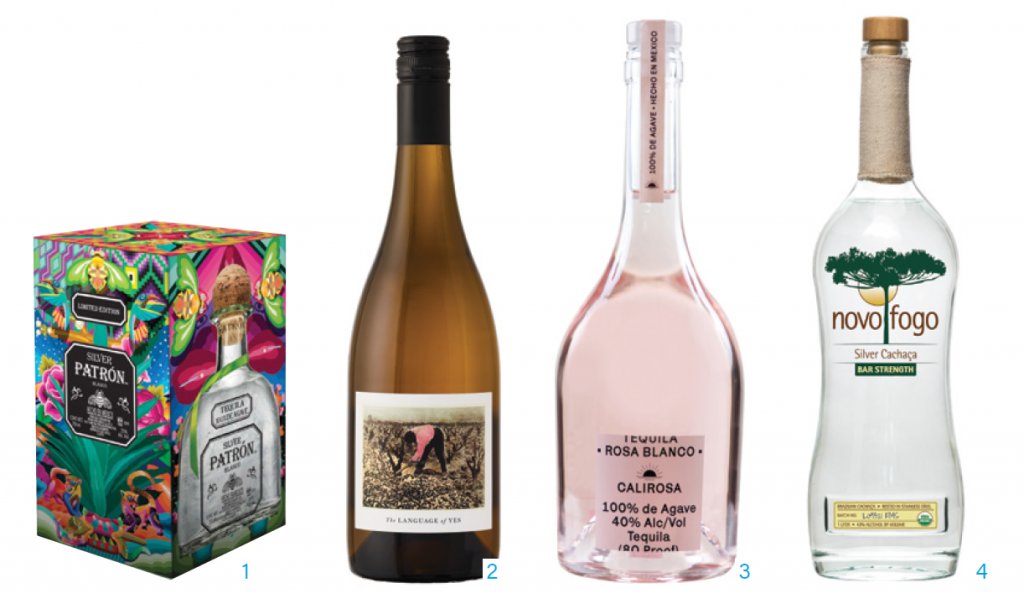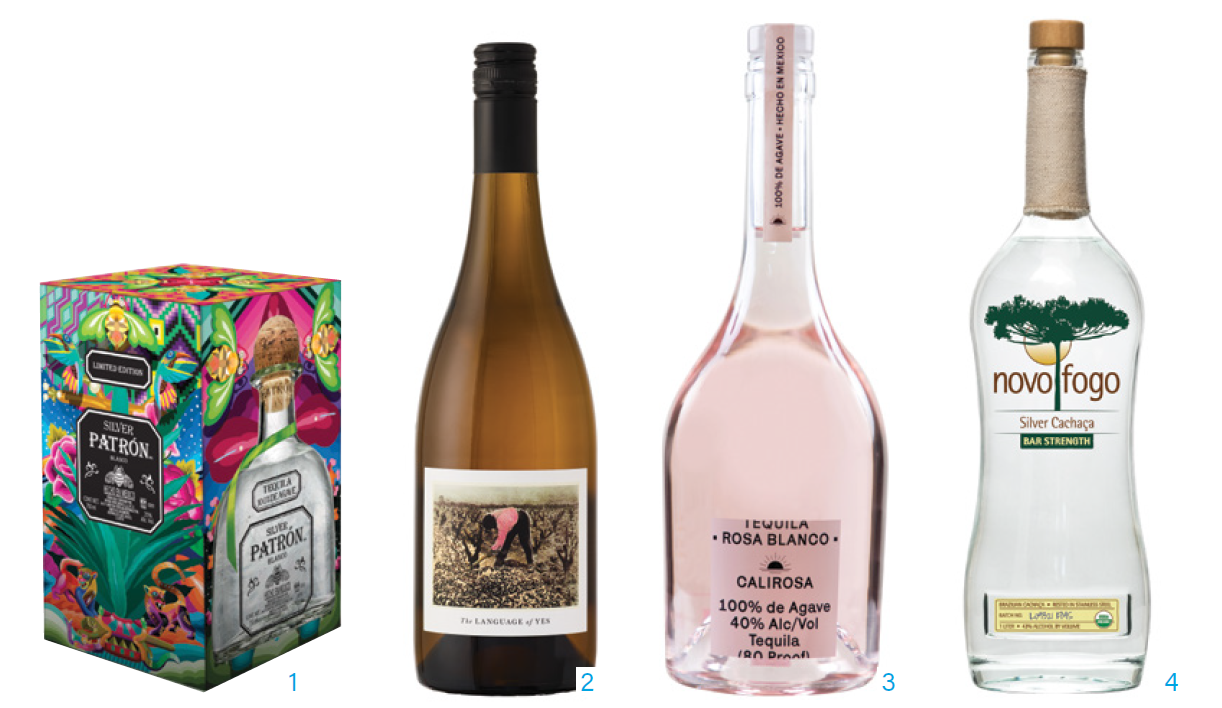 1. Patrón 2021 Mexican Heritage Tin Limited Edition
Designed by celebrated Mexican street artist SENKOE, this collab aims to connect the artistry that goes into creating a piece of art, a fashion collection, and a handcrafted tequila. The bottle and tin are inspired by the PATRÓN x John Geiger streetwear collection, which highlights the tradition of tequila production with a long-sleeved shirt featuring an image of a jimador farmer harvesting Blue Weber agave.
SRP: $65
patrontequila.com
2. The Language of Yes
Randall Grahm and E. & J. Gallo have teamed up to launch this new collection of wines made from grapes grown in California's Central Coast. Inspired by the wines of the South of France, Grahm has crafted a rosé made from Tibouren and Cinsault, to be followed by a Grenache and a Syrah from the Rancho Real vineyard.
SRP: $40
languageofyeswine.com
3. Calirosa's California Red Wine Barrel Aged Tequila
Produced by the Real family in Amatitán, Jalisco, Calirosa combines California winemaking tradition with Mexico's tequila craftsmanship. With Blue Weber agave harvested at a higher sugar content than industry standard, Calirosa's master distiller ferments and twice distills the tequila before aging it in California red wine barrels, which impart flavors of cherry and raspberry. The Rosa Blanco is aged for 30 days for a soft pink hue, and the añejo is aged for 18 months with a darker hue and notes of toffee and vanilla.
SRP: $49 Blanco; $74 Añejo
calirosatequila.com
4. Novo Fogo Bar Strength Silver Cachaça
The innovative cachaça producer has released a new higher-proof silver cachaça designed for bartenders. As the first-ever carbon-neutral distilled spirit, Novo Fogo Bar Strength Silver has a minimal environmental impact, from distillery to cocktail glass. The new one-liter bottle features a smaller, circular footprint, a taller neck, and a slimmer midsection that fits in the well and is easier to handle. Bottled at 43% ABV, Novo Fogo Silver is distributed nationally by 375 Park Avenue Spirits, a division of The Sazerac Company.
SRP: $24
novofogo.com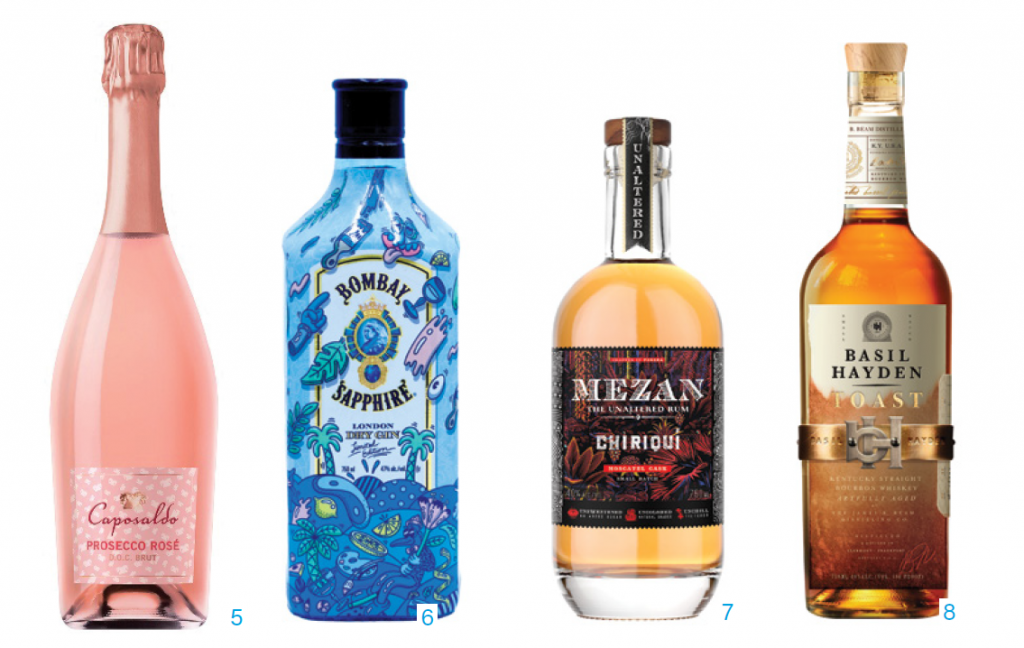 5. Caposaldo Prosecco DOC Rosé Brut
Italy's iconic sparkling wine producer has entered the Prosecco Rosé category with the release of their Brut Millesimato Rosé. The new expression is made with 85 percent Glera and 15 percent Pinot Nero, and, in accordance with the category regulations, contains at least 85 percent of grapes from the stated vintage. Sourced from northern Italy's Veneto and Friuli-Venezia Giulia regions, the Brut Millesimato is marked by notes of red berries and minerality. Imported by Kobrand, it will retail for $13.99.
SRP: $13.99
kobrandwineandspirits.com
6. Bombay Sapphire X Steven Harrington Limited Edition
Teaming up with Los Angeles-based artist Steven Harrington, Bombay Sapphire has released a new bottle designed with whimsical illustrations of its 10 vapor-infused botanicals, including the artist's signature palm tree characters. This marks the second artist-designed Limited Edition bottle for Bombay Sapphire, following the inaugural Limited Edition designed by Hebru Brantley and released in July 2020.
SRP: $22.99
bombaysapphire.com
7. Mezan Rum's Chiriqui
A pioneer in all-natural rum with no additives, Mezan is a limited collection of "unaltered" rums that aim to express their origins throughout the Caribbean. The newest release, Chiriqui, is a molasses-based rum from Panama where the distillery grows its own cane and cultivates traditional yeasts. Chiriqui is then aged in second-fill American white oak casks, and finished in casks used for Portuguese Moscatel. The brand will be imported and distributed by Marussia Beverages USA.
SRP: $25
mezanrum.com
8. Basil Hayden's Toast
Crafted by eighth-generation distiller Freddie Noe, Basil Hayden's newest expression is a new mash bill dominated by brown rice and toasted barrel finish. Toast is designed to be a softer, smoother bourbon with greater depth of flavor. Swapping out the brand's traditional rye for U.S.-grown brown rice, Noe sought to express more sweet, caramelized sugar and roasted notes, with less spice. The newest permanent expression to join the Basil Hayden family of Kentucky bourbons since 2017, Toast will retail for approximately $49.99.
SRP: $49.99
beamsuntory.com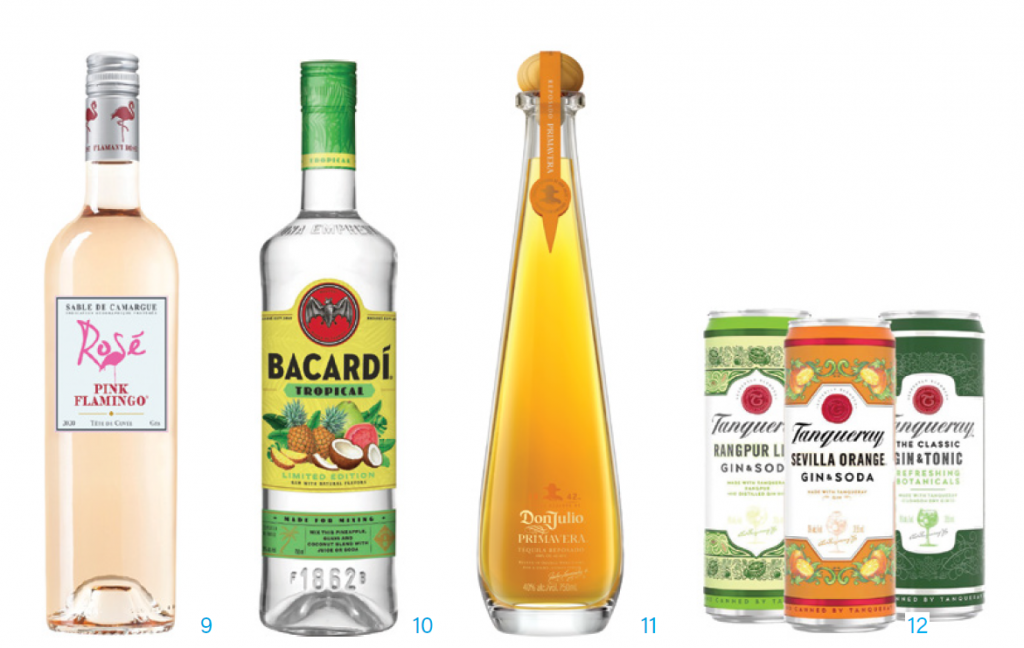 9. Pink Flamingo Gris Rosé from Domaine Royal de Jarras
Named for the pink flamingos that live on this sandy coastal area of the little known Sable de Camargue subregion of the Languedoc, this certified organic rosé is made from ungrafted Grenache vines. Winemaker Auriane Eysseric balances fruit aromatics and freshness with grapes from the famed Vignoble de Sables vineyard covering three coastal strips. Thanks to these sandy soils, these are some of the only vines that escaped phylloxera in the late 19th century.
SRP: $12.99
domainedejarras.com
10. Bacardi's Caribbean-Inspired Tropical TROPICAL
The newest flavor innovation from rum giant Bacardi, Tropical is a limited-edition release infused with pineapple, coconut, and guava fruit flavors. At 100 calories per serving, Tropical is the 8th flavor currently available in the U.S.
SRP: $12.99
bacardi.com
11. Tequila Don Julio Primavera
To make this new expression, Don Julio's master distiller takes the brand's traditional reposado and finishes it in casks previously used to age orange wine. The result is a smooth tequila that is highlighted by notes of macerated citrus, honey, and a hint of spice. With a silky texture, Primavera is designed to be consumed on the rocks with an orange wheel or with a splash of club soda.
SRP: $99
diageo.com
12. Tanqueray Gin's Cocktails in Cans
Inspired by Charles Tanqueray's original recipes, these RTD cocktails are now available nationally in three variants: Gin & Tonic, Rangpur Lime Gin & Soda, and Sevilla Orange Gin & Soda. Made with only natural flavors and containing 6% ABV per 12-ounce can, they are available in fourpacks for $14.99.
SRP: $14.99 / 4-pack
diageo.com