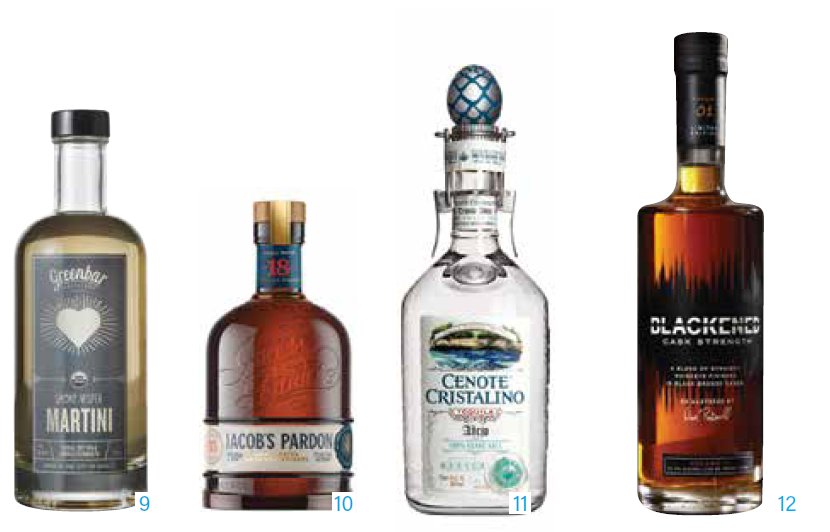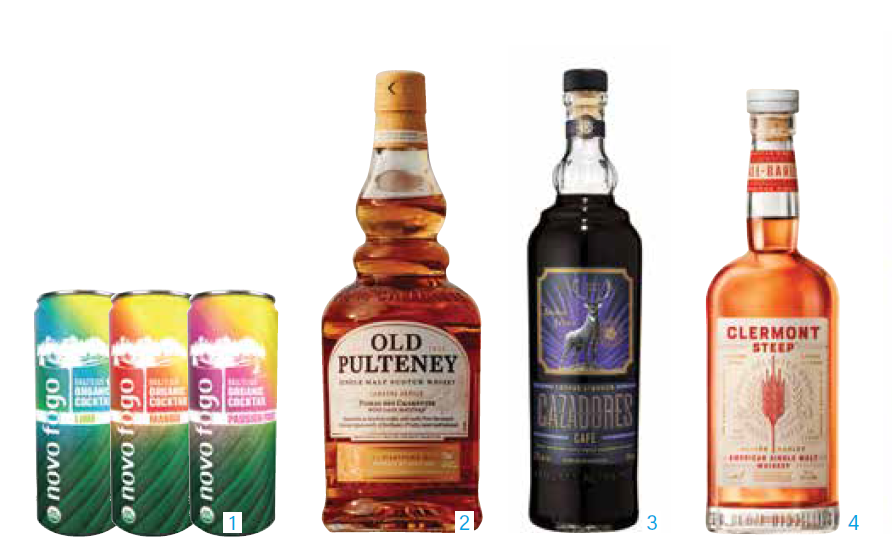 1. Novo Fogo
Cachaça brand Novo Fogo has significantly revamped its line of ready-to-drink cocktails, reformulating the 100 percent natural ingredients so that the 150-calorie tipples (9% ABV) are now certified organic by the USDA. The three varieties—lime, passion fruit, and mango—bolster a base of silver cachaça and are packaged in vibrant cans that nod to the Brazilian rainforest and contain 1.8 servings each.
SRP: $14.99 per four-pack of 12-oz cans
novofogo.com
2. Old Pulteney
Seaside casks are the center of attention in Old Pulteney's The Coastal Series, the single malt Scotch whisky's range of four expressions to be released annually. First up is the fruity single malt that is finished in Pineau des Charentes French oak barrels from France's Charente-Maritime region, selected by master blender Stuart Harvey, after it is matured in former bourbon barrels.
SRP: $79.99 per 750-ml bottle
oldpulteney.com
3. Tequila Cazadores
One of the ways to invigorate an Espresso Martini is to make Cazadores Café the star of the drink, but the tequila-based coffee liqueur works just as well as an after-dinner sipping shot or over ice. Once the 100 percent blue weber agave Cazadores blanco tequila is fermented, part of the brand's seven-step, zero-waste production process, the liquid is then infused with a blend of
Mexican coffee and agave nectar, revealing layers of chocolate and vanilla.
SRP: $29.99 per 750-ml bottle
cazadores.com
4. James B. Beam Distilling Co.
Interest in American single malt whiskey continues to boom, and the James B. Beam Distilling Co. has responded with Clermont Steep, its inaugural foray into the category. Developed by Freddie Noe, the eighth generation master distiller at Fred B. Noe Distillery, the 94-proof whiskey was born from American barley and the same yeast utilized across all Beam products. It then rested in charred barrels for five years, imbuing the liquid with a rush of toffee.
SRP: $59.99 per 750-ml bottle
beamsuntory.com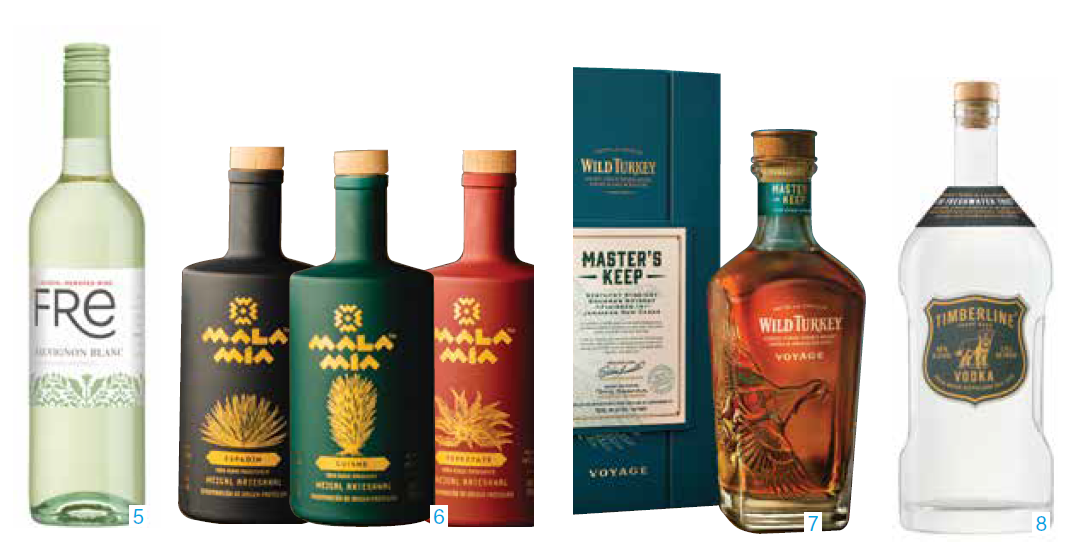 5. Fre Alcohol Removed Wines
Fre has expanded its roster of alcohol removed wines with a slightly dry, food friendly Sauvignon Blanc that is less than 0.5 percent of alcohol by volume and contains half the calories of regular wine. It exhibits notes of green grass and tropical fruit that were well-preserved following the California wine's run through cone-spinning technology to remove the alcohol.
SRP: $8 per 750-ml bottle
frewines.com
6. Mala Mia Mezcal
Founder Devin Adams intentionally launched Mala Mia Mezcal with a quartet of offerings to educate the public about the spirit's nuances. Along with a classic Espadín, there is Ensamble, a mélange of agaves roasted, fermented, and distilled together in a single batch, as well as the dry, herbaceous Cuishe, a hit with gin lovers ($54.99 to $99.99 per 750-ml bottle). The
Tepeztate, distilled from its hefty namesake species of agave that takes 28 years to mature, is especially rare.
SRP: $129.99 per 750-ml bottle
malamiamezcal.com
7. Wild Turkey
For the next edition in Wild Turkey's annual limited-edition Master's Keep series, master distiller Eddie Russell teamed up with Dr. Joy Spence, the master blender of Appleton Estate Jamaica Rum, on the 106-proof Master's Keep Voyage. First, Spence chose Appleton casks that previously held 14-year-old pot still rum, and then they were transported to Lawrenceburg, Kentucky, where Russell selected a batch of 10-year-old bourbon resting in No. 4 char barrels to finish in them. The union culminated in a tropical bourbon with chocolate and spice on the finish.
SRP: $275 per 750-ml bottle
wildturkeybourbon.com
8. Timberline Vodka
Both Hood River Distillers and Timberline Lodge were founded in 1930s Oregon, so the birth of Timberline Vodka, made with 14 different cultivars of non-GMO Pacific Northwest apples and Mt. Hood's glacier fed spring water, was a natural way to honor that legacy. Now there's The Big Dog, a 1.75-liter bottle named for the St. Bernards (including current residents Heidi and Bruno) that have been a fixture at the hotel since its opening.
SRP: $47.95 per 1.75-liter bottle
hrdspirits.com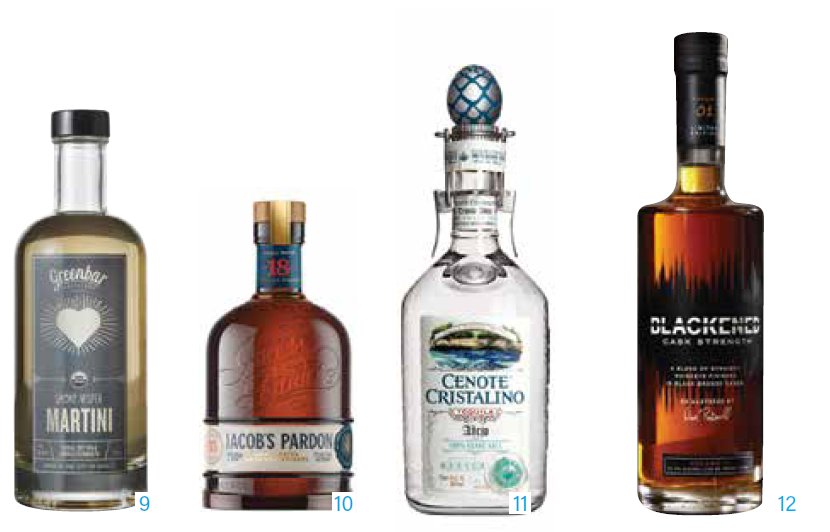 9. Greenbar Distillery
At Greenbar Distillery in Los Angeles, founders Melkon Khosrovian and Litty Mathew have augmented their lineup of USDA-certified organic craft spirits with a trifecta of bottled ready-to-drink cocktails. These include the California Poppy Negroni and Smoky Vesper Martini ($19.99 per 375-ml bottle) and the Single Malt Old Fashioned. The cocktails utilize Greenbar's amaro, dry gin, vodka, and single malt whiskey along with housemade liqueur and vermouth variations.
SRP: $22.99 per 375-ml bottle
greenbardistillery.com
10. Jacob's Pardon Whiskey
Marc D. Taub and his son Jake of Palm Bay International and Taub Family Selections tapped into their family's riveting Prohibitionera history of whiskey-making and unveiled Jacob's Pardon whiskey in 2020 with F. Paul Pacult serving as master blender. The latest expression, the 142-proof Small Batch Recipe #3, is an 18-year-old American light whiskey produced by MGP with a mash bill of 99 percent corn and one percent malted barley.
SRP: $195 per 750-ml bottle
palmbay.com
11. Cenote Tequila
To make Cenote's crystalline cristalino tequila, its 100 percent blue weber agave añejo is matured for 13 months and then refined by a proprietary cellulose filtration process that largely strips the liquid of its color. It also softens the aged flavors while maintaining its complexity, yielding an herbal palette with hints of vanilla.
SRP: $69.99 per 750-ml bottle
tequilacenote.com
12. Blackened Whiskey
The 122.85-proof cask-strength rendition of Blackened Whiskey, created by late master distiller Dave Pickerell and Metallica, highlights the same blend of bourbons and ryes as the original, and it also undergoes sonic enhancement in brandy casks. But the higher proof of Volume 01, the inaugural batch, garners a more brazen profile, expressing notes of walnut, caramel, and ancho chile.
SRP: $69.99 per 750-ml bottle
blackenedwhiskey.com