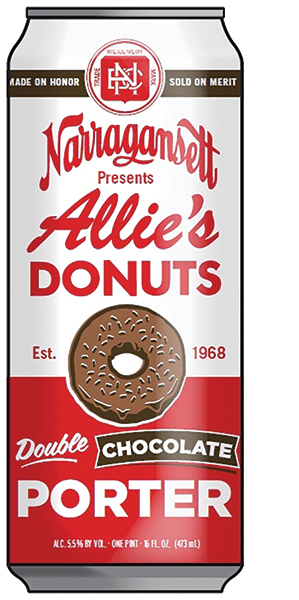 Collaborations between beverage companies connect with consumers
By Lauren Daley
In recent years, the beverage industry has seen a boom in the collaboration trend — brands working together to create a unique, often limited-edition, product. Whether it's a distillery and brewery working together, two breweries collaborating, or a beverage brand teaming up with a seemingly unrelated product, the goal is the same: to trade customer bases by cross-promoting your products.
Collaboration is a marketing tool — a great one, said Adam von Gootkin, co-founder of Onyx Moonshine in East Hartford, Conn. "Collaborations are fantastic. They're a great way to cross-expose your product with another brand's audience. The primary benefit is for you [to gain] access to each other's customers, for each brand to expose themselves to a new set of customers. It's a fun and often cheap or free way to grow your brand," he said.
The key to a good collaboration, he continued, is the partner you chose. "You want to be careful [whom] you partner with; you want them to be on-brand with who you are, and how you want to be thought of. You want similar philosophies."
Onyx has collaborated with P.J. Cranberries of Cape Cod to create Cape Cod Cranberry Moonshine, and seasonally with Blue Hills Orchard in Wallingford, Conn. to make Apple Honey Moonshine. Last fall, they partnered with Connecticut chocolatiers Munson's Chocolates to create Munson's milk-chocolate covered Apple Honey Caramels, flavored with the spirit. It was so successful, they're doing the caramels again this fall, von Gootkin said. "For us, it's less about the product we move as it is cementing our brand, and it's a great way to reach new customers — Munson's sells a lot of chocolates."
Thomas Hooker Brewery in Bloomfield has also collaborated with the Connecticut chocolatier to make Munson's Beer Brittle. And, Hooker's seasonal Chocolate Truffle Stout is made with Munson's proprietary cocoa powder.
For a global-scale example, Jameson Irish Whiskey in Ireland recently collaborated with five American craft breweries to create limited-edition beers aged in Jameson Whiskey barrels for a collaborative project they called "Jameson Drinking Buddies." Representatives from each of the U.S. breweries were invited to the Irish distillery and sent back to the States with Jameson barrels to create their own collaborative brews.
Similar to Jameson's program, Onyx held a Secret Stash Beer Bash, where some 25 Connecticut microbreweries were given a "spent" Onyx distillery barrel to create their own brew. The beers were tasted and judged by the public at an event at Goodwin College in August. The winner, Shebeen Brewing in Wolcott, Conn., was given rights to make and sell their winning beer: a dry-hopped, Onyx-barrel-aged version of their German Cerveza."I'm really excited that our barrels will go to a really good home; it will be a fun partnership," said von Gootkin, adding that the brew will most likely be ready in a small, limited release this spring. Ashley Kearns, director of Sales and Marketing at Shebeen, added, "We love using local products, and Onyx is amazing."
As with any collaboration, "the cross-promotion is an added benefit." Kearns said Shebeen has also collaborated with Fascia's Chocolates in Waterbury, Conn. to create their Cannoli Beer; they've collaborated with Shearwater Organic Coffee Roasters in Trumbull, Conn. to make their bacon coffee beer, Java Pig Stout, and are currently working with Roger's Orchards in Southington to create an Apple Fritter Ale.
Peel Liqueurs, which has a facility in New Britain, recently collaborated with the New Britain-based Avery's Beverages to produce the all-natural Peel Lemon Soda. "We see it as a win-win for both of our companies. We're helping each other with local support, and it will help both of us to expand into different markets," said founder Gianfranco DiDomenico. This is Peel's first collaborated product — but it won't be their last, he said. "We will definitely be looking at other local companies and how we can both benefit from a collaboration."
BJ Mansuetti, Community & Events Manager for Narragansett Brewing Company in Rhode Island, agreed. "We love to collaborate with brands that are inherently Rhode Island. We've collaborated with iconic brands to Rhode Islanders, who love that we're working with the products they grew up with. We take a lot of pride in our heritage in being from Rhode Island."
Narragansett Brewing Company has teamed up with iconic Rhode Island-based companies such as Del's Lemonade, Autocrat coffee syrup, Allie's Donuts, and even honoring the late H.P. Lovecraft, the famed 19th-century Providence-born horror writer. "We're able to use our creativity, to take what other companies are known for, and turn it into a beer. People love it," said Mansuetti. "Feedback comes in every day on social media; we get notes every day from all over the U.S."
For example, when Narragansett announced their Lovecraft series in January, they trended nationally on Facebook for two days straight, Mansuetti said. "The H.P. Lovecraft Facebook page, which has 9,000 fans of their own, was very supportive of" that collaboration, he said, which was actually a three-way collaboration between the Lovecraft brand, Narragansett and Revival Brewing in Rhode Island. The first Lovecraft brew was so popular that Narragansett rolled out their own "Chapter 2" and "Chapter 3" in the series.
Why Lovecraft? He's "part of Rhode Island's heritage, and thus a great brand alliance," said Mansuetti, adding that the collaboration with the Lovecraft brand has introduced the writer's fans from all over the world to Narragansett beers: "People from Holland, Germany, Switzerland … see we're putting out a Lovecraft beer, which helps us break into markets that we're not even in."
Sons of Liberty Spirits in South Kingston, R.I., collaborated with Cottrell, a family-owned brewery in Pawcatuck, Conn., to develop an IPA recipe that they used as the base for their 2013 Hop Flavored Whiskey. "Working with Cottrell, on that recipe specifically, spread awareness of our brand to their customers, and vice versa," said Bryan Ricard of Sons of Liberty.
The distillery also recently teamed up with Cooper's Cask Coffee to create Uprising Barrel-Aged Coffee Beans. "These guys are great; they age beans in our used Uprising barrels, then roast them afterwards for a killer aroma and taste profile," Ricard said.
So why is collaboration all the rage right now? It's "just a lot of fun," Ricard said. And it's "a great way to create awareness among each others' consumer bases."
Brand awareness and  market expansion is what it is all about: local or international. Take the case of Stratford, Conn.'s Two Roads Brewing and Denmark's Evil Twin Brewing extended friendship across the Atlantic. Friends and collaborators, Danish Brewer Jeppe Jarnit-Bjergsø of Evil Twin and Two Roads Brewmaster Phil Markowski decided to base their collaboration at the geographic mid-point between America and Denmark: Iceland. With the help of a brewery there — Gæðingur Brugghús — Two Roads and Evil Twin sourced local ingredients including Icelandic moss, rye, herbs, sea kelp, Icelandic yogurt and birch-smoked sea salt to create  Two + Evil, "a twist on a gose beer." The beer is now available in both of their respective markets.