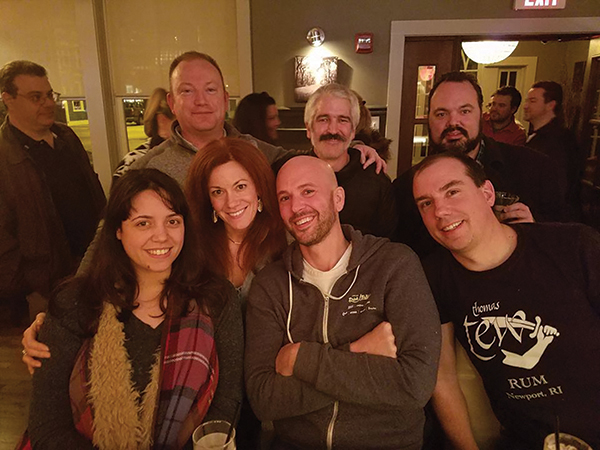 The Revolving Door in Newport hosted area bartenders for the fourth annual Thomas Tew Rum Cocktail Competition on February 20. Competitors were Adrienne Nicole from the Vanderbilt Grace, Corey Hayes from Fluke Wine Bar, Megan Freitas and Caitlin Murphy, both from Statesman Tavern and Jonathan Edgell from the White Horse Tavern. Each created a unique recipe for their cocktail containing a minimum of 1.5 oz. of Thomas Tew Authentic Pot Still Rum. Jen Davis, Chapter President of the United States Bartenders' Guild Rhode Island (USBG RI) chapter; Ryan Belmore, Editor and Publisher of "What's Up Newp;" Brent Ryan, Co-founder and Master Distiller of Thomas Tew Rum; and Jason Kindness, Co-owner of Kai Bar served as the event judges. Each cocktail was scored on its name, simplicity, presentation, taste and aroma, and originality. The crowd also had the opportunity to declare its favorite. Freitas was named first place winner by the judges with her cocktail "Tew-'maro Never Dies," which contained Thomas Tew Single Barrel Rum, Rovero Bianco Vermouth di Torino, Cynar and chamomile-black pepper syrup. The crowd favorite was Corey Hayes' cocktail "The Coco Coolada" with Thomas Tew Rum, pineapple juice, coco lopez, lime, vanilla syrup and allspice. Event proceeds benefited The Maher Center.
Back row: Ryan Belmore, Event Judge and Editor and Publisher, "What's Up Newp;" John Begin, Coordinator of Newport Cocktail Wars and Bartender at Gas Lamp Grille and White Horse Tavern; Tristan Pinnock, Editor-in-Chief at "The Newport Blast;" Front row: Jen Davis, Event Judge and USBG RI President; Erin Cassese, Bartender, The Boat House; Jason Kindness, Event Judge and Co-owner, Kai Bar; Brent Ryan, Event Judge and Co-founder/Master Distiller, Newport Distilling Company.
Corey Hayes, Fluke Wine Bar; Adrienne Nicole, Vanderbilt Grace; Megan Freitas, Statesman Tavern; Jonathan Edgell, White Horse Tavern; Caitlin Murphy, Statesman Tavern.
Competitor Caitlin Murphy of Statesman Tavern speaking with judges Ryan Belmore, Jen Davis, Jason Kindness and Brent Ryan.