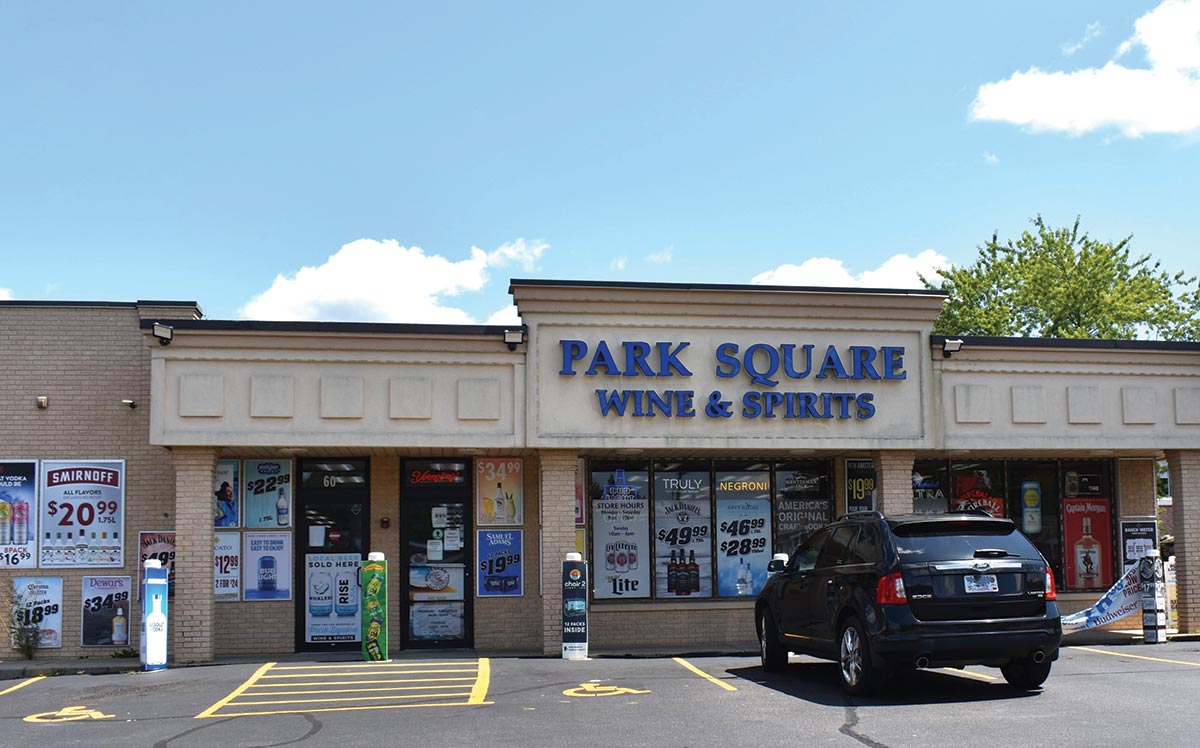 Park Square Wine & Spirits
60 Eddie Dowling Highway
North Smithfield, RI
Square footage: 7,000
Years in operation: 9 years
By Sara Capozzi
Operating for close to a decade under the ownership of Parimal Patel, Park Square Wine & Spirits continues to bring its unbeatable variety of beer, wine and spirits selections to the North Smithfield community and beyond. Managed on a daily basis by Umeshkumar "UK" Patel, the independently owned establishment has continued to grow its sales each year.
Parimal Patel has more than 10 years of experience in the industry. He had already spent time working in retail sales earlier in his career, then he went on to purchase a convenience store in Bellingham, Massachusetts, which also sold beer and wine, eventually selling it to pursue package store ownership with his first venture in New Bedford. "That was a long commute, so that's why I sold that store and I purchased this one," he said.
Patel learned about Park Square through an industry friend and approached the former owner about his interest in purchasing the store. He liked that the location was highly visible and easily accessible from Eddie Dowling Highway, which brings a lot of consumers out for shopping and dining at nearby restaurants. A big plus, he said, is that the lot has plenty of parking for customer convenience. Upon purchasing the shop in 2014, Patel made improvements to signage and lighting for shoppers' ease.
The management team keeps the store meticulously organized, with wines grouped by varietal and region and spirits arranged in their own sections and subsections, making shopping a breeze for customers. A priority, UK Patel said, is keeping the store clean and neat, keeping displays on endcaps and beer cases on pallets in a separate section on one side of the store.
As far as styles or inventory, Patel explained that the store doesn't concentrate on any particular category but instead focuses on carrying a good selection of a wide variety of items. Top sellers are seltzers and ready-to-drink offerings and Cabernet Sauvignon and Sauvignon Blanc varietals. Shoppers gravitate toward moderately priced wine labels, UK Patel said. While craft beer sales have slowed with more sales being funneled into the seltzer and RTD categories, customers still look for brews from local craft breweries such as Whalers and Grey Sail.
And as the weather cools, shoppers also gravitate toward seasonal fall beer such as Shipyard's Pumpkinhead Ale and Samuel Adams' Octoberfest. In spirits, UK Patel said, popular brands track toward Tito's, Grey Goose, Captain Morgan, Malibu and Jack Daniel's. Customers looking for high-end whiskeys and tequilas will find an array of higher-end and allocated items in the store's fine spirits section.
Park Square offers 26 cooler doors in three sets around the store to keep selections cold. "I have a lot of customers that are IPA lovers, so we keep those in the cooler for them," UK Patel said. "And some people like white wine cold, so we have a section in the cooler for them as well."
Since purchasing the store, Patel has increased his revenue each year, going from $1.9 million to $3 million per year. He credits this business growth to catering to his customers through variety, good customer service and fair prices.
"Everyone's nice and friendly," Patel said. "We try to provide friendly service to customers and some customers we know by name." Perks including wine case discounts, where shoppers may mix and match items, and delivery through Drizly keep happy customers coming back.