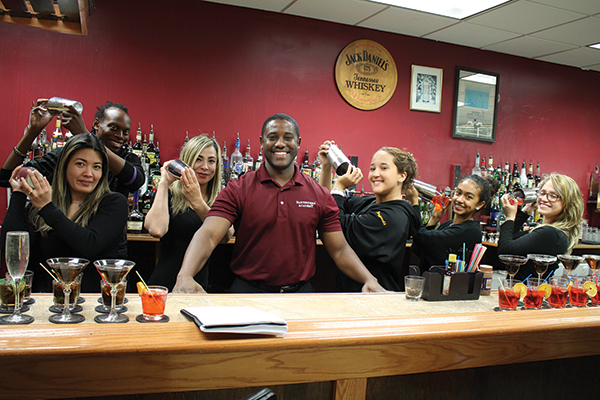 Bartender's Academy Owner Clayton Offers Education and Industry Links
By Savannah Mul
Peter Lloyd Clayton, owner of the Bartender's Academy in Fairfield and Waterbury, has seen many trends come and go in the industry since his academy opened in 2009. Industry professionals today are looking towards partnerships as a way to increase bar and hospitality education. Clayton expressed keen value in the use of partnerships and creating new links in the local beverage community, and online, to help further the professional aspirations of new bartenders.
The Beverage Journal sat down with Clayton and discussed shifts in bar education and new offerings in the New Year at the Bartender's Academy.
Q: What are some your partnerships that are helping to increase local bar education?
A: We have a few really great partnerships. The one we are really most excited about is the one with Diageo, and that is our scholarship program. Diageo pays for the full course, and we find people who never bartended before in disadvantaged communities. We go through an entire interview process and select a group of anywhere from 15 to 20 students. We train them on-site at Diageo for four weeks. That partnership has been fantastic.
We have another partnership with [the] University of Connecticut and their catering department in Storrs. Every year, we go out and train their catering department and we work with them in bar skills and TIPS Certification, so they know how to serve alcohol responsibly. We've been doing that for about five years now and it's a strong partnership.
The other thing we've been doing recently is with Two Roads Brewery. Every new class [group] we have, we actually take them out to Two Roads and we see everything from where they get the mash built, the hops, the stills, the bottling and the packaging. It's a great way for new people to learn in a very tactile and visual way. The fact that they do a special tour just for our school is very helpful.
Q: Why do you feel industry partnerships are important for training purposes?
A: It's huge in two ways. First, from a mentorship, historical perspective, and second from the level of practicality. To do well in any industry, you have to learn from the masters.
Q: Are there any topics you added to the curriculum because of a successful partnership in the past?
A: The United States Bartenders Guild (USBG) has been very good to us over the years. The UBSG members have looked at our curriculum and helped us to improve our training and provided internships to my graduates. That connection has been really, really important to show new bartenders what you can make of yourself and how you can grow. USBG members have provided input into the Bartender's Academy 5-week, 80-to-100 hour, bartending program that recently launched in 2015.
Q: Are there going to be any changes or additions to your offerings?
A: There's a huge need for making sure the industry has top-quality talent, and being able to access that talent in a very real and a very productive way. Right now, as a bar owner, if you were looking for bartenders, you have limited options. It's very difficult to find talent. Currently, there's no resource for that in the restaurant industry specifically.
In the next few months, we are going to be releasing an online platform where bar owners, bar managers, restaurant owners, people in the hospitality and food business, will be able to actually go online and find talent, and talent will be able to go online and apply. We're very excited about it; it'll be a huge paying point for a lot of owners. One of the missions we have here at the Bartender's Academy is to help people become more successful. That's not only our students, but it extends to the whole bar community.
The online platform will start in Fairfield County [initially, and] expand from there. One challenge that I face as an owner of this school, is that I've had so many people come to me looking for quality and talented bartenders. I've helped about 750 people find jobs over the past few years and it would be a lot easier if there was this platform to interact with
bar owners.
Q: What trends do you see going forward in 2016?
A: Over the past few years, a lot of the bar industry [from what I've seen] is starting to say, "Okay, we have our 10 to 15 years of falling in love with cocktails all over again," but we need to remember why we're here, and it goes back to the guests, it goes back to hospitality.
There has also been an increase in students from the Spanish speaking communities. They are seeking the resources and building the resources to do that. With the launch the 80 hour program, I discovered there are people out there who never bartended before who are literally thirsty [for knowledge]. They are hungry for not only learning how to pour drinks, but the whole aspect of bar history and what it takes to be great bartenders. We are seeing a lot more people who want to bartend full time.
At the end of the day, we're about hospitality. The drink is important, but it's not the focus. As bartenders, we're there to serve the guests, and when we educate our bar guests, that's when we increase their experience. We make them better drinkers because they know how to order and what to order; there's this real partnership there. I think we are also seeing customers self-educate more and bartenders are leading that charge.