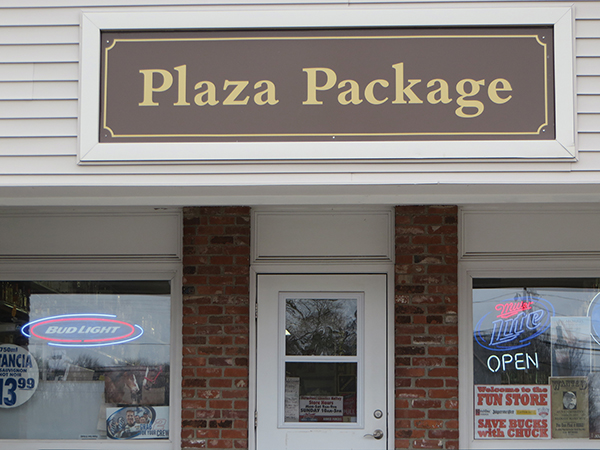 Plaza Package Store 
49 Main Street, Hebron, CT
By Bob Sample
Size of store: 1,300 square feet
Years in operation: 44 (10 under current ownership)
In 2004, the closing of the Farmington plant where he used to run HVAC operations caused 41-year-old Charles Kelley to explore an accidental opportunity: the purchase of Hebron's Plaza Wines and Liquors. He then landed another post as an HVAC manager at a hospital — and since then, has held full-time jobs in both places.
While some might find Kelley's schedule daunting, he thrives on staying busy — and he discovered a newfound passion for the spirits industry. It shows: sales at the 1,300-square-foot store have doubled with Kelley at the helm.
"I've lived in Hebron most of my life and I knew the store's previous owners," Kelley said. "I figured I'd give it a try. Fortunately, the previous owner stayed on staff with me for the first five years, which is a nice thing when you're learning a new business."
It helps that Kelley's other job has a flexible work schedule, which enables him to be at the store every morning as well as most weekends. "Hebron is primarily a bedroom town," he said. "We probably see more people here on weekends than we do any other day of the week. And by being open on Sunday our Saturdays have gotten easier to handle."
Forty percent of this store's sales come from beer, with wine and spirits accounting for roughly equal shares of the remainder. "I no longer sell many 30-packs of domestic beer," he noted. "Now, younger customers will purchase a six-pack of a favorite craft brew — or even one or two bottles of something they never tried before."
Wine is where the future lies, in Kelley's view. Today's wine drinkers are much more discriminating than in the past, and the store's inventory has changed to reflect that. Moreover, in all varieties of product, interests shift very rapidly, leaving Kelley to anticipate such changes.
"In the spirits segment, we've seen a definite increase in interest in higher-quality bourbons," said Kelley. "I now carry three times as many small, less-well-known liquors than I did just a few years ago. And in the last few years, the demand for 50 ml bottles has exploded."
Despite the trend toward a more educated, sophisticated customer, Plaza Package also retains much of the feel of a country store. Kelley seldom advertises in newspapers or via electronic media, preferring success through good service and word of mouth. "I take care of my customers, and I've built a good reputation here for doing that," Kelley explained.
Most of the store's marketing consists of donations to various community organizations and sports groups. Last year, the store hosted its first charity fundraiser. Attendees made a small donation and in return were able to sample a variety of wines and beers. A reprise of this popular event will take place this winter.