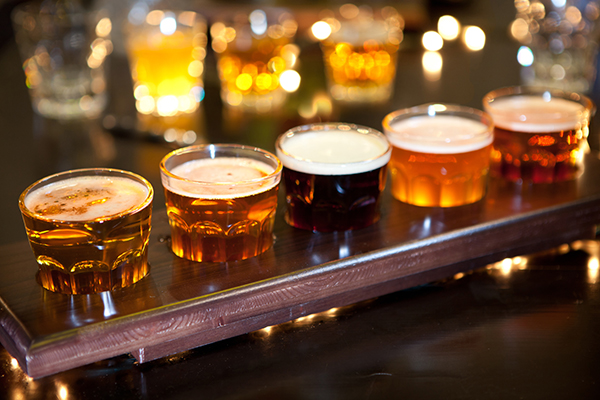 By Len Panaggio
Here we are in November and the holidays are just around the corner! October, November and December are really make-or-break months for suppliers and retailers alike. And with so many fantastic seasonal offerings available, it's the perfect time to get festive.
I always talk about wines and Thanksgiving, but with beer so hot at the moment, let's walk through some seasonal beers that will be showing up on our store shelves and in your restaurants as early as November. What's delicious and what should you be on the lookout for this year? Several come to mind immediately, including Anchor Christmas Ale, Sierra Nevada Celebration and Samuel Smith's Winter Welcome.
Anchor has been making their seasonal selection for close to 43 years, one of the first to do so in the U.S. The recipe changes every year, but one thing remains consistent, it is a dark, rich, complex and tasty ale. The label always depicts an evergreen tree, and like the recipe, it's a different tree each year.
Sierra Nevada's Celebration is an IPA, and one of the earliest examples of one; the label depicts a cabin in the mountains, smoke billowing from the chimney — perfect to hunker down and enjoy this delicious seasonal treat. Celebration is always riding the IPA craze and this selection certainly won't disappoint with its intense citrus and pine aromas and bold, hoppy flavor.
Samuel Adams has always made an intriguing holiday beer — Old Fezziwig Ale. The name gets me, sounds so Dickens', and it is! This winter warmer offers rich caramel and toffee with a hint of spice; it's truly a lovely beer to enjoy while the snow falls outside in New England. The only downside is that because it's often sold in a holiday pack, it is difficult to get.
Beyond the fantastic offerings from the U.S., Samuel Smith's Winter Welcome from England is a hearty ale with beautiful color, and the label quotes Shakespeare. Beyond the literal joy of having this beer in your hand, it offers a light, floral aroma with a caramel and malt flavor.
With all the craft beer movement going on, you'd think there would be more beer pairing selections on menus, but for some reason, there seems to be a hesitancy to do this. It isn't difficult, I assure you. As we move into winter, our diets shift to heavier foods and heavier beverages. White wines move to red, lagers to ales, and brown spirits are the toast of the town.
My picks for winter/holiday beers pair so well with our traditional holiday meals, as well as our seasonal diet. Anchor Christmas Ale pairs with pumpkin pie and rich, heavy meals of the season, often with lots of differing flavors. Sierra Nevada's Celebration goes so well with a roasted turkey dinner with stuffing. Samuel Smith's Winter Welcome works with roasted goose as well as turkey, rack of lamb and ham.
There will be a lot of holiday beer coming into the market; they are fun to have and our guests will enjoy them. Unlike Oktoberfest beers, where I believe the window of opportunity to sell closes fast, these beers will be available from now until January. How many should you have? How busy you are in the season should dictate how many selections you offer. But, starting out with three varieties is a good amount, and you can always add if they are on fire!
Don't be afraid to push seasonal food and beer pairings; after all, guests are looking to operators to recommend something new and different and something they can embrace and enjoy.
Happy Thanksgiving!
Len Panaggio's career in food and wine spans more than three decades as an owner and as a beverage director at some of the top restaurants in Rhode Island. Currently a hospitality consultant, Len is a graduate of the University of Rhode Island and has attended the Culinary Institute of America Master Sommelier program and the Sterling School of Service and Hospitality.