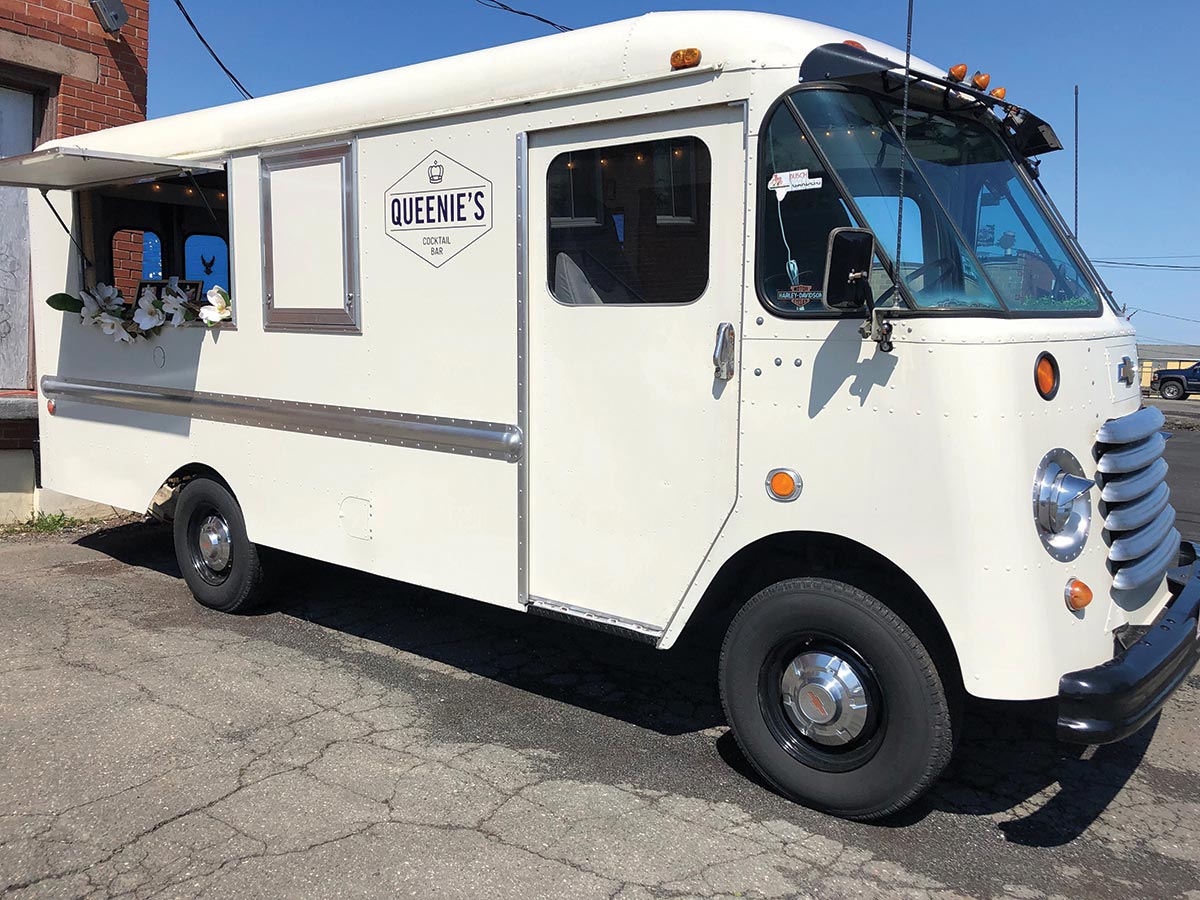 Queenie's Cocktail Bar
Simsbury, Connecticut
Simsbury-based Queenie's Cocktail Bar takes the art of cocktail making on the road. A beverage catering truck, which is licensed to serve patrons at private functions throughout the state of Connecticut, Queenie's is a catch-it-if-you-can endeavor. Built from a 1964 Grumman Olson State Line Chips delivery vehicle, the fully restyled mobile bar is ready to serve. "
People often ask, 'Who is Queenie?' Well, she's a fun culmination of a dream, a creative passion and a cheeky nod to my British background," Owner Carly Kyd said, who relocated from the UK with family to the state 13 years ago. Her husband and daughters also assist in the business. "I love that I'm setting a great example of what women can achieve for my girls. I worked, saved, attended classes, researched and funded Queenie's independently – a goal I set myself. I couldn't have done it without my husband, family and good friends' support though."
Guests celebrating with Queenie's will find fresh-squeezed juices and homemade infusions among ingredients on each event's custom-made menu, along with special touches in presentation including unique garnishes, as seen in this month's featured recipe.
Owner: Carly Kyd
Cocktail: Sea-ing Stars
Ingredients:
» 2 oz. House-infused orange vodka
» 2 oz. Cape cranberry juice
» 1 oz. Fresh lime juice
» .5 oz. Orange liqueur
Method: Add ingredients to a shaker and add ice. Shake and strain into a chilled glass. Garnish with a slice of a star fruit.
"This is a tweak on a traditional cosmopolitan," Kyd said. "We were at an event at the Connecticut shore and it was a very hot day. Fresh citrus was all over the menu and tasted perfect in this juicy combination. The star fruit, aka 'Sea Star,' was a beautiful and effective addition."