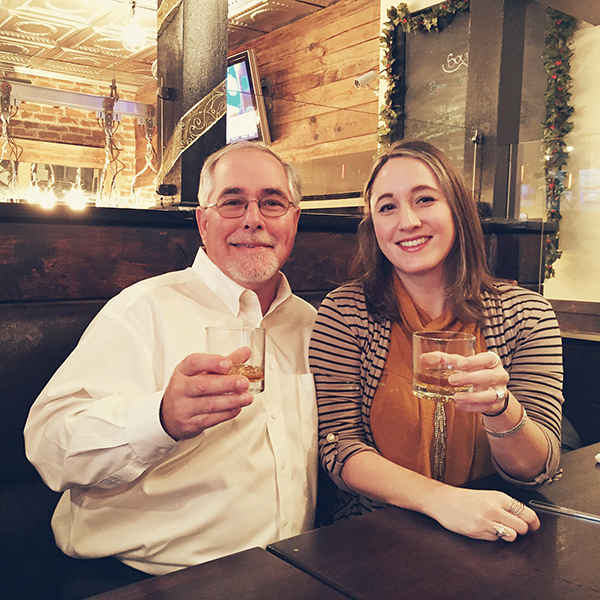 By Lauren Daley
Rachel Hurvitz is the woman behind the screen. The tweeter letting followers of @PlanBStamford know that they've got the #best #burgers, #beer, #beef and #bourbon in Connecticut, and retweeting happy customers. The Instagrammer snapping pics of bacon cheeseburgers and parmesan fries that "make you want to eat the screen," as she says.
As the Design & Marketing Manager for Locals 8 Restaurant Holdings, including all Plan B Burger Bars in Connecticut, Hurvitz manages everything from event planning to Facebook posts. After earning her Bachelors Degree in Fine Arts from Central Connecticut State University in 2008, she earned her Masters in Graphic Design with a focus on social media from the University of Central Lancaster in England in 2012. The tech-savvy Connecticut native offers up some tips.
Q: Of the big three, Facebook, Twitter, Instagram, which do you prefer?
A: I'm big fan of Instagram. I always tell people they should be sharing and storytelling, not selling themselves. They should showcase beautiful images. Your picture should make someone want to eat the screen. Your story online should mirror who your brand is.
Q: What about Twitter?
A: I like Twitter. I always tell people Twitter is getting all their headline news in one easy box. Twitter is a great way to communicate a lot in a short amount of space. I think it's greatly underutilized. There's a lot of opportunity for people to grow on it.
Q: How can a restaurant or bar market themselves on Twitter?
A: Be genuinely who you are. Share links to things you're interested in; share the Beer Advocate link to a new beer, or share a cool article. Search those hashtags — whether it is bourbon, craft beer or wine, there are a lot of people talking out there. Don't be afraid to shout out an employee, or if you have great beer coming in, give people a heads up. Connect with your vendors, other people in your community. Reach out to bloggers; don't always just shout out noise.
Q: How do you feel about Facebook?
A: Facebook is interesting. They recently changed their algorithm, so unless you're paying, your post doesn't reach many people. That doesn't sit awesome with me. [But] Facebook is the original, the big number one in social media, so everyone is always going to look to them.
Q: What are some common mistakes industry members make with social media?
A: Unfortunately, people can get defensive … with disappointed tweeters or Yelpers. We're all humans. At the end of the day, there are real people making your burgers, making your drinks, taking your orders, and there will be some human error. [Industry] folks can make the mistake of, instead of acknowledging that they've slipped up, to post something aggressive or angry in response to a complaint. Even ignoring the upset person is a mistake. Always acknowledge if someone had a bad time at your [establishment].
Q: How would you handle an angry tweet or Yelp review?
A: I'd ask people to reach out to me on phone or by email, so I can understand what happened. Say, "Hey, I'm sorry we let you down. We'd like to hear more about your experience and how we can make it better. E mail us." …Then I'd say, "Hey, come back on us. We hope you give us another try."
Q: And how does that help you market?
A: We want brand loyalists. If you don't leave our establishment happy and full and satiated, we're not doing our job. If they had a bad time, that's on us to fix it. Reaching out in that manner shows folks you're listening and paying attention.
Q: What's your typical day like?
A: First I do a social media sweep; make sure there are no fires to put out. I do a lot of communication with stores about events they have coming up, do some design work. I schedule tweets to go out … In the evening, at least twice a week, I have a beer or bourbon event to go to at a store in Connecticut.
Q: When is the best time to schedule tweets to go out?
A: In the morning, between 7 a.m. and 9 a.m. — the first thing anyone does is turn their alarm off, and start scrolling before they get out of bed. Then later before people head to lunch … Then either right before folks get out of work, around 3 p.m., and after dinner, between 9 and 10 p.m.
Q: You manage so many Twitter accounts. Do you use an app like Hootsuite or TweetDeck to schedule and manage tweets?
A: I use TweetDeck. I think it's the easiest to view and keep track of. Some people get overwhelmed when they see my desktop — I have 12 accounts on my TweetDeck, so on my screen I have six columns, then scroll over to six more columns. When people see all the handles and hashtags, for people who don't use Twitter, it's very overwhelming.
Q: What advice would you have for an older industry member who is hesitant to use social media?
A: Social media is not a choice for a restaurant anymore. It's mandatory. It's part of your marketing. They probably [already] employ someone who knows about social media, so they should look at their team to see if there's someone they can develop [into handling the social media.] There are tons of talented people looking to be social media managers. It doesn't always have to be expensive and there are a lot of solutions out there. And don't be scared of social media. If you know who you are as a brand, you're going to be great.
Q: Why did you want a career in social media?
A: I've always been interested in ways humans communicate and the forms that communication exists in — the evolution of technology and design and computers and communication and what that means to humanity. [In earning my Masters,] one thing I studied was how immediate communication is now. In the 1970s, it was face-to-face or phone communication. Now you can work in any industry and sit at your desk all day, and not actually open your mouth to speak to another human.
Interview has been condensed.
Editor's Note: As of press time, Hurvitz left her post at Local 8 to work for Willie's Reserve, Willie Nelson's brand of marijuana based in Seattle.