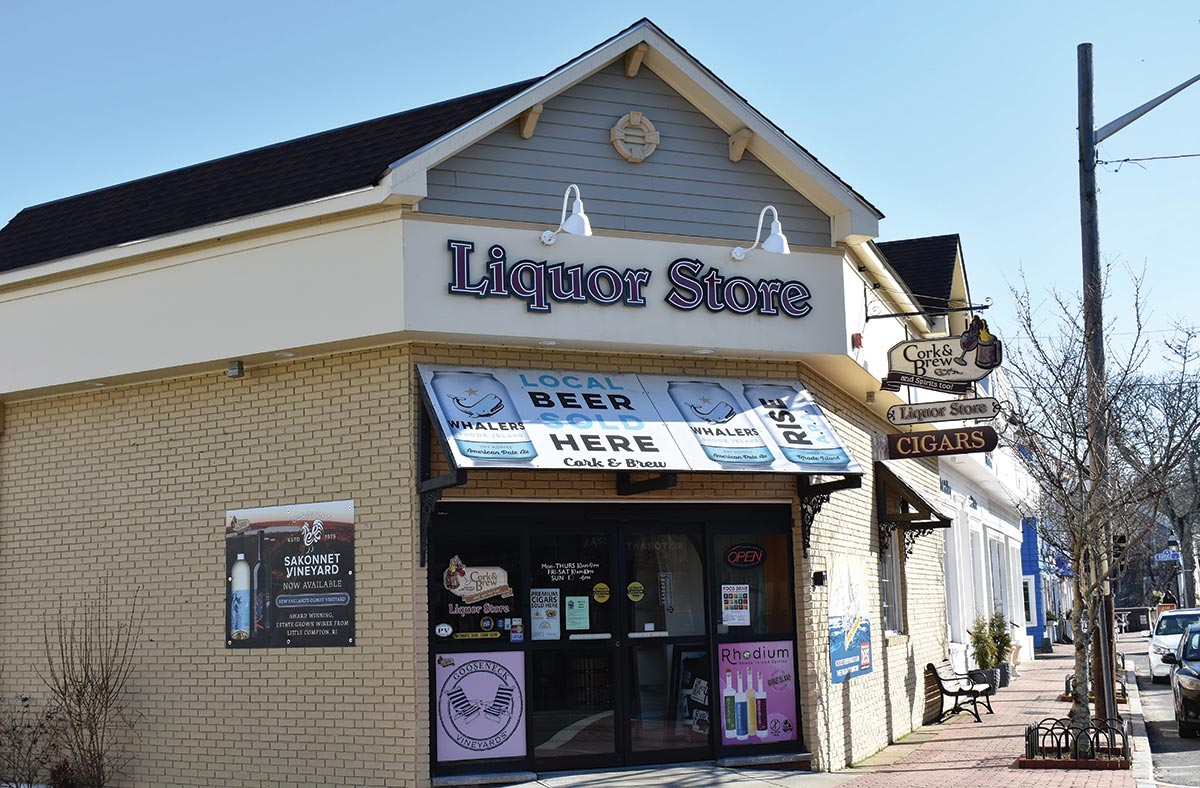 Cork & Brew & Spirits Too
2200 Broad Street
Cranston, RI
Square footage: 3,300
Years in operation: 5 years under current ownership
By Sara Capozzi
Situated in Cranston's historic Pawtuxet Village overlooking the cove, Cork & Brew & Spirits Too is a unique destination for fine wine, spirits and beer. The shop is housed in the former Cameron's Pharmacy building and its charming design and decor, which includes chandeliers constructed from wine bottles and custom-built display cases, gives it a sophisticated yet laid-back boutique vibe.
Run day to day by the small, close-knit team of Owner Al Sinclair, Dash Pena and Ruthie Spellman, Cork & Brew's picturesque, walkable neighborhood offers a variety of retailers and restaurants, bringing both locals and out-of-towners to the shop. Spellman is the wine specialist and both Sinclair and Pena are knowledgeable in rum and craft beer categories. Pena, also a bartender by trade, helps clientele find the exact ingredients they need to make cocktails from home and is the store's tequila expert.
"We do have a real contingent of people from the neighborhood," Spellman said. There's always an influx of shoppers, she explained, whether it's boaters from the marina, tourists staying in the local rentals or patrons of the three nearby BYOB restaurants. The store offers a 10% discount for customers who are looking for a bottle of wine, soju or sake to enjoy at those nearby eateries. The store is also pet-friendly, she said; dogs often stop in, with their owners in tow, looking for a dog biscuit from the staff.
Crowds flock to Cork & Brew's weekend tastings, conducted either from its main tasting table or in its downstairs special events room. The whimsically decorated room, used primarily in the warmer months, also hosts classes, wine and paint nights and other neighborhood activities. Simone Pastore, Wine Tasting Consultant, helps to organize the tastings, which spotlight local as well as larger brands, often with a seasonal focus.
Popular items include natural wines, Oregon Pinot Noirs, craft beer and tequila. The team also highlights local brands with custom signage and store tastings. The store carries well-known Rhode Island brands, including wines from Gooseneck and Carolyn's Sakonnet Vineyard, the Rhode Island Spirits line and local brews too. A revolving Staff Picks section shoffers introductions to featured favorites.
Since Sinclair purchased the store in April 2018, the team has gradually made improvements to the shop's interior as well as the inventory it carries, going out of its way to bring in customer requests, whether it's a new wine or spirit or brand of cigar. The shop has its own humidor stocked with a large variety of imported and locally made cigars and cigar accessories.
"Al's really brought it to another level," said Spellman, "by listening to customers, what they wanted, cigars they might be interested in. Al does that with everything. We all do. Al makes the final decision, but if someone wants something, he'll order it … as long as we have a spot in the aisle, he'll order it."
The crew prioritizes hands-on customer service. "That's one thing we definitely do is make sure we talk to our customers," said Pena. "Because we are a smaller store, we get to be a little more intimate and familiar with the products that we have and we also do research too … I think it's important that [a customer] walks in and gets to talk to somebody who knows what they're talking about."
Chatting with customers also gives the Cork & Brew team a chance to introduce them to products they maybe wouldn't have tried on their own. "We try to go above and beyond to be more than just a place where you walk in, grab a handle and walk out," Pena said. "There's customers who sometimes will come in for one thing and we start talking on the history of this and they'll leave with stuff they didn't even know they wanted to try. They come back and say 'That was awesome.'"