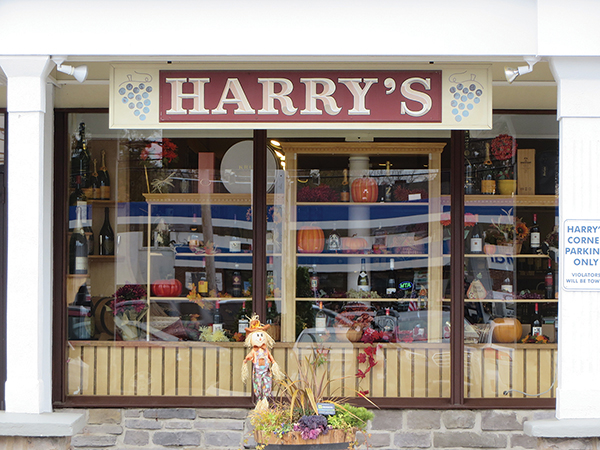 Harry's Wine & Liquor Shop, 2094 Post Road,  Fairfield, CT
By Bob Sample
Square footage of store: 6,000
Years in operation: 73
Hunting for a new job is frowned upon in most workplaces. And getting caught by the boss will often result in a pink slip to hasten your departure. Harry's Wine & Liquor Shop takes a different approach, operating as a training ground of sorts for people who want to build careers in the spirits industry. Far from viewing this as a negative, for Harry's it has been great for business.
"We're a farm team," said co-owner Patrick Monteleone. "We are a teaching and learning store, constantly training our people and encouraging them to learn more about the business. That shows in the great customer service they provide. Even if some ultimately leave us for other roles and other employers, that's the price we pay for having excellent people."
Sharing ownership of the store with Monteleone are William Miller and Scott Pollock. Pollock is the grandson of the store's founder and namesake, Harry Pollock. The store has occupied the corner of Pine Creek Road and Post Road in Fairfield since 1941, although the store has had seven expansions during that time.
During the 1970s, Harry's moved from its street-side location to a newly built shopping center behind the original store. This had the advantage of providing shoppers with plenty of parking.
More than half of its sales and floor space comes from wines. It's not hard to figure out where the products are, either: A floor-to-ceiling partition with attractive shelving divides the store almost in two between the wine side and the beer-and-spirits side. Moreover, a specially built picture window on one end provides a view inside the cheese shop next door.
Harry's "alumni" have gone on to work for distributors or for wine makers, but while they are here, their knowledge and passion are evident. "We attract people who are interested in having a career in the wine and spirits business," Monteleone said. "And quite often, they seek us out."
Such dedication helps draw new customers in, and encourages existing customers to try new things. This inclusive approach works in Fairfield – which, contrary to popular conception, is fairly diverse economically.
Monteleone's favorite vintage right now is 2010 Barolo wine from Italy. "Across the board, it's a spectacular vintage," he said. "There hasn't been a bad one in the bunch. We're offering a broad selection of brands as a result."
Although wines are the store's mainstay, the growth in craft beers and spirits has begun to even things out a bit. The store also stocks an increasing variety of specialty spirits, often with a seasonal theme. For instance, Harry's will boost its selection of whisky around St. Patrick's Day and bourbons during Kentucky Derby season.
In addition to a frequent array of wine and craft beer tastings, the store offers a popular wine course. Classes typically run one or two nights. Virtually every class sells out quickly, resulting in a long waiting list of interested students.