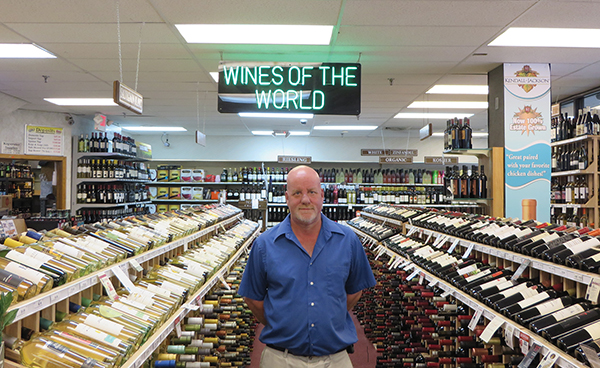 World of Beverages, 295 Main Avenue, Norwalk, CT
Square footage of store: 6,300
Years in operation: 24
By Bob Sample
Staying on top of trends in any industry helps keep a business buzzing.  At Norwalk's World of Beverages, store manager Craig Gonsor and owner Raj Modi work hard to stay on top, and ahead, of those industry trends.
"We were early adopters in craft brews, and since the time we first began carrying them they've exploded," said Gonsor. "There are now more than 3,200 breweries in the United States – and there are another 3,000 applications for new breweries pending. So this part of our product mix will continue to grow."
The store's floor space is almost evenly divided among beers, wine and liquor. Within the latter category, World of Beverages offers an extensive selection of scotches, and recently added a large bourbon section. Both include small, artisanal brands in addition to the mass labels and established high-end spirits.
On the Friday before Labor Day, a steady clip of people, mostly regulars, filed in to stock up for the coming holiday weekend. Besides the usual popular sellers, a wine tasting yielded brisk sales of Italian white and red wines.
As Gonsor worked the register that night, amid the hubbub, he chatted nonstop with customers – extolling the virtues of a new bourbon, for example, the hottest craft beers, or a set of attractively priced wines from Spain. Staffer Lucio Marin quietly located the hidden gems among the store's vast selection, or proffered cases of wines for end-of-summer celebrations.
"We are noted here for our friendly, hard-working and knowledgeable staff," said Gonsor. "The competition in the area does keep us on our toes, but they can't match our service." The store's Facebook feed provides information on events and products, creating chatter outside of the store walls as well.
Gonsor serves as an informal "spirits educator" in addition to being a store manager and closing up shop every night. "I know a lot about this business and the products, and I like talking with customers," he said. "People tell me they learn something new every time they speak to me. And they show they appreciate it when they come back every week."
With trends again setting the course, Gonsor expects continued strong growth in the craft beers and in aged spirits – referred to in the industry as "brown goods," as well as the craft gins and vodkas that sell well alongside the bigger brands. "Boutique distillers are popping up all over, and we are now seeing a lot of craft gins and vodkas – because they don't have to be aged," Gonsor said. "Once their brown goods are aged sufficiently we will see the same in those categories."