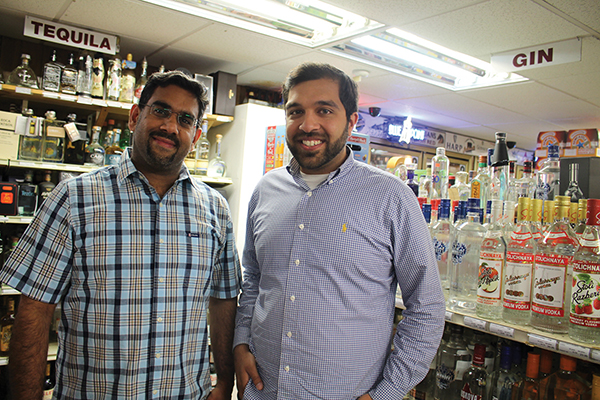 Apps Fuel Package Store and Supplier Sales
By Lauren Daley
From streaming movies on Netflix to ordering groceries from Peapod, or ordering, well, everything else from Amazon, we're living in an on-demand age. Consumers are growing increasingly more accustomed to getting what they want, when they want it, with the swipe of a finger or the click of a mouse. It only makes sense that a growing segment of trade and consumers want to order their beer, wine and liquor from their smart phones or laptops, and have it delivered, relatively quickly, to their doorsteps. Third-party online marketing apps and mobile sites can offer just that.
Consumer Facing
Mobile apps or websites harness technology to give store owners an opportunity to tap into a whole new clientele. Porter21, a Connecticut-based Web start-up that launched in November, provides laptop, desktop, tablet and mobile access for consumers to instantly buy websites beer, wine and spirits from their local liquor stores. The store provides the inventory and delivery; Porter21 provides the online access. The service is only available during the hours that the state's liquor stores are open.
"Times are changing. People are using technology to get what they want. Companies like Amazon are thriving. We're helping store owners keep up with the times," said Porter21 owner and founder Ankit Harpaldas. "We're giving every store owner a new edge, to expand business past their four walls," said Harpaldas. "All we're doing is providing a platform… In some cases, stores have found this so much in their favor that they've hired a delivery guy." Naturally, checking ID's and following state liquor laws are part of the process.
Here's how it works: A consumer logs on to porter21.com and makes a minimum purchase of $25, paying no additional fee for using the app or site. The order is redirected to the closest store that Porter21 works with, based on the zip code from which their order was placed. That store receives the order via e-mail, prepares the order, and sends their delivery person out. The transaction is automatically charged to the store. So far, Porter21 serves 18 Connecticut towns.
Harpaldas understands his Connecticut clientele first-hand he said. "I come from a family in the Connecticut alcohol retail business; we owned a lot of stores in the Hartford area growing up, so I know what it means to be a retail liquor store owner in Connecticut," he explained. "What makes Connecticut unique is we have so many small retail package stores. We have so many [owners and employees who] rely on these stores to put food on the table. They're too busy to manage an online platform, so I manage that for them."
Porter21 is just one mobile delivery service — third-party alcohol delivery services are a growing industry across the country, for instance Drizly, Minibar, Thirstie and Drync — but it is the only such service currently in Connecticut.
Retail Advice
These services typically make money from a licensing fee that can vary in price from store to store. Ian Griffith, vice president of eCommerce for Beverage Media Group and a provider of retail websites to many Connecticut liquor stores, said, "There's definitely an opportunity, and there's a lot of competition with that model right now…I'm interested to see how it works and shakes out, who figures out what the opportunities are for a third-party delivery service."
Smaller stores who can't afford the time or resources to build their own apps or sites would greatly benefit from hiring a third-party who can act as their social media and Web presence, he said. Larger stores, meanwhile, would benefit by creating their own app. "There are definitely larger stores building their own apps," he continued. "They ultimately feel they need their own app to keep their own branding and control of the message."
"Stores should be interested in improving the shopping experience for their customers. This experience should be consistent across different technologies as well as in person, and many retailers haven't had to think about these different interactions before," Griffith said.
He suggested stores that are just getting started online concentrate on their social media outreach, be it through Facebook, Twitter or their own websites. Of course, there's always good old-fashioned email — but no boiler-plate mass emails.
"Email is still a powerful way to reach a customer. It's free, but takes time and discipline [to do it right]," he said.  "The goal is to send targeted emails to customers who are interested in what you have to say. You need compelling content like, 'We just heard about this new product from so-and-so, and bought all there is…' The writing style should match what the experience in the store
is like."
Sales Reps to Sales Floor
There are other ways technology can benefit the industry. Wholesalers and supplier sales representatives may want to use Pocket Advantage, a mobile app by a company called Inventiv, Griffith suggested, which also ties in to The Beverage Journal and Beverage Media content services so that reps can build "Instant Sell Sheets" from the same device they use to manage their accounts.
"This used to be laptop software, now it's an iPad app. The sales rep opens it and sees his or her accounts, can place an order, request samples, do a lot of tasks right from the app," explained Griffith. "You just tap for sale sheets, tasting notes, ratings…The role of the sales rep is changing, and increasingly the task of taking orders is being separated from the sales role. Sales reps that add value for their accounts and are comfortable with the technology are thriving with these new tools." And the tools circle back to retailers to use as well.
Since Google is promoting optimized sites over non-mobile sites for searches on mobile devices, stores are now competing with third party app developers for the same customer said Griffith. "Sometimes if they lose this battle they end up fulfilling that customer anyway while paying the app's fee on top. Where the apps can get an edge is if they're better at generating compelling content that drives sales; this is not a skills set for most stores. However, I also think stores would do well to play in both spaces so they don't lose access to the consumer."
Griffith also said the Beverage Media Group supports the retailer with tools and marketing services that help them with their own messaging. "We also distribute their inventory to marketing services like third party apps, especially when they are free. Finding sources of customers is key, but most important is generating repeat business from existing customers, which is what they should be using the website and email marketing for," he noted.