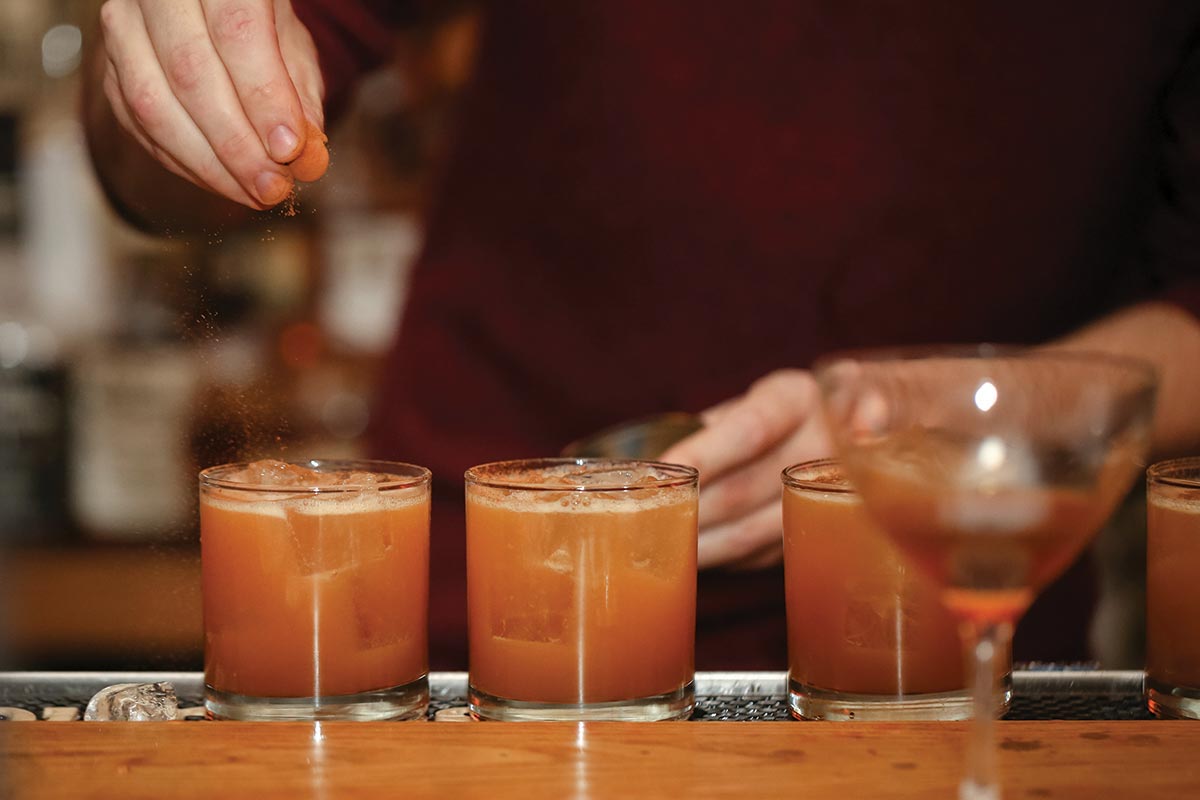 By Sara Capozzi
With a new year under way, it's time to explore which beverage trends will hold steady, which will surprise us and which will fade out. We talked with a number of local industry experts to get their take on where things are headed in 2019. Here are their top taste trend predictions.
Craft Beer Remains a Constant
Gary Richardson, Executive Director, Rhode Island Brewers Guild, believes enthusiasm for craft beer in the state will remain strong in 2019. "What we're seeing in Rhode Island is strong interest in craft beer continuing, not only by the amount of beer produced, but the fact that the Rhode Island Brewers Guild has grown from five members in 2013 to 24 in 2018, and many of those – 11 in fact – were opened in the past year," Richardson said, with more to come this year.
Richardson also predicts, "there will be an emphasis on allowing more sales by the breweries for off-premise consumption … the limit was zero ounces as recently as 2013, and 72 ounces through 2016."
While more new taprooms and microbreweries have opened in the state, Beverage Consultant Len Panaggio has noticed, "Beer sales overall are declining slightly, again as Millennials move to cocktails and somewhat to wine. The macro-brewers are still losing market share to craft [and] import beer."
Erin Swain, Independent Wine Consultant and Director of Wine Education at the Ocean House, predicts that sour beers will continue to gain ground with state consumers.
Craft Cider's Upward Trend
Several remarked on the uptick in the demand for craft ciders.
Elisa Wybraniec, Sommelier and Wine Director at the Coast Guard House, said she has seen more guests request craft ciders by Northeast producers on the market. "We have had much success with Shacksbury from Vermont, who creates ciders from wild apples, as well as the Wolffer Rosé Cider, sourcing their apples in New York State," she said. "It provides people with a gluten-free option that they would not ordinarily think of."
Ed Korry, Associate Professor and Department Chairman of Beverage & Dining Service at Johnson & Wales University, Providence, said he expects the cider category to expand in 2019, with "more dry styles, including facsimiles of sidra from Spain – intense, dry and tart. It has both a cultural and historical element and is 'newer' to the market."
Rosé to Go, New Regions to Explore
Swain predicts the rise of Slovenian wines, both red and white, along with "volcanic wines" from areas such as Santorini, Greece and the Azores. As rosé remains popular, Swain expects to see consumers enjoy it in portable, picnic-friendly formats, such as boxes and cans, with an emphasis on environmentally friendly packaging.
Wybraniec says rosé remains popular and sees that trend continuing. "Rosé has been proven to be a mainstay, even outside of the warmer season," Wybraniec said. "We see consumers viewing it as a compromise to red wine as we head into the winter."
Panaggio said he believes the growth of rosé has "leveled off," while "Chardonnay and Cabernet still dominate, followed by Pinot Noir, Pinot Grigio and Sauvignon Blanc." Sparkling wine, especially sparkling rosé, is gaining ground in the market, along with Champagne as the economy has rebounded.
He said that due to the rising price of Napa Cabernets, consumers have begun seeking more affordably priced selections from Sonoma, Paso Robles and Washington. Buyers have also started paying attention to different grape varietals, "especially from parts of Europe and the Middle East that one would never think of when it comes to wine, like regions of Greece, Bulgaria, Hungary, Israel, Lebanon," he said. "They are a lot less expensive."
Renee Allen, Founder and Director of the Wine Institute of New England, believes Millennials will continue to drive trends in wine and spirits. "Their thirst for knowledge will continue to grow, bolstering the current trend of dragging appellations such as Savoie and grapes such as susumaniello out of obscurity and into the mainstream," Allen said. She also predicts the rise of sake. "Clean, refreshing, versatile, relatively low in alcohol, watch for sake to start showing up … for fun and food-friendly pairings."
Korry sees an increased, continued growth in locally produced wines and beers. "Everything local sells," he said. He also predicts that natural, organic and biodynamic wines will continue to grow in favor with consumers.
Allen expects the awareness of health and sustainability issues will increase options for lower-ABV and vegan wines, and "wine on tap, kicking around for the past 30 years, is poised to shine… offering a by-the-glass option with a considerably kinder carbon footprint," she said.
Spirited Ideas, Quality Ingredients
Panaggio projects continued growth in spirits and sees bartenders favoring higher-quality ingredients in cocktails, along with "better" garnishes. "The use of better mixers like vermouth or bitters is for real and it is long overdue, as Americans were served marginal mixers for years, which ruined the drink," he said.
Korry projects that micro distilleries and botanicals in spirits and aged rums will continue to see growth. Swain predicts that Japanese whisky, single malt scotches and barrel-aged tequila will continue to gain traction, too.
Jonathan Pogash, President and Owner, The Cocktail Guru, anticipates the rise of batched cocktails, either on draft or bottled, as "this enables bars and restaurants to churn out cocktails at a much higher pace, thus leading to more revenue and less wait time for guests," he said. "[Batched cocktails] are also a great way to brand and personalize cocktails for a particular bar or restaurant," he said.
Other cocktail trends Pogash expects to see in 2019 are "wellness-focused drinks, smoke in cocktails, espresso martinis, and Italian- and aperitivo-style cocktails." He also thinks that cocktails with less ingredients will gain popularity. "It's all about execution," he said. "And when you have half a dozen or more ingredients in a cocktail, there is no getting around the increased wait time to a guest. Three- or four-ingredient cocktails are just as creative and tasty."
Increasing Healthy Options
Frank Martucci, Director of Beverage & Nightlife at Twin River Management Group, believes an emphasis on health and wellness will continue in the beverage industry during 2019. "The emphasis on mental and physical health via exercise, healthier eating, improving industry equipment and step of service will continue to be the attention of bartenders and owners in the upcoming year," he said. Martucci also predicts healthier lifestyles will encourage consumers to seek low-ABV selections, including amaros, beer and malt beverages, and alcohol-free products.
A number of industry professionals shared how low-ABV cocktails and mocktails will gain ground. "Carefully crafted zero-alcohol drinks at bars are going to make a huge showing on lists," Swain predicted. "Think tinctures and cold-pressed juice with exotic flavors sans alcohol and low calorie."
Leishla Maldonado, Beverage Director at the Courtland Club, noted the rise in the use of low-proof spirits over the last five to 10 years. "Vermouth is having its moment and I'm here for it," she said. "Whether it be sweet, dry, floral or acidic, it has a wide range of great styles to choose from."
Maldonado said she also likes to focus on sherries and nonalcoholic distillates in her cocktails. "Making our bar inclusive to all guests, whether you enjoy a spirit-forward cocktail, low-proof or spirit-free, there is always something interesting to enjoy while taking in the space," she said.
Christina Mercado, Beverage Manager and Bartender at Vanderbilt Grace Hotel, also agreed mocktails will gain momentum, with more bars offering entire menus. "The days of cranberry and sodas as the only option are behind us," she said. "We have nonalcoholic spirits in the market that are helping this move forward too. Mocktail opportunities should be just as open and endless as cocktails."
Mercado also expects whole ingredient use throughout a cocktail, helping reduce waste. "In Rhode Island especially, we are focused on supporting our farms [thank you Farm Fresh] and our green initiatives," she said. "I can see us becoming more micro-focused with ingredients in our cocktails. It supports our love for sustainability, food and cost control."
Consumers Spending More
Industry professionals have noticed an increase in consumer beverage spending in general. Wybraniec has seen an increase in bottle sales and diners splurging on pricier selections. "I think people are feeling good and spending more when they are dining out and it is showing in their wine choices," she said.
"Consumers are willing to pay more for quality across the board: beer, wine and spirits," Panaggio said. "Once again the 'drink less but drink better' movement is alive and well."
Use of Cannabis
Another emerging trend on the horizon is the use of cannabis or cannabidiol (CBD) in beverages, as "marijuana derivatives [are] being perceived as a healthful or beneficial choice," according to Korry.
Panaggio predicts the rise of cannabis in cocktails, saying, "It will be happening … it is trying to sort itself out as to which direction it will go. Stay tuned on that one." Martucci, too, predicts its future use. "With many states adopting cannabis for purchase laws, the food and beverage industry are looking at ways to add additional revenue with the infusion of [cannabis] into guest offerings," he said.
The Continued Rise of Providence
Maldonado also predicts that, "Providence will continue to grow as one of the hot cities doing innovative culinary and beverage things in New England. We may be a small city, but there are so many restaurants and bars that are beginning to focus on all of the details to make a place special. From house-made syrups, fresh juices and garnishes, to the quality of spirit we're putting into each drink, the scale and pace of our city allows us the time to pay a more conscious effort to what's going into our glasses."