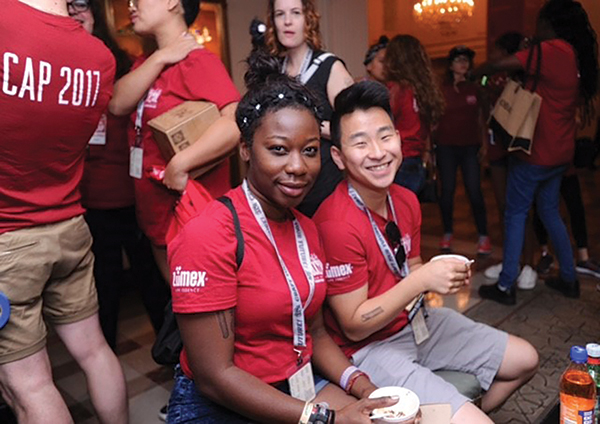 CAP program opens new doors
By Savannah Mul 
A local Rhode Island bartender, Parker Luthman, was selected to the Cocktail Apprentice Program, CAP for short, at this year's Tales of the Cocktail in New Orleans. CAP is an exclusive mentorship program for "up-and-coming bartenders" to learn alongside industry veterans during the yearly cocktail festival, which welcomes the international spirits industry to New Orleans for a week of seminars, tastings and networking events. Parker was one of 40 bartenders selected from across the nation as first time apprentices; it was also his first time attending. Luthman said, "The overall experience blew my mind."
Q: What inspired you to apply for the CAP program? 
A: I applied to the CAP program this year due to a
recommendation made by my manager and mentor at The Eddy, Jen Davis, who was a previous CAP. She convinced me that I would have a good chance on being accepted and emphasized how great of an opportunity this program was, so I listened to her.
Q: Tales of the Cocktail is such a big event and, historically, a great place to network. How did you feel when you were picked to the CAP? 
A: In all honesty, once I received my acceptance email, I ran out of my bar, screamed, and had to take a five-minute break outside. I simply couldn't believe it. I immediately texted Jen [Davis] the news, and was elated for the rest of my shift. I honestly wasn't convinced that I would be accepted. I knew how recognized this program is and after receiving my acceptance, I felt this sudden determination to really push myself as a professional and began focusing hard on growing as much as I could prior to the trip.
Q: Why do you think it is so important to go? 
A: This festival encompasses what it means to work in the hospitality industry, and it's an amazing platform for education and networking with other professionals. There is such an overall emphasis on creating an amazing experience for each of your guests at your bar, and I truly believe that should be the focus of every bartender. It can be really easy to forget that sometimes, but it's part of our job to catch ourselves when we begin to slip and to remind ourselves that we are always the hosts at our bar.
In terms of education and networking, this festival is second to none. There are so many diverse seminars, tastings and special events led by some of the greatest veterans in our industry, and you are given the opportunity to learn from these people. In terms of scale, the wealth of knowledge present at this festival each year is incomparable. The best part is that once you're done learning from these leaders, you then have the opportunity to network with them after and with the other attendees to build meaningful connections that last a lifetime. These connections are what unite us as a community and will help push this industry further.
Q: What were key qualifiers for applying to the CAP program?
A: It's hard to find an exact answer for [that] question. The CAPs this year came from such diverse backgrounds in terms of location, current position, and experience, so I believe the acceptances were based on more subjective means. From my understanding, they focused on how you answered the questions, and specifically how you portrayed your own personality through your answers. They also looked to see what each individual could bring to improve the CAP for future apprentices as well.
Q: After experiencing 2017 Tales, what are you most excited about in the industry?
A: I'm really excited to see new markets emerge in lesser known cities throughout the U.S. I think it's time that new destinations are put on the map because there are amazing industry professionals scattered throughout these areas. They deserve recognition as well.
Q: What did you see as far as new or emerging trade trends?
A: I saw a major focus on the impact that technology can have on this industry, specifically in areas regarding distillation and recipe development. I sat in on one seminar where the presenters were able to demonstrate how modern technology can help bartenders further the craft, instead of replacing us entirely. We all know that robots aren't as hospitable as humans, but we can use them to create consistent products, produce products faster, and ultimately help us in the long run.
I'm expecting to see more usage of clarification and other techniques to make house made ingredients like syrups, sodas, infusions, herb oils and fat washes. In terms of spirits, I'm expecting to see an increased interest in full, funky flavors, typically found in Jamaican Rums, Baijiu and Shõchõ.
Q: What will you bring back to Rhode Island, now having experienced CAPing at Tales? 
A: I am honestly just really excited to return to Rhode Island with the reinforced belief that hospitality should always come first in any restaurant or bar. I also want to emphasize the importance of mentoring in our community. CAP's entire focus is on the importance of being a mentor and creating an environment of constant learning. I think this mindset would really shine in Rhode Island. We are such a creative state and there is so much talent here, so creating that environment in our own community would be incredible. I've had amazing mentors who taught me everything I know today, and I want to pay it forward as well. After all, I believe that this industry is the greatest because you will never know everything, and you will learn something new and exciting every day.
This interview has been edited and condensed.