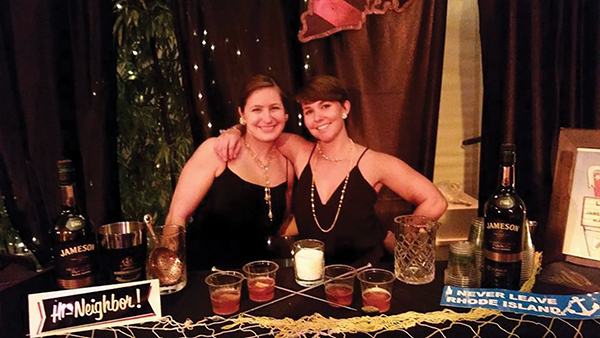 By Elizabeth Sawtelle
I didn't know exactly what to expect when I arrived at Portland Cocktail Week (also known as PDXCW) this past October. Every year, hundreds of beverage industry professionals descend on Portland, Oregon. It's a week chock-full of bar education and classes, activities, parties and lots of incredible and talented people.
I had the honor of representing Rhode Island, along with my good friend and most recent USBG RI president, Laura Moore. When I was nominated as the Leadership Representative to attend, I jumped at the opportunity.
PDXCW is organized like a higher learning institution. As we gathered with our assigned Resident Advisors during orientation to get the rundown of events, I found that I flashed back to the first days of college, with excitement and optimism, but this time, with cocktails in hand. The Institute is broken up into four "majors:" Beyond the Bar, Bar Ownership, Advanced Bartending and Innovation & Development. I put myself in this last group as I saw it as the track most departing from my comfort zone, and looked forward to the challenge.
Classes for this major included "Proof of Concept" "Company and Product Development Masterclass" and "Brand-Distributor Relationships," where we discussed the challenges that go along with concept and creation of a brand all the way to opening an entire distillery. Daunting certainly, but it was inspiring to hear the process of people who have made these visions a reality.
In addition to the major classes, every student was required to take core classes: "Phases of Hospitality," emphasizing the importance of self-awareness in guest interactions, and "Certifications in the Modern Bar," discussing the formal certifications available in the beverage industry.
As bartenders are not known for their ability to sit still for long periods of time, the electives provided a more hands-on experience. In "Pharmacology Behind Creating Addicting Cocktails," we smelled and tasted and learned about the physical reactions to flavor and how to use that to enhance cocktails.
We also took classes featuring new tools, techniques and strategies for making the world of craft cocktails both more creative and interesting, and more efficient. For those who work in high volume bars or restaurants, the practice of batching drinks is becoming very popular. This allows for the careful construction and balance of a cocktail to be perfected in the preparatory stage so that the service of the drink becomes simple execution.
Freeing the bartenders from tedious, sometimes lengthy à la minute steps allows them to focus more on their interaction with the guests, themselves. I think we will be seeing more of this practice, departing from the notion of bartender as "pretentious mad scientist" to that of a confidently skilled but welcoming presence.
A major highlight for me was the closing event where Laura and I represented our USBG RI chapter in the Cocktail Showcase. The challenge was for the Honor Roll student to create an original cocktail that represents your state, a task that Laura rose to admirably. We called it "The Atwells," blending together spirits from Federal Hill's prominent and culturally influential backgrounds. Jameson Black Barrel, Aperol and Madeira, representing the Irish, Italian and Portuguese influences, respectively, stirred with a little bit of sea salt (we are the Ocean State after all!) and finished with an orange peel. The cocktail was a great success, and acted as a gateway for us to introduce Rhode Island to guests from around the country.
The true success of the event lies in its ability to gather a diverse group of industry professionals who are unabashedly passionate about their craft and who are always striving to better it, and the roles they play. It was a pleasure and honor to be surrounded by, learn from, and collaborate with some of the most talented people in the industry. It was a truly unique experience and I await with eager anticipation my next trip to Portland, hopefully for PDXCW 2015.
Elizabeth Sawtelle is the beverage manager at Nick's on Broadway in Providence. Sawtelle has worked at Nick's on Broadway for nine years, and continues to foster her interest and dedication to the food and beverage industry. She intends to pursue further wine and spirits education and examinations