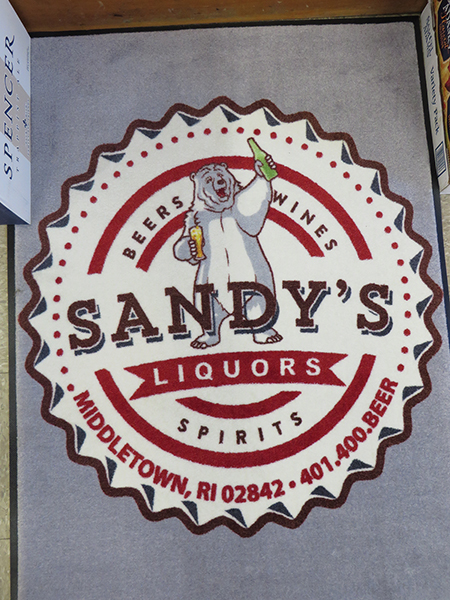 Sandy's Liquors
717 Aquidneck Avenue
Middletown, Rhode Island
Years in operation: 64 (three under current owner)
Square footage of store: 1,500
By Bob Sample
Operating a thriving business for six and a half decades is no small feat. Marty Santos first opened Marty's Liquors in 1950 in beachside Middletown, R.I. Sixty-four years later, the business is still in the Santos family – although it's now called Sandy's Liquors.
Running it is 38-year-old Michael Santos, Marty's nephew. "My dad bought it from Uncle Marty in 1993 and renamed it Sandy's, after my mom," Santos said. "I acquired if from Dad in 2011." Assisting Santos in the operation is his wife, Jenny, who just completed her MBA at University of Rhode Island, and his mom, the aforementioned Sandy.
The store is about two miles from Newport's First Beach, making it a popular stop from June through August. But business is brisk in all seasons, Santos said. "In the past couple of years, I've worked hard to build up a core of local customers, so we have a lot of customers we see every single week," he explained.
The store puts a heavy emphasis on craft beers, with wine coming in a close second. The beer emphasis is evident in the store's newly created mascot: a bear named Brewtus – and enviable extra-large beer cooler.
The store also conducts a constant series of special promotions during the winter, which are popular with local customers. "For example, I might get in some limited edition beers that retail for $10 a bottle elsewhere. I'll sell them for cost, just to create goodwill with my regulars," he said. "And where the retail standard is to offer a 10 percent discount on cases, I give people a 12 to 15 percent discount. As a result, we sell a lot of cases of wine."
The most popular wine this year has been Malbec, however certain wines always sell well. "We always do a great cabernet business," said Santos. "And for whatever reason, chardonnay tends to sell well during the winter, pinot grigio in the summer. This summer rosés were very, very hot, so we added about 20 new labels to our shelf."
Santos is an avid user of Facebook and Twitter, for good reason. "Within 15 minutes of posting an announcement about something new in stock, people are coming into the store because they've just read about it," said Santos. "It has definitely helped us to build a local following and customer loyalty."
The store's weekly newsletter, containing more details about events and other store news, also keeps customers informed. "We do tastings every Friday and Saturday," he explained. "I try to alternate among beer, wine and spirits, but [what] we have is often dependent on who's available to come in and demo."