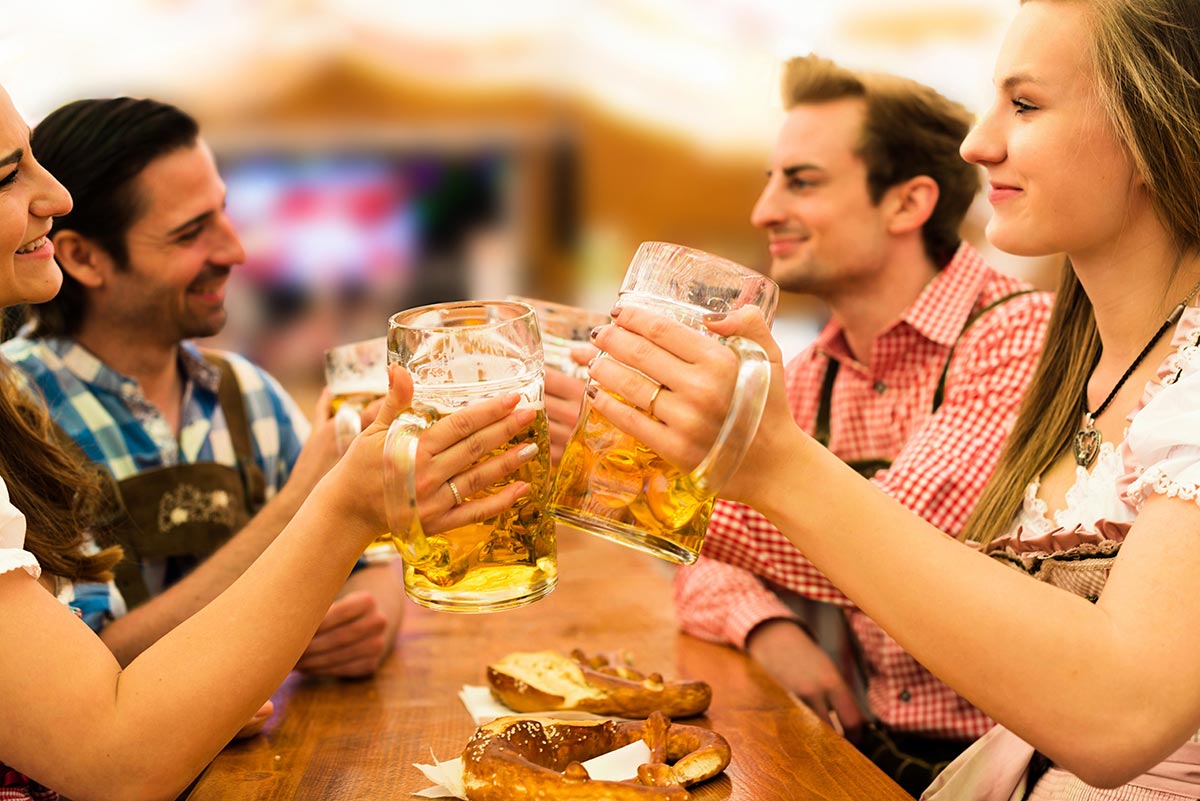 By Len Panaggio
As I am writing this, we are in the throes of our first "official" heat wave, although we have been experiencing a rather warm and humid July and early August. While I am a wine guy, with red being my go-to, it certainly was and is beer-drinking weather. Nothing quenches your thirst like a cold lager in the middle of summer. Grapefruit beers seemed to be the hit of the season and I'm sure they will continue to be during this heat.
As the "back-to-school" commercials are telling us, fall and cooler temperatures are right around the corner, and like the color of the leaves, our tastes are changing too.  I have always been intrigued by seasonal beers. One of my favorite seasons is fall, and with the arrival of September, Oktoberfest beers are on the scene.
Oktoberfest was started to celebrate the marriage of Prince Ludwig of Bavaria in 1810 and the tradition has continued to this day. It was first celebrated in October, but now starts in September. The celebration in Munich is the largest of its kind in the world, lasting about three weeks. Only beers brewed following the Reinheitsgebot, the German Purity Law, are poured in Munich: Augustiner-Bräu, Hacker-Pschorr, Hofbräu, Löwenbräu, Paulaner and Spaten.
All but Löwenbräu are available in Rhode Island. Our local distributors stock up on these brews in August and they are ready for purchase as you read this. Typically brewed in the cooler temperatures in spring, Oktoberfest beers were stored, or "lagered" (hence the term "lager"), resulting in a brew that was coppery in color, malty, slightly sweet and festive
In my days as a restaurateur, I always had a few authentic German brews mixed in with some local ones. I would try to get one on draught, if possible. Obviously, the Germans have been making beers long before our country was formed; as such they clearly had a jump on us. But, with the advent of craft breweries, the desire to replicate many Old World beers came to the fore. So early on, many of the American breweries began making Oktoberfest beers — long before they all started making the creative brews they offer now. Some of my favorites come from locally brewed Samuel Adams and Newport Storm, now called Newport Craft Brewing & Distilling Co.
As I have mentioned before, the window for seasonal beverages is short, two months at best, so keeping an eye on inventory is crucial. Just as our beverage tastes change with the season, so do our food cravings. Many restaurants create seasonal, if not weekly, menus or daily additions, and this time of year, many restaurants offer Oktoberfest foods.
This is a chance for your culinary team to offer some interesting foods to pair with the aforementioned beers. At the bar, think soft pretzels with mustard; perfect finger food! The Germans love their pork, and a beer and mustard-encrusted pork loin for an entrée is ideal. I don't want to get too carried away, but with the recent explosion of hot dogs, wursts (German for sausage) immediately come to mind. There are many versions but the most popular are Bratwurst, Knockwurst, and Bockwurst. Again, perfect bar food.  Just add some sauerkraut and some good mustard and you and your guests will be transported to Munich.
I encourage all to take part in this German tradition. These are perfect pairings for the fall season and the celebration is easy to execute from a culinary and beverage standpoint. After all, our guests constantly look to us to break out of our routine and bring something new to their experience.
Prost!
Len Panaggio's career in food and wine spans more than three decades as an owner and as a beverage director at some of the top restaurants in Rhode Island. Currently a hospitality consultant, Len is a graduate of the University of Rhode Island and has attended the Culinary Institute of America Master Sommelier program and the Sterling School of Service and Hospitality.